Death Has Spoken - Call Of The Abyss - Reviewed by Metal Digest ! Check it out here at this link: https://metal-digest.com/2022/05/30/death-has-spoken-call-of-the-abyss/
Who doesn't love a bit of sorrow in their metal? Whether death-doom is your cup of tea or not, Death Has Spoken have stirred up some heavy tunes in their new album 'Call of the Abyss'. Dark and saturated with despair, this album is agonisingly melodic, while maintaining those trudgy tempos, hard hitting percussion and demonic growls that provide that doomy goodness.
The drums in 'Call of the Abyss' are tumultuous, caving in skulls with each hit. Guitars reflect nostalgic 90s era Katatonia parts, particularly that of Brave Murder Day, bass guitar is present, but simply works to thicken guitar chords and occasionally the bass drum. Vocals are a classic duet of high and low false cord growls, digging deep into the technique so widely appreciated across all metal genres, the higher screams really allowing the blackened elements of this album to shine through. Key changes and sub divisional variance provide flavours of prog metal to surface occasionally, while layered guitar riddled with effects, and synth sounds allow a misty atmosphere to cascade into the soniscape. 
It would be fair to say this album reflects a sound so easily forgotten by those who aren't die-hard death doom fans, very elegantly capturing the 90s/00s vibe with the spin of modern production. It is axiomatic that 'Call of the Abyss' is a force to be reckoned with.

A solid album, bringing back nostalgia, but welded with modern production and developed songwriting to show distinctive progression. A must listen for any doom, prog or black metal fan. - Metal Digest
Release Date: November 1st, 2021
FFO: early Katatonia, My Dying Bride, October Tide
Streaming at this link: https://distrokid.com/hyperfollow/deathhasspoken/call-of-the-abyss
The musical project started in Poland at the beginning of 2017. Inspired by doom metal themes with influences of black and death metal. After recording their debut album "Fade", DHS completed their line-up and became a full time band, starting to play live shows across the country. Lyrics on the album were loosely based on the novels by Edgar Allan Poe and posed a question: Is death an end or a beginning?
In 2020 band recorded a single called "Downfall" and released it together with two other doom metal bands as a split EP entitled "Unyielding". It was a preview of their upcoming music. After that the band focused on their second longplay, finished and recorded half way through 2021. The fruit of this work is 7 songs piece that is a continuation of the story contained in "Fade" with addition of H.P. Lovecraft inspired themes. "Call of the Abyss" is full of darkness, mystery, sadness and nostalgia deeply entrenched in doom/death metal of the early 90s and the second wave of black metal. It continues the journey started four years ago on the previous album.Straight to the unknown, right into calling abyss...
Check out the video!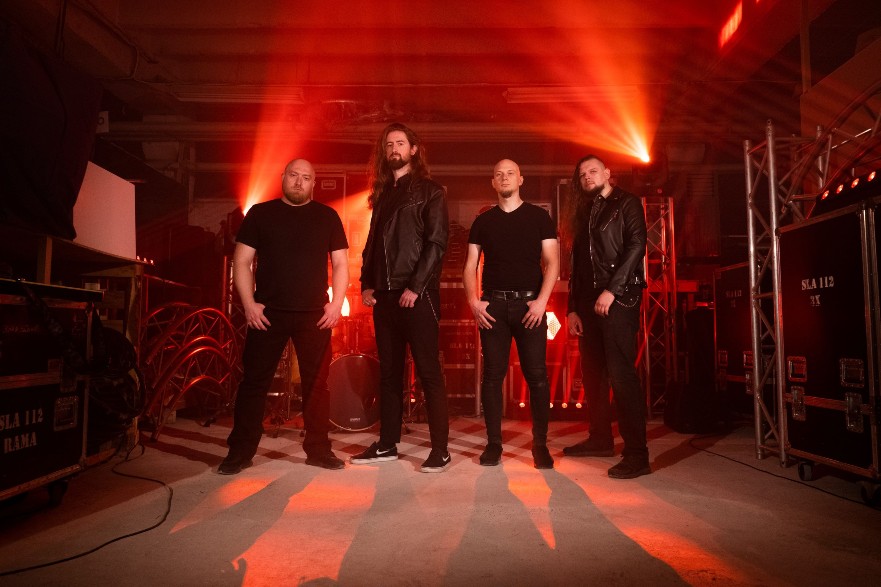 Lineup :
Karol Pogorzelski - Vocal, rhythm guitar
Marcin Grygoruk - lead guitar
Maciej Chodynicki - bass
Mikołaj Kupczyński - drums
Lyrics: Karol Pogorzelski
Additional samples and synths: Marcin Grygoruk
Recorded, mixed and mastered at HiGain Studio - http://higainstudio.pl
Recording: Janusz Grabowski and Marcin Grygoruk
Mix and mastering: Janusz Grabowski
Cover artwork and layout: Marcin Grygoruk
Band photo: Michał Pęza
Live photos: Joanna Kowalko
Band contact and booking:
deathhasspoken@gmail.com
Follow the band at these links:
https://www.facebook.com/deathhasspoken
https://www.facebook.com/ossuaryrecords
https://ossuaryrecords.bandcamp.com/
https://ossuaryrecords.com/en/
https://distrokid.com/hyperfollow/deathhasspoken/call-of-the-abyss
https://deathhasspoken.com/
https://deathhasspoken.bandcamp.com/