Exodus - Interview & The Zach Moonshine Show - Featured At Blabbermouth ! Check it out here at this link: https://www.blabbermouth.net/news/exodus-frontman-says-it-was-a-better-decision-for-now-to-postpone-the-bay-strikes-back-tour/
EXODUS 's   Steve "Zetro" Souza   talked to   "The Zach Moonshine Show"   about his band's decision to postpone the North American leg of its   "The Bay Strikes Back Tour"   to 2022. The 30-date trek — also featuring   TESTAMENT   and   DEATH ANGEL   — was originally scheduled to kick off on October 6 at the Fremont Theater in San Luis Obispo, California and make stops in Austin, New York, and Detroit before concluding on November 27 at The Fox in Oakland.
Speaking about the thought process behind pushing back the tour,   Zetro   said (as transcribed by   BLABBERMOUTH.NET ): "They wanted us to test every night, and the bands didn't wanna test every single night. 'Cause the venues we were playing were not as big as say…   MEGADETH   just went around with   LAMB OF GOD   and   TRIVIUM , and they did sheds, and   HATEBREED   — they played amphitheaters — and those are pretty big places where you can keep spread apart. We weren't gonna have that luxury, and if   Chuck Billy   [ TESTAMENT   singer] gets sick three weeks after the tour starts, for whatever reason, the tour [is] over. So we felt it was better to let this thing play out just a little bit more. And the tour will start — same dates. If you bought a ticket, we will honor it at the dates. The same dates, the same venues, and this one starts April 9th. I mean, almost exactly the same route — every date starts… 'Cause we would have been there now; we would have been doing it; we would almost have been through it right now — we would have been two weeks into it. I think it was a better decision for now. I just want safety for everybody; that's all that matters."
"The Bay Strikes Back Tour"   dates have been rebooked beginning in April and will include additional cities not originally scheduled for the tour.
"The Bay Strikes Back Tour"   2022 dates:
Apr. 09 - San Luis Obispo, CA - Fremont Theater
Apr. 10 - Anaheim, CA - House of Blues
Apr. 12 - San Diego, CA - House of Blues
Apr. 13 - Las Vegas, NV - House of Blues
Apr. 15 - Tucson, AZ - Rialto Theatre
Apr. 16 - Albuquerque, NM - Sunshine Theater
Apr. 19 - Oklahoma City, OK - Diamond Ballroom
Apr. 20 - Houston, TX - White Oak Music Hall
Apr. 21 - Austin, TX - Emo's
Apr. 22 - Dallas, TX -Amplified Live
Apr. 23 - New Orleans, LA - House of Blues
Apr. 26 - Atlanta, GA - The Masquerade
Apr. 27 - Raleigh, NC - The Ritz
Apr. 30 - Sayreville, NJ -Starland Ballroom
May 01 - Baltimore, MD - Soundstage
May 02 - Boston, MA - House of Blues
May 03 - Philadelphia, PA - Theater of Living Arts
May 05 - Huntington, NY - The Paramount
May 06 - Buffalo, NY - Town Ballroom
May 07 - Cincinnati, OH - Madison Theater
May 09 - Pittsburgh, PA - Stage AE
May 10 - Cleveland, OH - The Agora
May 11 - Columbus, OH - Newport Music Hall
May 12 - Detroit, MI - The Majestic Theatre
May 14 - Joliet, IL - The Forge
May 15 - Joliet, IL - The Forge
May 17 - Minneapolis, MN - Skyway Theatre
May 19 - Denver, CO - Summit
May 20 - Salt Lake City, UT - The Depot
EXODUS   will release its new album,   "Persona Non Grata" , on November 19 via   Nuclear Blast Records . The LP was recorded at a studio in Lake Almanor, California and was engineered by   Steve Lagudi   and   EXODUS . It was produced by   EXODUS   and was mixed by   Andy Sneap . For the third time in the band's history, they returned to Swedish artist   Pär Olofsson   to create the album artwork.
"Persona Non Grata"   is the follow-up to 2014's   "Blood In Blood Out" , which was the San Francisco Bay Area thrashers' first release since the departure of the group's lead singer of nine years,   Rob Dukes , and the return of   Souza , who previously fronted   EXODUS   from 1986 to 1993 and from 2002 to 2004.
In July,   EXODUS   drummer   Tom Hunting   underwent a successful total gastrectomy in his battle with squamous cell carcinoma (SCC) of the stomach. He rejoined his bandmates on stage on October 7 at the   Aftershock   festival in Sacramento, California.
EXODUS   tapped   John Tempesta   to play drums for the band at   Psycho Las Vegas   in Las Vegas, Nevada in August and at   Full Terror Assault   in Cave In Rock, Illinois in September while   Hunting   was recovering from surgery.   Tempesta   was a member of   EXODUS   from 1989 until 1993 and played on the band's albums   "Impact Is Imminent"   (1990) and   "Force Of Habit"   (1992).
A   GoFundMe campaign   to help   Hunting   with medical expenses had previously raised more than $114,000 — including $5,000 from   Tom 's former   EXODUS   bandmate, current   METALLICA   guitarist   Kirk Hammett , and $1,500 from   FOZZY   singer and wrestling superstar   Chris Jericho . Via Blabbermouth
'Steve "Zetro" Souza' from 'Exodus', joins us on the show to to talk about the new album 'Persona Non Grata'! We play new tracks from the record as well as new releases from Becoming, Snipers Of Babel, HELLPIE, MINISTRY, The Uneven, Sixty Miles Down, Pass The Ammunition, Tyler Gilbert, Castle Ultra, Denial of Death, Incognito Theory, MUMA, Sinister King, and ElectricMary! We also play classics by request from Testament, Dublin Death Patrol, Death Angel, Rock N Roll Villain Society, Megadeth, Metallica, Slayer, Ozzy Osbourne, Ted Nugent, and Blue Öyster Cult!
Track List:
1 - Toxic Waltz/Blacklist/Fabulous Disaster - Exodus
2 - The Zach Moonshine Intro
3 - Practice What You Preach/Trial By Fire - Testament
4 - Mentally Unstable - Dublin Death Patrol
5 - Wish - Becoming
6 - Hell To Pay - Death Angel
7 - Space Wolf - Rock N Roll Villain Society
8 - Wake Up Dead - Megadeth
9 - Whiplash - Metallica
10 - EXODUS - Interview featuring The Beatings Will Continue (Until Morale Improves)/The Years Of Death And Dying/Clickbait
11 - War Ensemble/Altar Of Sacrifice/Angel Of Death - Slayer
12 - Gabriel - Snipers Of Babel
13 - Symptom Of The Universe/Snowblind - Ozzy Osbourne
14 - Rubber Bullets - HELLPIE
15 - Great White Buffalo - Ted Nugent
16 - Godzilla - Blue Öyster Cult
17 - Alert Level ((Quarantined Mix)) - MINISTRY
18 - Loud - The Uneven
19 - Gotta Get Out - Sixty Miles Down
20 - All Is Fair - Pass The Ammunition
21 - Cultivate Madness - Tyler Gilbert
22 - The Curtain Wall - Castle Ultra
23 - Ir ao Inferno (Instrumental) - MUMA
24 - A Cure For Insomnia - Sinister King
25 - King of Rock'n'Roll - ElectricMary
Listen to the full show on Mixcloud!
https://www.mixcloud.com/thezachmoonshineshow/exodus-featured-interview-the-zach-moonshine-show/
Listen to the interview on Spotify !
Listen to the interview on YouTube !
Listen to the interview on iTunes !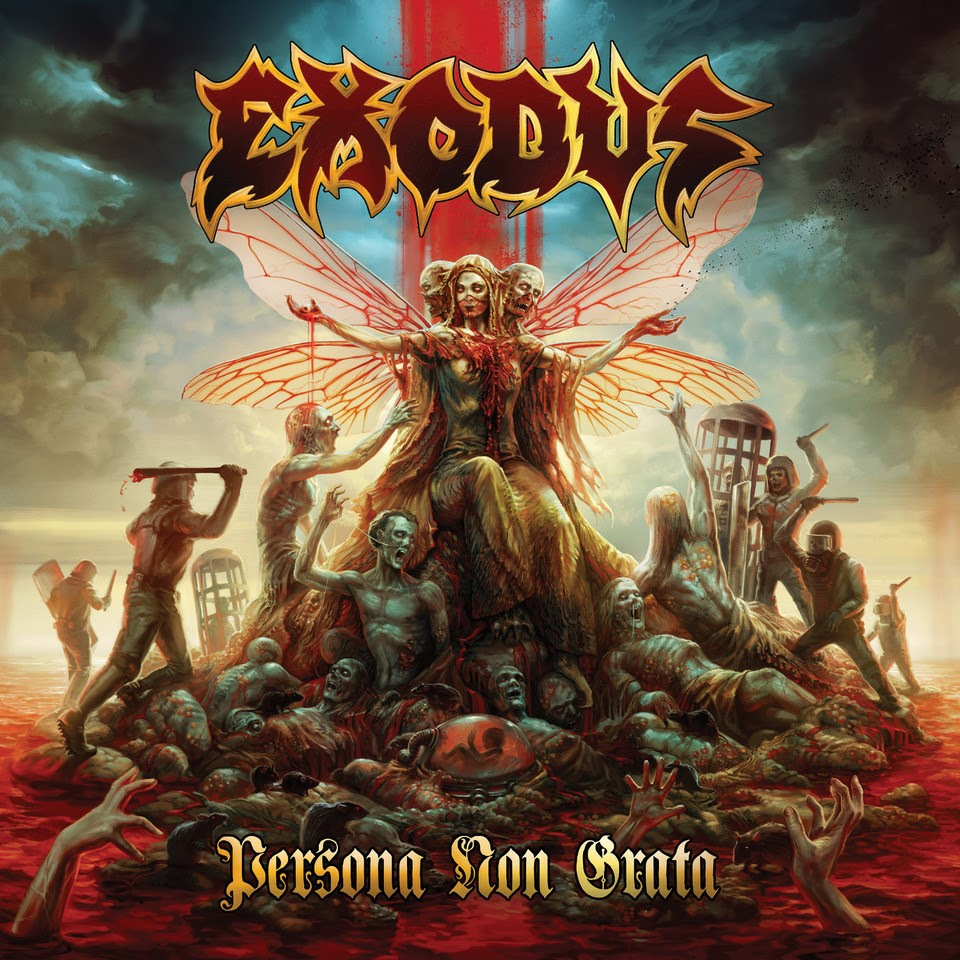 For thousands of years the word EXODUS has been used to describe a massive human migration; embarking upon an epic journey and change filled with such power that the earth itself shakes upon its commencement. All such grand exploits begin with a soft awareness for what truly lies beyond, yet 4 decades ago EXODUS had no way of knowing the extent to which their band would rise, conquer, trip up, and rise again. The formation of the beast we now call EXODUS began in Richmond California 1979, and although many started their journey as fans a few years down the line, there is no debating that the early 80's was a time for major growth in the world of Thrash Metal, especially in the Bay Area of California. Being only kids at the time, all just learning to use their instruments, Tom Hunting, Kirk Hammett, Tim Agnello, and Keith Stewart began covering classic rock, punk rock, and Iron Maiden songs at backyard birthday parties. The less technologically inclined, music sharing, tape trading ways of the 70's were still in full force and it was this striving for the acquisition of new sound that fiercely fueled the band's tenacity to learn, play, and eventually write.
Although Kirk Hammett famously left the band before their genre defining debut, "BONDED BY BLOOD," Guitarist and lead writer Gary Holt had become a deep rooted foundation in the band, in 1982 EXODUS added the unparalleled, and infamous voice of the now tragically deceased Paul Baloff, solidifying their sound and putting what would become one of the most infamous Thrash albums of all time, on the map. "We were living for heavy metal, it was rad. It was a great time to be alive" remembers Gary Holt. With a new and semi-solid line up of Hunting, Holt, Baloff, Hunolt, and McKillop, "BONDED BY BLOOD" was finally released to the world in 1985. The importance of this album, and its influence on all the heavy metal composers that we have grown to love and respect today, can never be understated for both fans, and the guys in the band. "A lot of bands hit their peak a couple albums in, we busted right out the gates with this face melting, thrash masterpiece," Holt recalls, "that first time when the shipment came in, and I opened the box, and I was holding that BONDED BY BLOOD vinyl in my hands… that's a feeling you'll never replicate. That's pretty amazing." In 1987, the release of their second full length album "Pleasures Of The Flesh" was preceded by Baloff leaving, and current lead vocalist Steve Zetro Souza joining the band and solidifying his place as the voice of EXODUS. 8 more studio albums would follow, and through more member switches, time off, family illness, and even death would try to interfere with the progression of the band, they still exist, write music, and garner respect as true royalty in today's kingdom of heavy metal.
Now celebrating 40 years as a band, truly looking back and reflecting upon the massive history of EXODUS can reignite some wildly significant memories. "What stands out most to me was getting to play our first tour with Venom in 1985, and then going to Europe with them afterwards," reflects founder and drummer Tom Hunting. "Being 19-20 years old with a double decker bus, traveling the world with no real concept of time or budget, we were just like 'wow, this is awesome.'" This small town California band saw an entirely new world when they began networking and globetrotting with their idols. They came into opportunity and experience that would forever catapult their career. "Over in Europe, playing the Dynamo Festival for the first time in 1989 in front of what must have been 20,000 people watching us… that was life changing," says Hunting.
Currently, the EXODUS lineup is comprised of: Tom Hunting on Drums, Gary Holt on Guitar, Lee Altus on Guitar, Jack Gibson on Bass, and Steve "Zetro" Souza as lead vocalist. All these years and EXODUS still boast a similar writing process to what they started out with. Although technology has made it so that the recording and mixing processes are less time consuming, the main change is really just that "[they] respect what [they] do a lot more," states Hunting. "We've humbled ourselves to the journey and consider ourselves lucky to do what we do, but our creative process is still the same. Basically drums, guitar concepts; those are the starting point. After the music begins to take place we all process it and write together. When we were kids it was about the party. Now that we're men, we're in it more for the journey." "To this day I still write a riff the way I did in the beginning," explains Holt. "I write to make myself happy and I'm still always looking for that sick, brutal ass riff; it hasn't changed. I kinda stick with my guns on how I do things." With Holt just finishing up his world famous final run with SLAYER, the supportive network of friends and musicians that is EXODUS patiently await fully re-submerging themselves into a new record. With new ideas and riffs already in the works, not only can these masters of metal assure us upcoming new music, but an abundance of world-wide touring is inevitable. "I can't tell you how long it'll go on," says Hunting, "the fuse is definitely shorter. We're obviously closer to where it ends than where it started… but we'll take it one record at a time. As long as we feel good about what we're doing, there's good things happening right now in this genre of music, and we want to be a part of that. A lot of bands want to retire but that's not us. The potential for our next record could be career defining. We're taking our time and not rushing any songs."
Regardless of how us metalheads may see it, Heavy Metal will forever be one of the more niche genres in the music industry. Longevity is the key here; to have reigned for over 40 years and created 10 unique, game changing, full length albums amidst the even smaller bailiwick of Thrash Metal. EXODUS not only remain unwavering in their delivery, but in their strength and progression as a successful and unique sonic endeavour that make your every bone rattle and your blood churn in the best of ways.
https://exodus.bfan.link/persona-non-grata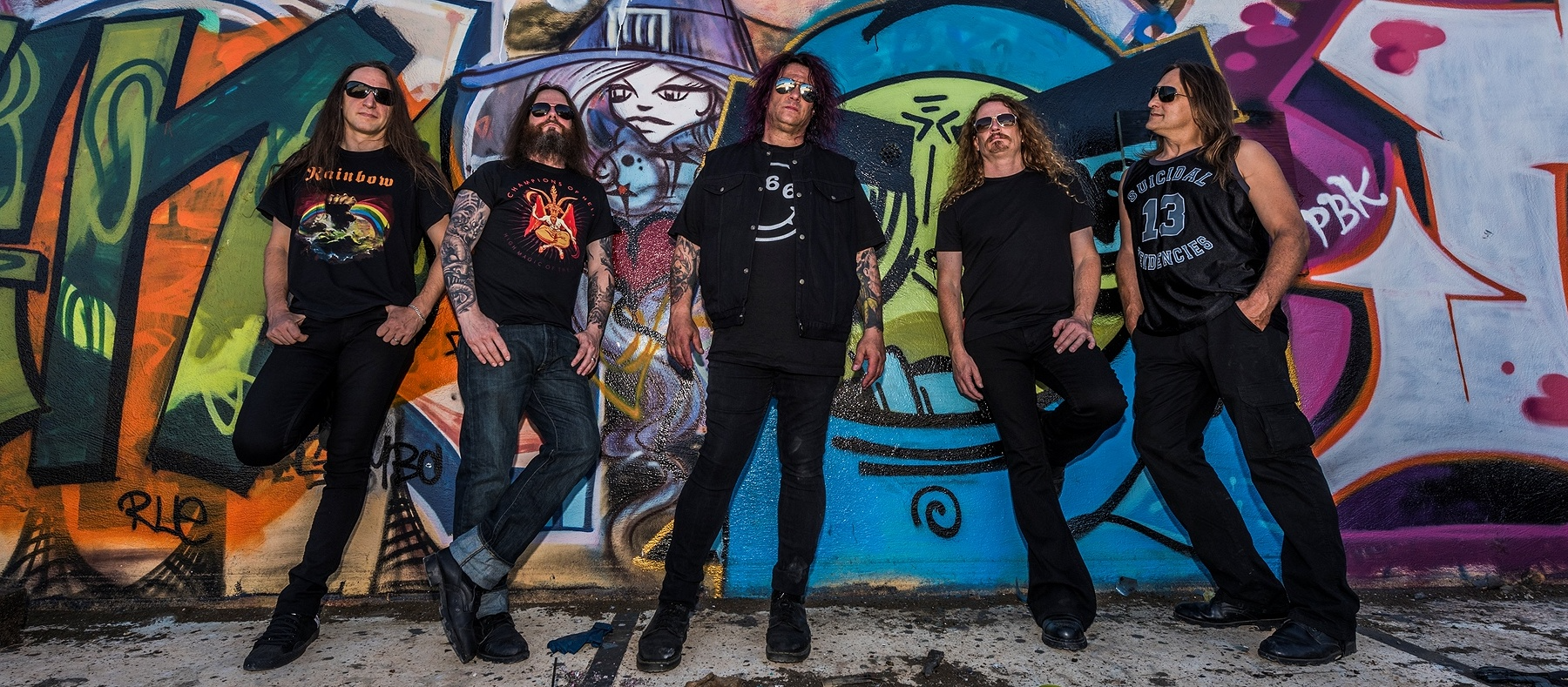 VISIT THE BAND
Website: https://www.exodusattack.com
Facebook: https://www.facebook.com/exodusattack
Instagram: https://www.instagram.com/exodusbandofficial/
Twitter: https://twitter.com/ExodusAttack
YouTube: https://nblast.de/subs-exodus-yt