Stercore - The Death Head - Reviewed by Metal Digest ! Check it out here at this link: https://metal-digest.com/2022/05/20/stercore-the-death-head/
Stercore's first demo EP 'Raven Nest' was released back in 2012, after 10 years of determination, consistency, hard work & 2 albums, following from a frenzied lockdown writing period Stercore have returned in January 2022 & released their 3rd studio album 'The Death Head' on Gothoom Productions.
From the get-go with track 1 'Mankind', Stercore spares no time to cave in your head with a beauteous sonic breakdown that continuously evolves, revealing what an adventure you are about to embark on.
For the rest of the album from 'Echo' & 'Failure' through to 'Salvation' & 'R.I.P.' there is no denying that Stercore is up amongst the elite of deathcore artists, by perfecting & improving all the filthy breakdowns, upbeat riffage & melodic solos we know & love, they have made a true masterpiece with 'The Death Hand'.

Consistency is key in the music industry & Stercore has consistently been phenomenal!
'The Death Hand' is a fitting next chapter in this band's blossoming career, if you like what you hear be sure to also check out their previous albums 'Eternal Sunlight' (2017) & 'Indifference' (2019).
'The Death Hand' is available now on CD Digipak, Digital, Streaming & Vinyl. - Metal Digest
Release Date: January 14, 2022
FFO: As We Divide, Fixed Fight, Ode Of Disgrace
Location: Slovakia  
During the pandemic, there was a huge space to compose new songs, which brought a new album called The Death Head, which was released on January 14, 2022, under the label Gothoom Productions . The album was recorded by producer István Simon at No Silence Studios in Hungary and mastered by Divergent Studios in Italy. Prior to the release of this album, the band released three singles called R.I.P, Failure, for which they recorded a music video, and Mankind, for which a lyrics video was created.
Check out this video!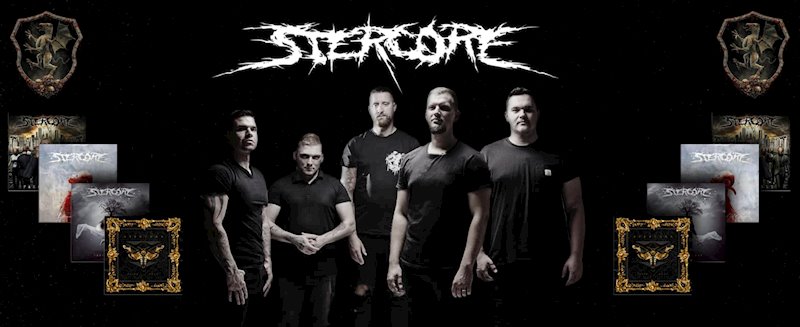 Follow the band at these links:
Spotify:
https://open.spotify.com/artist/1FaSH1mAXftP0W4txYyOhb
Youtube:
https://www.youtube.com/user/StercoreBand
Facebook:
https://www.facebook.com/stercore.slovakia