Warrior - Instruments Of Death - Reviewed By Metal Temple ! Check it out here at this link: http://www.metal-temple.com/site/catalogues/entry/reviews/cd_3/w_2/warrior-instruments.htm
WARRIOR are a blackened death metal duo coming from the Scandinavian nation of Sweden where 'they stand upon the shoulders of giants such as BATHORY, TORMENTOR and DISSECTION just to name a few'. There are only two members of course; guitarist & vocalist KRIEGHAMMER and drummer BERSERKER as the creators of 'music that on a personal level is spiritual, yet deals with whatever theme that may inspire them'. There was also a third member called DEATHLORD on bass guitar and vocals but it would seem he left in 2020.
However when there were three members in the band, they did record a short 4 track DEMO only a year after the band's formation but then their bassist did depart from the band. Nevertheless this hasn't stopped the remaining two members from continuing on and keeping the band alive. Well now they are now here once again but with their debut album titled INSTRUMENTS OF DEATH which was released back in December 2021 so let's not delay in taking a closer look at this album. "Vampyric Bloodthirst" grinds out with high end shredded guitar riffs with drums slowly creeping in as vocals shout right over all the other instruments. Vocals are thrown into unwinding, spinning and echoey space when there is a void between all instruments to extend more. The narrative goes to guitar, vocals and even drums setting the scene for violent discord but not excessively.
"Endless Torment" with a more garage rock style drumming but fighting against vocals which are wicked and sustained. Guitar also plays its part with sparse and mellow riffs but drums do overcome all to lower their tone. Vocals come in big waves of mass fury and crunch before we go into the next track. "Charge Into Eternity" takes very much similar sounds of the previous track. Vocals and drums simply run loose like a heavy beat of burden, that roars and becomes aggressive inside its soul. But this soul within the track as it goes on is tainted by the rhythmic guitar. There is subtle melodic playing in guitar but not as much as we enter the next track. "Deathbringing Banners" opens with deadly vocal notes, crashing drums and very dull guitar playing.
There is more of thump and punch of drums, alongside demonising vocals transcends into unholy hysteria. There is only so much we can take as we move into the fifth track which is "In The Tyrant's Grasp". Vocals are of course in the driver's seat here with slight variations in drums to suit the different tempo. The mood is certainly tense, bewildering and occultic with vocal layers or overdubs perhaps. "Satan's Knights" as the blackened death metal goes into more of vocals lasting and reaching out over the sound field with everlasting endurance. Drums are supporting as before bumping up the adrenaline and guitar exposing the high end harmonics that also shine through. "March On The Gates Of Heaven" with more cymbal hits than usual but there isn't anything much more than we heard before.
There is a variation in tempo with drums as there is that sway movement we heard in a previous track. There isn't as much vocals compared to previous tracks but no matter, guitar takes the reins for a minute or two. Certainly a more psychedelic rock feel in this track as we go into the penultimate track. "Azrael" follows a similar tempo and pace as the previous track, vocals are also keeping the same direction as prolonged notation that screams sinisterly.
Guitar also contributes as it has before with high end harmonics as we go into the next track which is the finale titled "Void Chant". The finale of this debut album builds up with drums as a crescendo but vocals & guitar speak volumes knowing drums are loud enough to balance out the mix. The rhythm and tempo set is slow but gives drums, guitar and vocals to set the bar high enough as the album closes. It's certainly an interesting compilation of tracks but I would have liked to hear more variation in vocals or drums as they tend to get monotonous. Overall a good album, it would be to hear more to see if there is more that this band can offer perhaps, so we will wait and see if that happens. - Metal Temple
Release Date: December 17th, 2021
FFO: Archgoat, Satanic Warmaster, Blood Chalice
Location: Sweden
WARRIOR was formed in 2019, in southern Sweden, and consists of 2 band members Krieghammer and Berzerker. Being a black metal band, we stand upon the shoulders of giants such as Bathory, Tormentor and Dissection just to name a few. Finding ourselves in a time where change, and perhaps degradation, is taking place at an ever-accelerating pace - WARRIOR seeks to capture and fortify the essence of black metal, the way we see it. Keeping alive, for yet some time, the dying flame that is today's black metal scene, we offer ourselves as fuel to this fire. We make music that on a personal level is spiritual yet deals with whatever theme that may inspire us. We create, through our music and the energy we infuse it with, something that will last in this world when we ourselves are gone. Upholding values and principles of bygone times, WARRIOR deals a crippling strike to all things weak and false. We raise our blood-filled cups to Chaos, to Death!
Check out the video!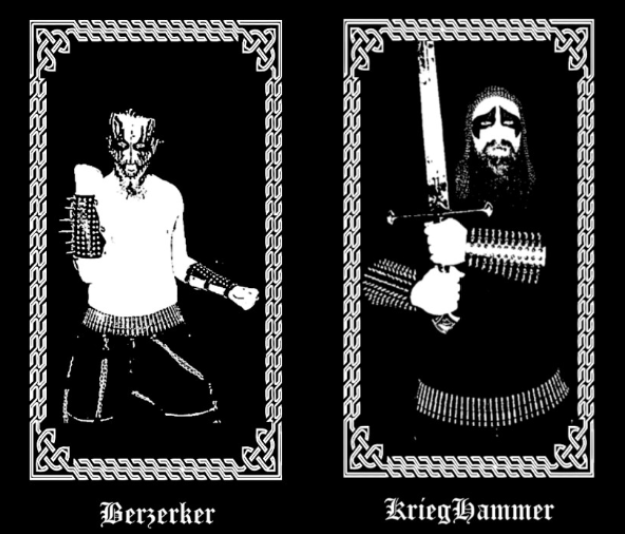 Follow the band at these links:
https://www.facebook.com/Warrior-103526624773274
https://grindtodeathrecords.bandcamp.com/album/instruments-of-death
Grind to Death Records:
https://www.facebook.com/GrindtoDeathRecords
https://twitter.com/GrindtoDeath
https://www.instagram.com/grindtodeath/
https://grindtodeathrecords.bandcamp.com/
https://grindtodeathrecords.bigcartel.com/