'Niviane' joins The Zach Moonshine Show, to talk about the new album 'The Ruthless Divine'! We play new music from the band as well as new releases from Solicitor, Night Demon, Noisecult, Skinner, Martyr, Krilloan, HAMMERFALL, Drowned , Cultist, Abort, Oscenrad, Infinite Exile, Bent Self, SEPTEM, Sargassus, The Final Sleep, Flight of Odin, Hellishkiller, and Nhialic! We also played some classics by request from Whitesnake, King Diamond, Mercyful Fate, Marilyn Manson, Nine Inch Nails, St. Madness, Totally Over Rated Sell Outs, Pelvic Meatloaf, Brutal Death Fuck, and Grouch & The Brainstorm!
Track List:
1 - Children Of The Night/Still Of The Night/Give Me All Your Love - Whitesnake
2 - The Zach Moonshine Intro
3 - Killer For Hire/Megalomaniac - Solicitor
4 - 100 MPH [feat. Tim Baker (Cirith Ungol)/Wasted Years (live) - Night Demon
5 - Seraphic Wizard/The Lords of Eden - Noisecult
6 - Niviane Interview 2022 featuring League of Shadows/Crown of Thorns/Dreams Crash Down
7 - Seven Angels - Skinner
8 - Raise You Horns, Unite! - Martyr
9 - Moonblade - Krilloan
10 - Venerate Me (featuring King Diamond) - HAMMERFALL
11 - Eye Of The Witch/Masquerade of Madness - King Diamond
12 - Return Of The Vampire... 1993/The Bell Witch - Mercyful Fate
13 - The Worst Of Us - Drowned
14 - Triumph - Cultist
15 - Coronilla - Abort
16 - Beneath the Ancient Sky - Oscenrad
17 - War Is Here - Infinite Exile
18 - 'Waves' - Bent Self
19 - 1996/Long Hard Road Out Of Hell (Album Version)/Tourniquet (Prosthetic Dance Mix Edit) - Marilyn Manson
20 - Last/A Warm Place/Reptile - Nine Inch Nails
21 - Comfortably Numb/Arizona/Sweat Leaf - St. Madness
22 - Cesspool
Totally Over Rated Sell Outs
23 - SkullCrusher - Pelvic Meatloaf
24 - The Devils Whiskey/Alcohol - Remastered - Brutal Death Fuck
25 - Your Wake Up Call/Feeling Just Fine - Grouch & The Brainstorm
26 - Blood and soul - SEPTEM
27 - The Albatross - Sargassus
28 - Until It Ends - The Final Sleep
29 - God (Where Are You, Now) - Flight of Odin
30 - Graveyard - Hellishkiller
31 - Underworld Supremacy - Nhialic
Listen to the full episode below!
Listen to the interview segment on Spotify!
Listen to the interview segment on iTunes!
Listen to the interview segment on YouTube!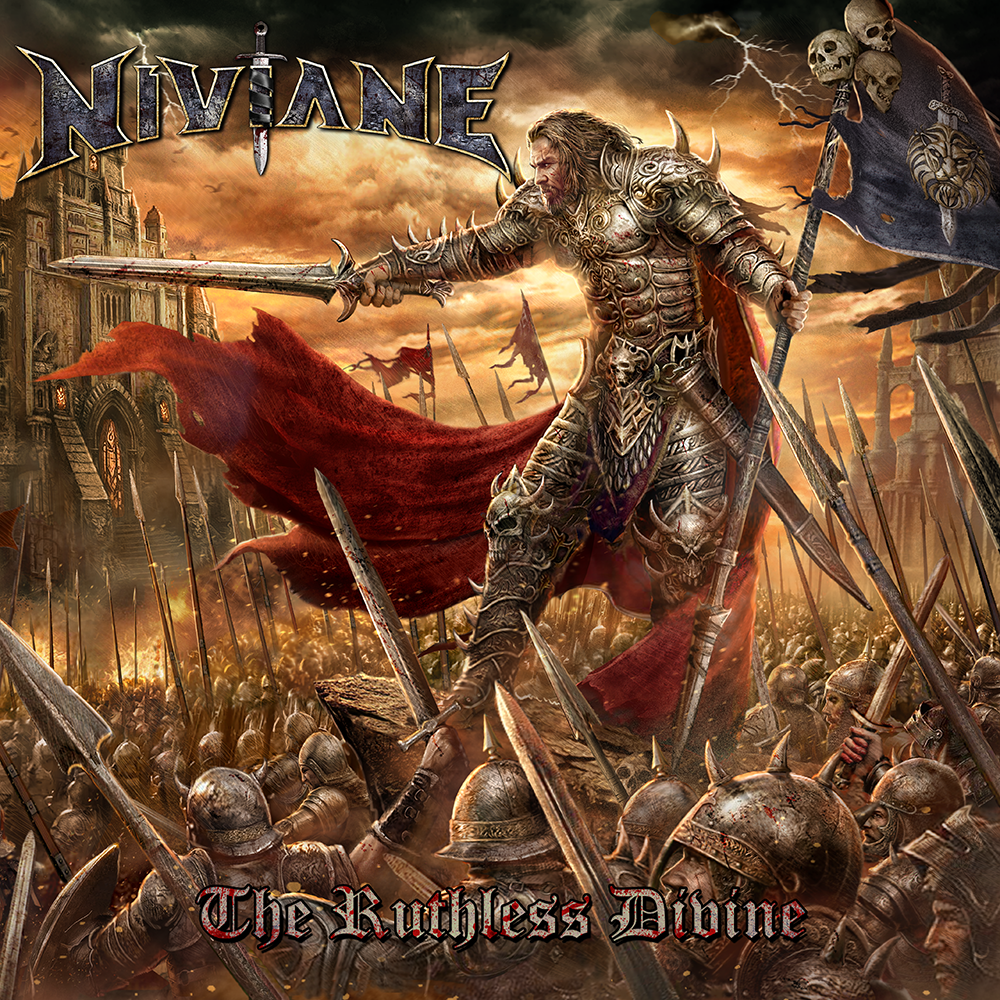 Sacramento, California power metallers   NIVIANE   have released a final wrap-up report from the   SOULFLY   U.S. tour.
Guitarist Gary Tarplee comments:
On August 18, 2021, we departed Sacramento's Rehearse America to embark on a 15 date onslaught of the Mid-West and East Coast with the legendary Soulfly. We are pretty well-known here in Northern California, but going out on tour with Soulfly into states that we've never been to, we were the "unknowns".
We kicked off the tour in Albuquerque, New Mexico and delivered our brand of metal to a venue filled with people to see Soulfly. People were curious as to who was this band " Niviane " that's out on tour with Soulfly.
We would take the stage, look into the crowd and most times see the look on peoples faces like "who are these guys" and "what do they have to deliver"?
Night after night within a couple of minutes of the opening song, The Ruthless Divine, the crowds facial expression would change, we could see people getting into the music, raising their fists in the air and chanting along when prompted.
By the middle of our set, the crowds were pumped and into us. Night after night, we were just getting tighter and tighter. Playing to sold out venues in Colorado Springs, Colorado and Wichita, Kansas. Playing in Fort Wayne, Indiana to 1200 people on a Thursday night, sharing the stage with the Butcher Babies at a festival in West Virginia and playing in New York City at the Gramercy Theater were all incredible experiences.
We are incredibly fortunate and grateful to have been able to take our brand of metal across the United States, meet new friends, make new fans and create memories that will last a lifetime!
Niviane 's latest album "The Ruthless Divine", released in 2020 was engineered by Zack Ohren of Castle Black Studios (known for producing albums for such bands as All Shall Perish & Machine Head among others), with artwork created by freelance illustrator Dusan Markovic.
For the latest band news and show dates, visit the official   Niviane   website and Facebook page:
Niviane   - "Fires in the Sky" You Tube video link