Evoking Winds - Towards Homestead - Reviewed By Jenny Tate ! Check it out here at this link: https://jennytate.wordpress.com/2021/08/25/evoking-winds-towards-homestead/
Brand new folklore, dark fantasy metal album, 'Towards Homestead', from Evoking Winds is out now, including a video of the entire album.
Formed in Belarus, in 2008, by Artyom Prischepov and Ivan Sereda, as a fun project, EW gradually expanded, to include: Yaroslav Korotkin (vocals/bass), Sergey Shulzhenko (keys/orchestration), Dmitry Sarychau (guitars) and Alexander Cherepanhov (vocals).
Currently, the band are based internationally and therefore, work remotely. Their material has now been re-mixed and reissued, online, for free, featuring James Knoerl (drums/programming). EW continues to evolve.
By The River She Cried – Crackly atmospheric accordion intro, moving down, into a steady, bright melody. Neat blend of instruments, skilfully played. Gentle acoustics meld with the rain, ending the track.
Oh Black Raven, Leave Me Be – Similar accordion intro, with a slightly bleaker melody, joined by soaring drums and riffs. Death growls enter, adding an unexpected aggressive aspect. Good, consistent rhythm. A trollish backing vocal makes an entrance, amongst the melodic backdrop. The gradient rises, up to a strongly atmospheric sound. The light's still very much audible. Ending on pipe-like synths.
In The Woods, On Yellow Sand – An upbeat, jolly accordion tone opens. Into a mysterious, light and dark melody, featuring troll growls, before dropping down, into a powerful riff and background drum accompaniment. The troll vocals return, adding a real fantasy element to the sound. Strong keyboard sections provide melodic rain. A similar outro, to the previous track. Very visually evocative of forest backdrops.
Yurja – Rhythmic beats intro, with a synth and keyboard accompaniment, joined by the accordion. More of a breathy track, with room for contemplation and visualisation. Short, but sweet, with a smooth fade-out.
Rye By Mountainside – Coming straight in, with another melodic accordion intro. Gently played acoustics blend with heavy metal bass and backing drums. Gory, blackened vocals follow, in a duet. It's actually quite a fun combo of vocals, befitting the scene well. Smoothly fading out, again.
There By The Adamant Sea – Heavier intro, stronger and more uplifting. More of the death growls, slightly more ingrained. It's as steadily rhythmic as before. Just a pleasant sound, with greater melody, till the end, if somewhat lacking, in memorable content.
Why You, River – Again, not much difference in this intro, but still as atmospheric. A more notable Viking-esque section, just after, though, with sea sounds adding to the power of the accordion. It's uplifting and just as rhythmic, but ends a little too soon, without offering much in the way of variety.
In Our Yard – Very similar accordion intro, once again, but this time, with a kick drum, beating out a rhythm. Coming down, into an enigmatic melody, with strong hooks, in rhythmic terms. Evoking imagery of nature, once more and yet again, it's over, before you've begun to absorb it.
Arrow's Burial – A rising, choral opening, backed by the accordion, then moving into an edgy, black metal vocal, before yielding to the softer accompaniments, then bringing the grinding death vocals back and alternating them, with gently delivered instrumentals, ending, without adding any more content.
Grateful Night – Stronger symphonic angle to this intro. Definitely, a catchier beat. Very similar sound, though, with many of the same features. It does build, in power, but you'd be hard pushed to find anything unique about it. Quite wintry, in melodic terms and it's still pleasant enough. Over fairly rapidly, once again.
Overall – As pleasant as 'TH' is, to listen to, it's lacking in terms of variety, length and memorable hooks. It's evocative and creative, to an extent, but it needs some versatility and originality injecting into its tracks. They've got the rhythms down well and it's easy on the ear melodically. At present, though, there's nothing to remember it for, or to mark it out, as unique from the rest.
7/10 ******* - Jenny Tate
FFO: Moonsorrow, Summoning, Finntroll, Finsterforst, Equilibrium
Release Date: August 10, 2021
Atmospheric metal meets folklore fantasy in music by Evoking Winds. It's a mixture of stormy blast beats with an epic ambiance and a healthy dose of Eastern Europe's dark tales.
Bio:
The band was originally founded by Artyom Prishchepov together with Ivan Sereda in Belarus in 2008 as the way close friends created music together. They composed music for years just for fun and inspiration, and the band has eventually grown: adding Yaroslav Korotkin on vocals and bass, Sergey Shulzhenko (keys and orchestration), Dmitry Sarychau on guitars, and Alexander Cherepanov doing vocals. Today the musicians live around the world: Belarus, USA, China, Russia - and collaborate online. Recently they decided to re-mix and issue all of their music digitally available for everyone for free, featuring James Knoerl on drums and programming. Starting with the very first works they walk the journey again opening new chapters together. This sense of friendship is something everyone really started to value during pandemics and isolation.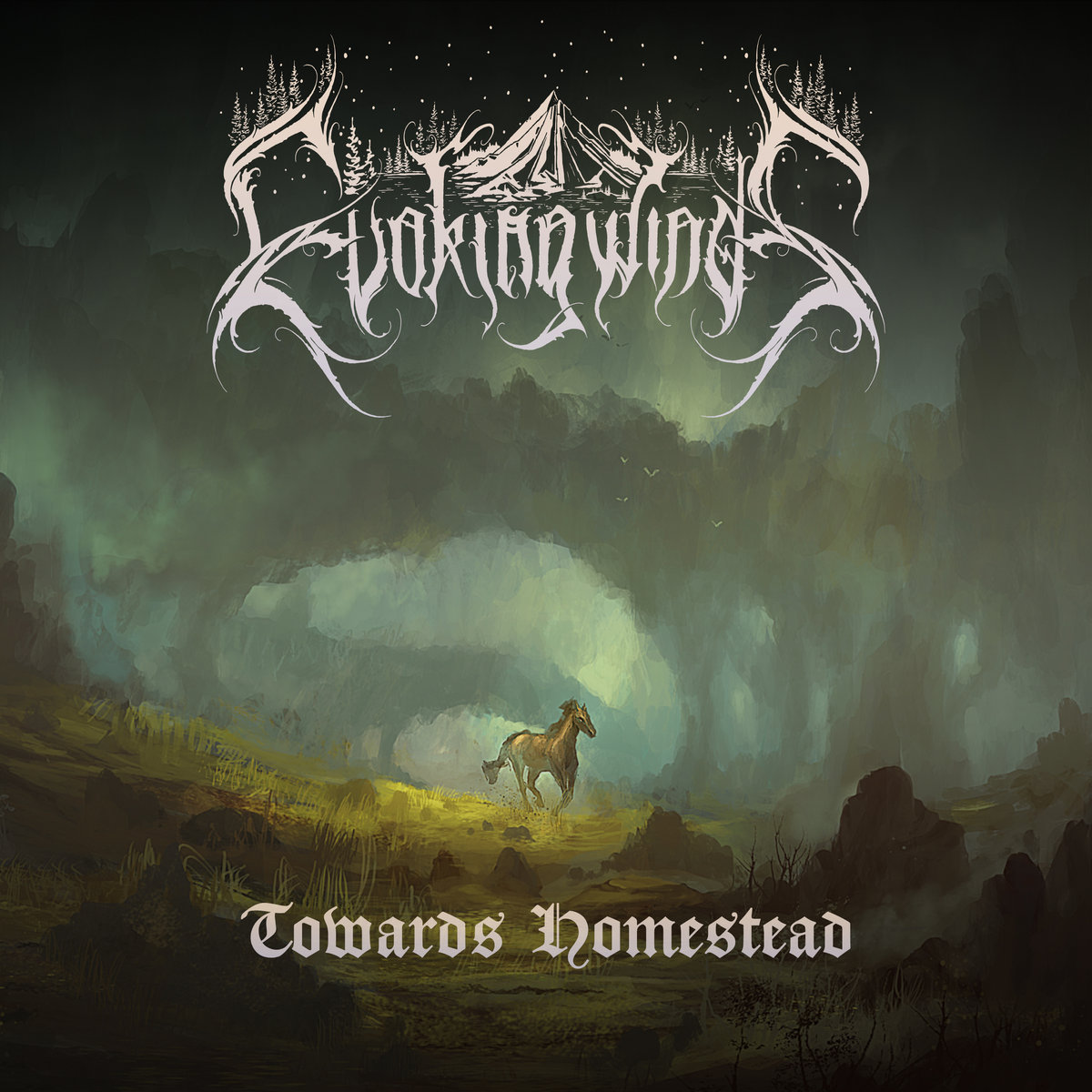 Follow the band at these links: 
https://www.youtube.com/channel/UCkvrxEe4T1lcXRQmosJUWfw
https://open.spotify.com/album/3dEeDCFhQR4jvzayrYSza9?si=l17acjSCRzalFJzTe5dZ5A&dl_branch=1
https://music.yandex.com/album/16903783
https://evokingwinds.bandcamp.com/album/towards-homestead