Cradle Of Haze - Zehntausend Seelen - Reviewed By Obliveon ! Check it out here at this link: https://obliveon.de/review/cradle-of-haze-zehntausend-seelen/
CRADLE OF HAZE, founded in 2000, is essentially producer and songwriter Thorsten Eligehausen, who celebrates German-language gothic rock/gothic metal on the fourteenth studio album. The mastermind may be known from one of his other projects Eli van Pike, Inception Of Eternity or Schandpfahl. The sound on "Zehntausend Seelen" combines Gothic elements, Neue Deutsche Härte and EBM parts. The singing moves between Peter Heppner, Till Lindemann and the "Count" and transports an incredible amount of depth, soul and feeling, especially in the rather quiet passages. In combination with classical, electronic and a few medieval elements and the poetic and subtle texts, eight are created for the small, round polycarbonate spellbound gem of dark music.
The German-language lyrics deal with the dark sides of being human, fears, feelings and desires. But also socio-critical aspects and inglorious qualities of man are considered, whereby one's own interpretations are always given sufficient space by ambiguous messages. Eligehausen's wife Anni Meier takes over the backing vocals available from time to time and the small family business is complete when their daughter Hannah, born in 2015, speaks the intro to 'Children of Darkness'. The piece combines Rammstein vocals in the verses and a catchy "Unheilig-Refrain".
The anthemic title song convinces with great choirs, but also the, at least in parts, somewhat harder pieces like 'Das Ich verbrennt' or 'Eisberg' with their socio-critical lyrics are extremely worth listening to. As well as the haunting 'My dear child', which concludes, at least according to my modest interpretation, on the controversial subject of abortion. If you are not afraid in the dark and are not averse to high-quality, German lyrics, you should definitely listen to them and try out the last two albums "Sirenen" (2017) and "XII" (2019) directly and discover a real insider tip for yourself.
Michael Gaspar awards 8 out of 10 points - Obliveon
Cradle of Haze: New album with old line-up! German gothic rockers "Cradle of Haze" release "Zehntausend Seelen", their 14th studio album. "Zehntausend Seelen" comes with eight crisp and to the point, straightforward gothic rock/gothic metal songs. The lyrics are as usual morbidly gloomy and describe once the dark sides of the humanoid being, primal fears, emotions and desires, socio-critical aspects as well as inglorious characteristics of the human species. Here, too, the true messages of the songs are not always clearly discernible and leave room for the listener's own interpretations.
FFO: Rammstein, Lindemann, Erdling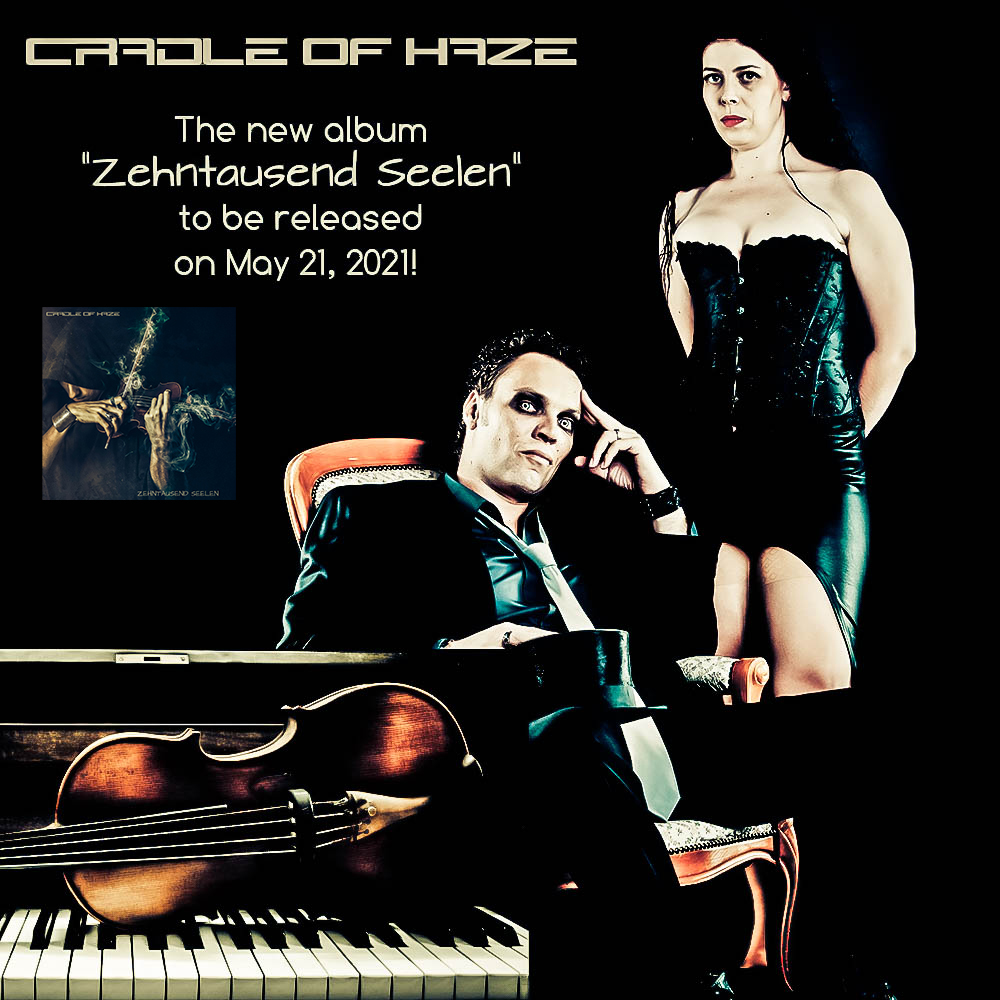 On this album, singer Anni Meier is also back. The two voices once again complement each other to create a harmonious sound that shapes and colors the songs and their messages. In the selection of sounds, mastermind Thorsten Eligehausen decided to use more orchestral instruments on this album, in addition to the dominant electric guitars; electronic instruments were deliberately used less this time. "This selection and combination of instruments, coupled with our voices results in the modern sound of Cradle of Haze. It underlines the catchy melodies and underpins the message of the songs," says Thorsten Eligehausen. Of course, there is also a special guest on this album that must be mentioned! The eldest daughter of the "family business" Cradle of Haze, for which a special EP (Hand in Hand) was released especially for her birth in 2015, got her first little assignment on the song "Kinder der Dunkelheit".
As a small foretaste, the song "Wie der Wind" was released on YouTube on April 26, 2021.
"Zehntausend Seelen" will be released on May 21, 2021 and is available for download and streaming.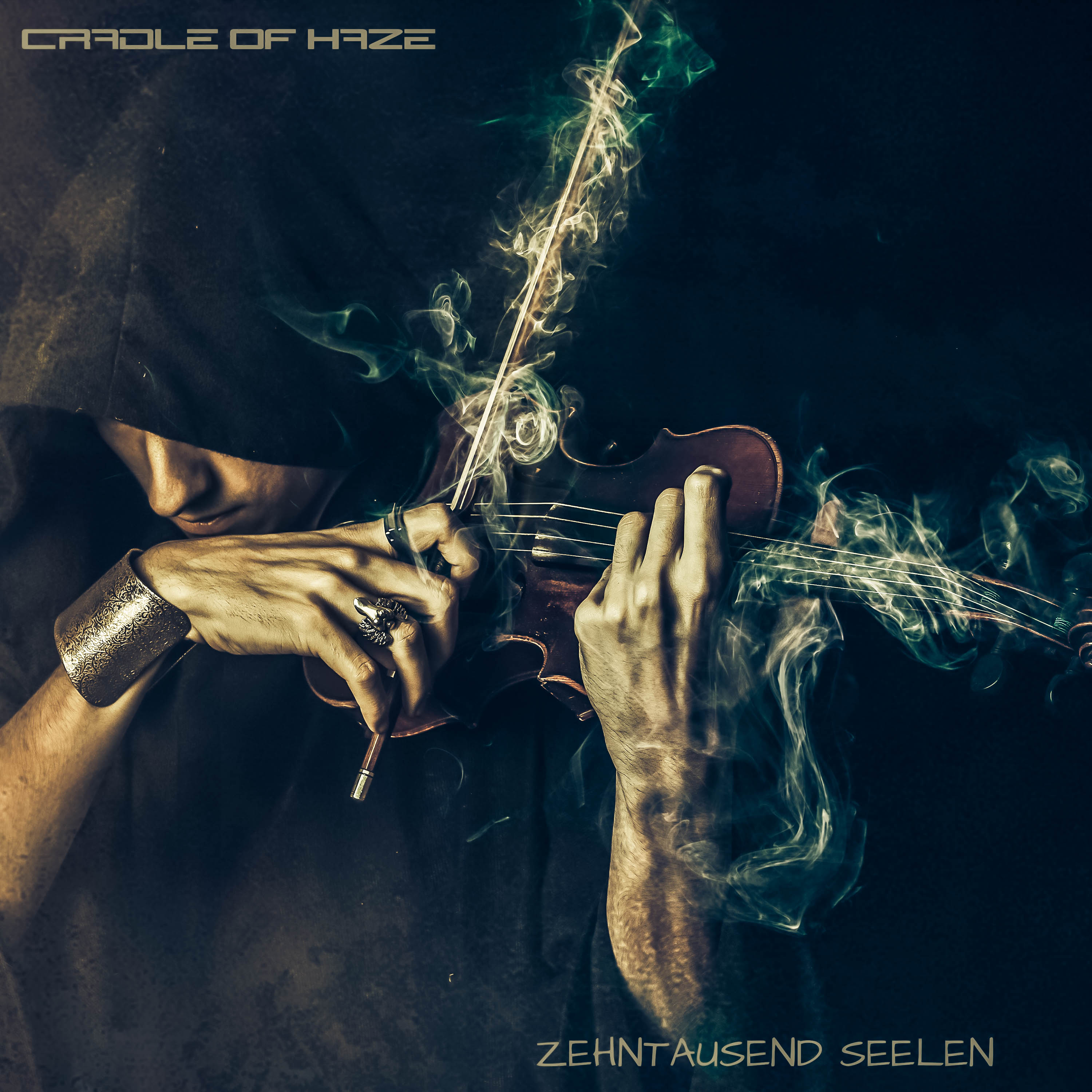 Follow the band at these links:
https://www.facebook.com/cradleofhaze
https://www.youtube.com/channel/UChweI5FGkVcvdtDl0pNcqvQ
Also check their best of compilation!