TWO DAYS OF METAL! 22 BANDS! FREE CAMPING! PYROTECHNICS! KENTUCKY PRO WRESTLING!!!!
"It has been a long year. It feels like forever since we last hit the stage. Our last show was on March 2nd of 2020. This Pandemic has had us all locked up inside our own homes. While the Pandemic spread and reeked havoc upon our venues, and threatened to destroy what we all love so much, live music!!! We have been doing all we can to do our part to keep the scene alive and keep people safe at the same time, from online live streaming events to just continuing to put music out. Yes it has been a very long year. But now with the vaccine here, it seems that the storm may be subsiding! And now That it may be safe for us all to enjoy Live music again, We join some very awesome bands on August 20th and 21st to bring to all of you The Summer Of Madness. A 2 day festival 22 bands , free camping, Kentucky Pro wrestling lights and pyrotechnics ! All ages show"  - Misanthropic Torment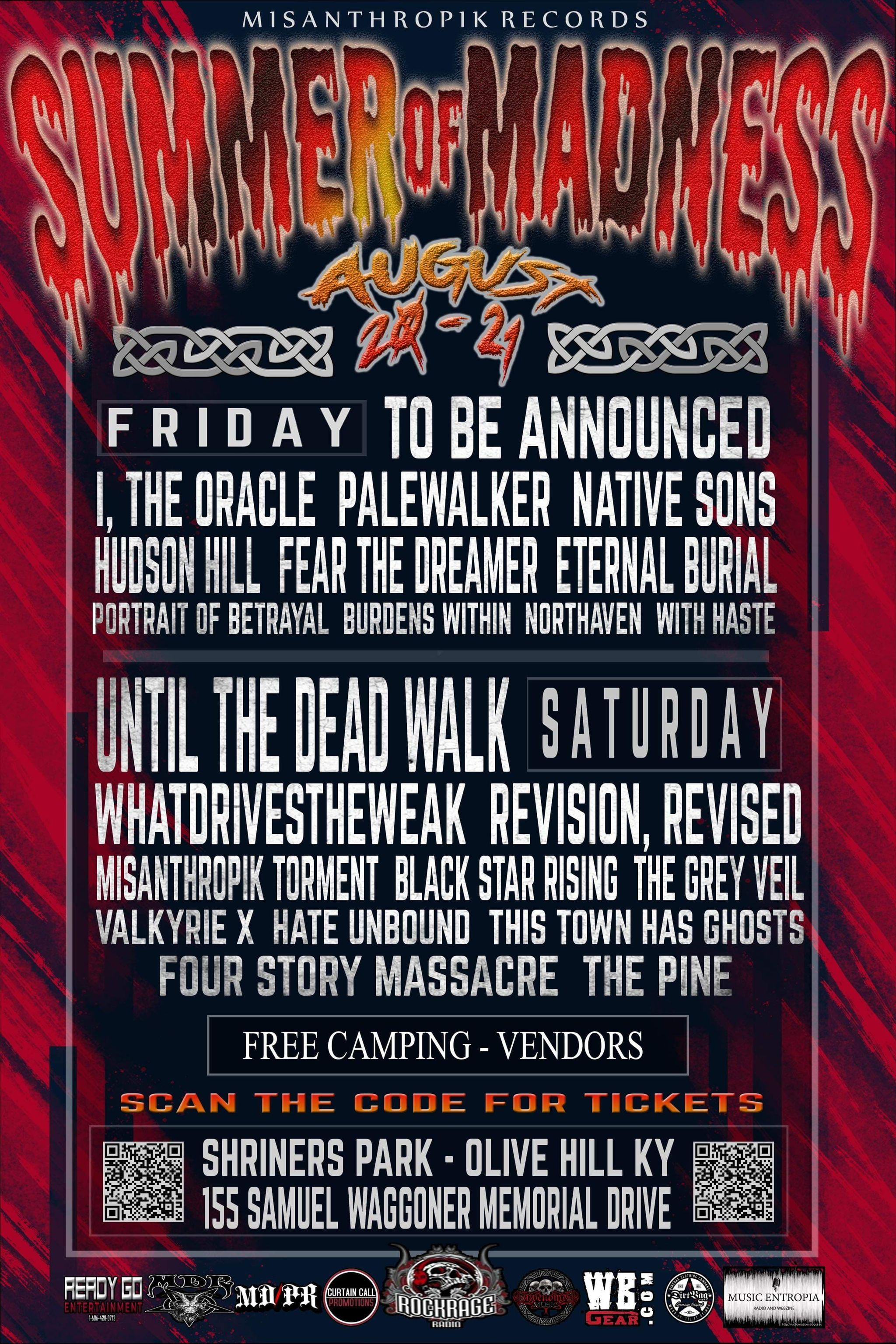 Friday Show starts at 12:00PM
With Haste
Northaven
Burdens Within
Eternal Burial
Portriat of Betrayal
Fear The Dreamer
Hudson Hill
Native Sons
Palewalker
I the Oracle
Mr. Lugosi
Saturday show starts at 12:00 pm
The Pine
4 Story Massacre
This Town Has Ghosts
Hate Unbound
Valkyrie X
The Grey Veil
Black Star Rising
Misanthropik Torment
Revision Revised
WhatDrivesTheWeak
Until The Dead Walk
Summer of Madness Playlist
More info here at these links:
https://www.facebook.com/events/1191081551338536
https://www.eventbrite.com/e/misanthropik-records-presents-the-summer-of-madness-tickets-153130255717
Date And Time
Fri, Aug 20, 2021, 1:00 PM –
Sun, Aug 22, 2021, 1:00 AM EDT
Location
Olive Hill Shriners Park
115 Samuel L. Waggoner Memorial Drive
Olive Hill, KY 41164
Refund Policy
Contact the organizer to request a refund.
Eventbrite's fee is nonrefundable.