Fatal Sin – Episodes: The Complete Recordings - Reviewed By Metal Temple ! Check it out here at this link: http://www.metal-temple.com/site/catalogues/entry/reviews/cd_3/f_2/fatal-sin-episodes.htm
FATAL SIN was a Trash Metal band from Boca Raton, Florida. They formed in 1985, went through multiple lineup changes, then solidified their membership by 1989 when they recorded their self-titled demo. The band unfortunately would go on hiatus in 1993 and later disband in 1997. On October 13, 2020, their recordings were collected and re-issued as "Episodes: The Complete Recordings." The album comes with an eight-page booklet featuring archival photos and personal insights from Adam Riewold. Also included is a bonus DVD featuring their entire performance at Florida Atlantic University in Boca Raton, Florida in 1990.
The album itself comprises six tracks, three studio and three live, spanning about 28 minutes. While albums of this nature appeal mostly to collectors and metal historians, I do have to say many of these tracks absolutely stand on their own. The best tracks, of course, are the studio recordings. The three tracks veer to the Prog side of the spectrum, laying out complicated arrangements across a vast array of tempos.
Thematically, the band focuses on traditional Thrash lyrics protesting environmental and socio-political distress . . . all of which actually seem prophetic coming from thirty years ago and landing in 2020. As a vocalist, Adam Riewold is neither a guttural baritone nor a clean-throated virtuoso, but he does have that fanatical intonation that you expect from Thrash bands. The guitar work of Haven Eaton is impressive in its complexity and ferocity, but my favorite performance by far is Adam Riewold on bass, especially on "Episode."
The live tracks are interesting but don't bear repeating except maybe from an historical perspective. Given the raw quality of the audio (apparently, they were having PA issues on the day), I'm thinking the DVD is much more entertaining with the added visual layer. On other fronts, the album artwork is very 80's Thrash, so fun in a retro-type of way.
Altogether, FATAL SIN's "Episodes: The Complete Recordings" brings to light the combined talents of a band that is sorely missed. And while we can sit around and ponder what might have been, we might be better off just cranking it to 11 and soaking it in.
Songwriting: 6
Musicianship: 7
Memorability: 6
Production: 5
FOR FANS OF: Atheist, (early) Megadeth, (early) Cynic
FATAL SIN were formed in late 1985 in Boca Raton, Florida by guitarist Adam Riewold and drummer Greg Threlkel (who were in middle school at the time) out of a love for both the energized Thrash of bands such as Slayer and Megadeth as well as the more intricate arrangements of Rush. After going through a revolving door of musicians, the line-up solidified with the addition of guitarist Haven Eaton and bassist Kevin Bachaus.
Fast forward, FATAL SIN would take home the top prize at a local Battle of the Bands, winning 4 hours of free studio time. With their winnings the band would enter Hollywood Sync Studios in  November  of  1989  to  record  their  first  demo.  Friend,  and  bassist  for  local  heavyweight's Saigon Kick Tom DeFile, produced. Armed with a quality recording, FATAL SIN would begin to gig heavily, sharing the stage with bands such as Vio-Lence, Devastation, Deicide, Morbid Angel, Raped Ape, Cynic, and Pantera.
Not long after the recording of the 1989 Demo and that momentum began, Kevin would be diagnosed with spinal cancer and would have to exit the band.  Adam would switch from guitar to bass, making FATAL SIN a three piece. It would be during this period that the band would begin to be influenced by not only bands such
as   Watchtower   and   Voi-Vod ,  but  also  by  the  complex  sounds  and  arrangements  of  classic Jazz/Fusion artists such as Return To Forever and Mahavishnu Orchestra . These influences are highly evident on their final studio recording, "Episode", which was recorded in 1991 for a local compilation album " Unsigned III: Killing Time ".
Shortly  after  the  recording  of  "Episode",  FATAL SIN  would  go  on hiatus  for  close  to  a  year before reemerging as UNIVERSAL LANGUAGE.  The band would issue one final 3-song selftitled demo in 1993 and disband in 1997.
Greg Threlkel would go on to co-found the band BURNER in 1998 along with guitarists John Paul  Soars  ( Raped  Ape/Paingod/Malevolent  Creation/Divine  Empire )  and  Jason  Morgan ( Monstrosity ), who would record one album for Arctic Music Group in 1992 titled "One For The Road". Adam Riewold moved to Tampa, Florida and has been involved in multiple projects, with his most recent being the band LEVEL THE PLANET.
This deluxe re-issue features all of the bands studio recordings, as well as 3 live songs, fully remastered  from  the  original  sources  by  Rob  Colwell  at  Bombworks  Sound  and  an  8-page booklet featuring archival photos and some personal insights from Adam Riewold. Also included is a bonus DVD featuring their entire performance at Florida Atlantic University in Boca Raton, Florida in 1990.
This deluxe edition is the 5th release in our "Florida Metal Archive Series" and is limited to 300 units world wide.
Grab your copy here: https://thrashbackrecords.bigcartel.com/
TRACK LISTING:
1. Episode (1991) *
2. Fatal Sin (1989) *
3. Intense Distress (1989) *
4. Civilized Suicide [1990 Live]
5. Dreams Of The Future [1990 Live]
6. Insanity Of Humanity [1990 Live] *
[BONUS DVD: Live at Florida Atlantic University 1990]
(Tracks with an * have been provided to you for airplay)
FATAL SIN:
Adam Riewold - Vocals & Bass
Haven Eaton - Guitars
Greg Threlkel - Drums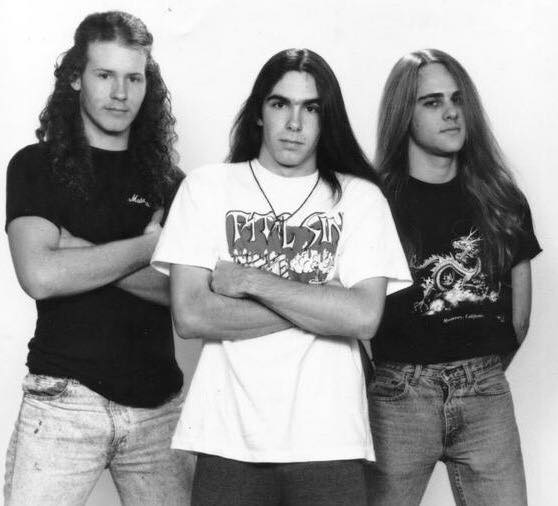 DISCOGRAPHY:
Fatal Sin (Demo) - 1989
Episode (Demo) - 1991
Unsigned III: Killing Time
(Compilation) - 1992
(Stryder Records)
Episodes:    The Complete
Recordings - 2020
(ThrashBack Records)
https://www.facebook.com/ThrashBackRecords/