MDPR Clients: Riveting Truth - Riveting Truth (EP) - Reviewed By Powermetal! Check it out here at this link: http://powermetal.de/review/review-Riveting_Truth/Riveting_Truth__EP_,37497.html
A little too heterogeneous
The label, with which this formation has found accommodation, and the band name based on a Bible quote make it clear from the start what is going on here. From a purely stylistic point of view, the story itself is not that clear, but since the gentlemen take precedence over their Christian faith, the categorization becomes much easier. The troupe from Toronto, Canada, was founded in 2017 by the two musicians Dave Bentley (voc., Guit.) And Andrew Rudd (b.) Who had previously worked for a Christian rock music company called LEGACY and now lets us go for the first Participate in the oeuvre of your current field of activity in the form of four tracks.
The EP, simply called "Riveting Truth", makes an overall very professional impression, comes out of the boxes with a powerful production and proves to be a real hodgepodge of influences despite the manageable playing time. These range from melodic heavy metal in classic execution to hearty, groove-emphasized Nu Metal. An inner cohesion of the material is given by the subtle rough voice of Dave.
The front man is particularly able to stage himself in the opener 'The Prison' supported by ANGELICA six-string Dennis Cameron as a guest. Since he reminds a little of Zak Stevens on the last CIRCLE II CIRCLE works in the drawn out passages, his fans should also be called here. Not quite as catchy, but a little more technical and filigree in terms of the guitar work, comes 'Stand Trial' out of the speakers, for which the gentlemen can get their long-time supporter Rex Carroll (WHITECROSS) to work.
RIVENTING TRUTH then gets going much more heartily in 'Skeletons In The Closet'. The number, characterized by a pumping bass run, goes straight away and is likely to cause people to constantly jump in the live situation. That is also out of the question with 'Give Up The Ghost', even if the Canadians try a little too tense to get the nu-metal community's attention to themselves.
With this, RIVETING TRUTH's debut, which unfortunately sounds somewhat heterogeneous due to the stylistic range, ends again and, not least because of this diversity, one can expect a very multi-faceted first Langeisen.
Grade: 7 - Walter Scheurer
New Promo: Riveting Truth - Riveting Truth - Roxx Records Release: 13 November 2020
On our eternal quest to bring you some of the best, the loudest and the boldest in Christian rock and metal to the front-lines Roxx Records is very excited to announce we have made our way in to Canada for this one. Please join us in welcoming RIVETING TRUTH to the Roxx Records line up.
RIVETING TRUTH is a Christian Metal band from Toronto, Ontario, Canada. Featuring members Dave Bentley out front (Vocals/Guitars) and Andrew Rudd (Bass Guitars) completing the line-up for Riveting Truth.
The two have played music together since the early '90's and released a nine song independent album with the band LEGACY in 1996. LEGACY played throughout southern Ontario and surrounding areas for several years opening for established bands such as Whitecross before taking a hiatus to pursue different career paths.

In 2017 Andrew and Dave created a new musical project by drawing from their musical influences of melodic groove heavy metal and RIVETING TRUTH was born.

The doubled-edged concept of the band name is that Jesus Christ is the riveting truth
(John 14:6) that can fasten the gospel to our heart, soul and mind.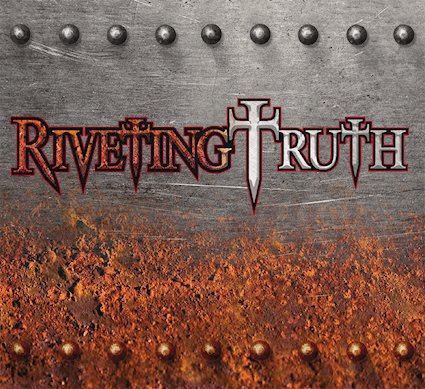 The band is excited to release their highly anticipated 4 song EP, which features guest solos from two of Christian metals most legendary guitar players Dennis Cameron (Angelica) and Rex Carroll ( Whitecross ).
We are very excited to share the debut single and lyric video from their upcoming self-titled EP.
"The Prison" is a straight ahead Power Metal song based on 1 Corinthians 10:13. A reminder that God gives us strength to overcome our temptations, and that He always provides a way of escape from the prison of sin.
The lyrics were written by Dave Bentley and the music by Andrew Rudd and Dave Bentley. The song features a stunning lead guitar performance by Dennis Cameron of Angelica fame.
Check out the single 'The Prison' and help us share this video for all to hear!
November 13, 2020 we bring you the debut 4 track self-titled EP on a limited edition CD pressing and we want the world to hear this one! So for a very short time until the release date you can secure your copy of the self-titled 'Riveting Truth' EP for the introductory price of only $7.77 only until our release date!
Visit www.RoxxRecords.com to preorder your copy today!