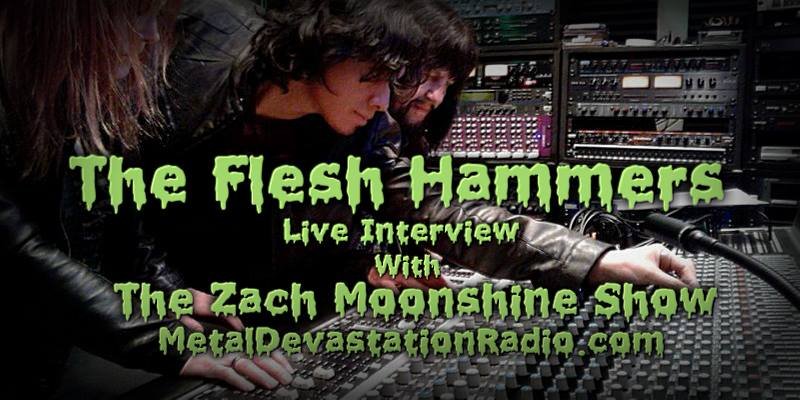 The Flesh Hammers - Live Interview - The Zach Moonshine Show 10/19/18
metaldevastationradio.com
Friday October 19 2018, 9:00 PM
Paula from The Flesh Hammers will be joining us live on The Zach Moonshine Show to talk about the new record and all things Flesh Hammers plus she will be taking questions from the audience! To join us, simply sign in to www.metaldevastationradio.com and click the chat and listen links! Show starts at 9pm est / 6pm pst and the interview will happen around 10pm est / 7pm pst !
The Flesh Hammers are a controversial, and musically brilliant outfit who have succeeded in creating a sound all their own. The Flesh Hammers, innovators of the "Gutter Punk" sound, formed in 2003 and play throughout the western United States. The band unleashes rawk at the rate of submachine gun fire. LIVE they are a force that needs to be heard and seen to be believed! They were featured performers at the 2014 Las Vegas Music Summit and 2015 Offbeat Festival in Reno, NV. They released their first album, RIDING DIRTY in 2005. Their second album was recorded in San Francisco at Rodent Records. It was released in 2009 on Wondertaker Records titled, SATAN ON THE DASH. The band's third album BULLSEYE was released in August 2013. Their fourth album FASTEST BAND IN THE WEST...LIVE! was released November 2015. The band's fifth album will be released March 2018.



Metal Radio Louder Than Anything Else!
Attendees : 3