'Drawn and Quartered' will be joining The Zach Moonshine Show to to talk about the new album 'Congregation Pestilence'! We will be playing new tracks from the record, as well as many other brand new releases on the show! Show starts at 9pm est/6pm pst and the interview will happen around 10pm est/7pm pst. To join us, simply sign in to the site www.metaldevastationradio.com and click the chat & listen links!
NOW PLAYING
Click Here For Help Streaming On Chrome

Drawn And Quartered resurges to transmit its newest outbreak of evil, Congregation Pestilence, due out July 02nd on vinyl, CD, and digital formats via Krucyator Productions.
 
A formidable and influential force in the domain of extreme metal, Drawn and Quartered arrived on the scene nearly three decades ago in 1992 under the name Plague Bearer. A year later, the dark death metal group changed their name to Drawn and Quartered; the guitarist Kelly would later revive Plague Bearer as a separate project in 1999.
 
Forever underground, Drawn and Quartered perhaps have not achieved the level of recognition that other contemporary death metal legends have in their possession. But is it a touchstone to downplay the Seattle horde's weight? Well, the awe-inspiring discography of 7 critically acclaimed full-lengths, a sprinkling of mini releases, and decades of mutilated live obliterations should be self-evident to determine their death metal hunger and mastery.  
On the imminent 08th LP, Congregation Pestilence, Drawn and Quartered stick to their guns without de-escalating the branded frenetic motion, interminable aggression, cyclonic complexity, or unfathomable darkness, and legitimately, the death metal veterans consider it as their strongest studio offering to date. Having new songs written for a split that never eventuated and numbers already performed live, this opus oozes a primordial celebration of violence and devilry.

TRACKLIST:
1. Death's Disciple
2. Age of Ignorance
3. Oblivion Pilgrimage
4. Proliferation of Disease
5. Dispensation (Rise of the Antichrist)
6. Six Devils (Trepanation)
7. Carnage Atrocity
8. Rotting Abomination (The Cleansing)
9. Congregation Pestilence

CREDITS:
– Band Members –
Kelly Shane Kuciemba: Guitars
Herb Burke: Vocals, Bass
Simon Dorfman: Drums
– Others –
Recorded by Kelly Shane Kuciemba at the Plague Pit.
Drums recorded by Chris Manino at Die Burning Studio.
Mixed and mastered by Loïc Fontaine (Autokrator, N.K.V.D.) at Krucyator Studio.
Artwork by Gabriel T. Byrne (crafted cover arts for every Drawn and Quartered full-lengths).
Layout Arrangement by Loïc Fontaine.
Band Photo by Phil Ginsberg.

PRE-ORDER:
Vinyl – https://krucyator.com/collections/frontpage/products/drawn-and-quartered-congregation-pestilence-lp
CD – https://krucyator.com/collections/frontpage/products/drawn-and-quartered-congregation-pestilence-cd
Bandcamp (CD/Vinyl/Digital) – https://krucyator.bandcamp.com/album/congregation-pestilence
Digital/Stream – http://smarturl.it/congregationpestil

FOR MORE INFO:
– Drawn and Quartered –
https://www.facebook.com/drawnandquartered
 
– Krucyator Productions –
http://krucyatorproductions.com 
https://krucyator.com  
https://www.facebook.com/krucyatorproductions
https://krucyator.bandcamp.com
https://www.instagram.com/krucyatorproductions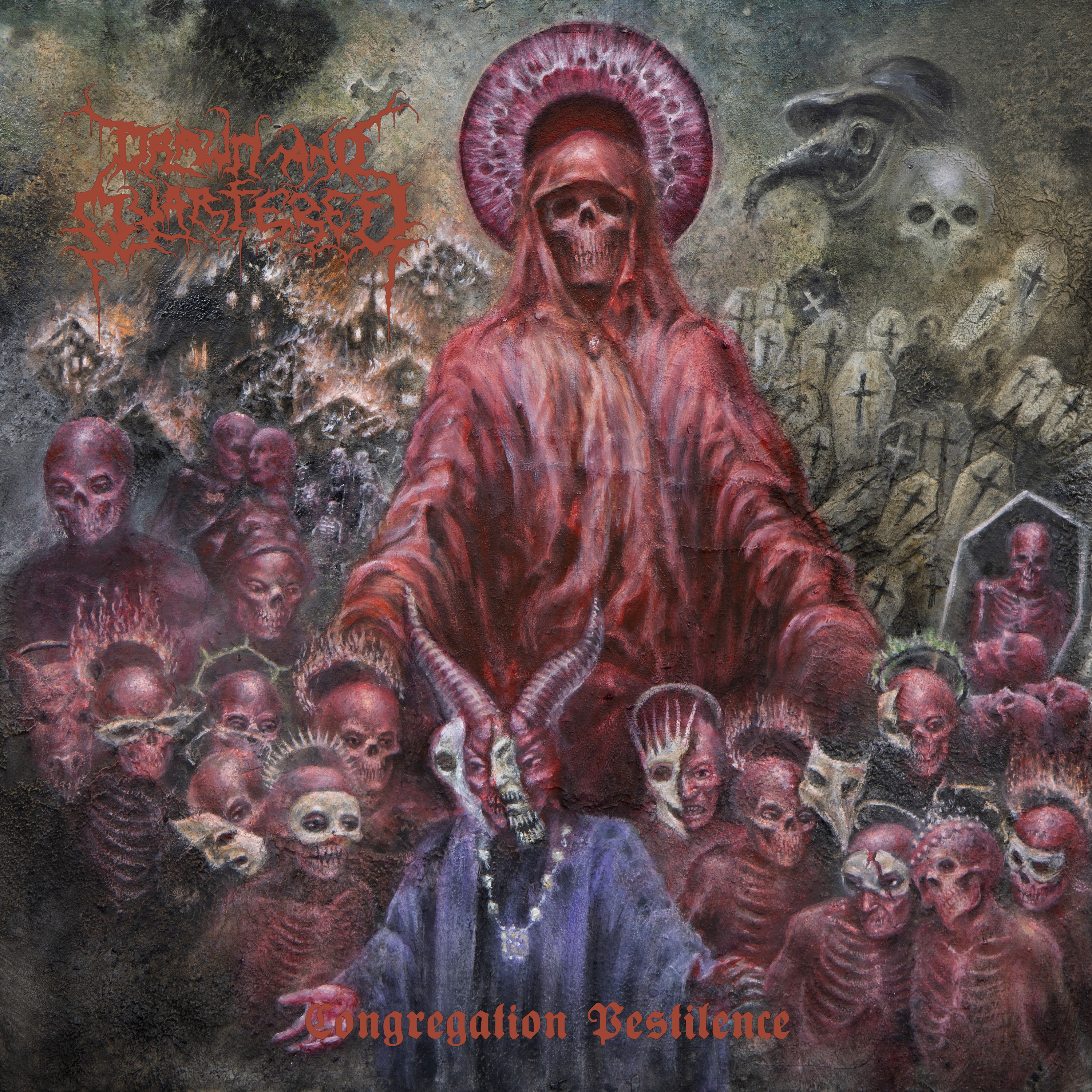 Attendees : 2