Rock 'n' Roll maniacs MAD DOGS premiere brand new music video! New album to be released October 16th on Go Down Records!
October 16th will see Rock 'n' Roll maniacs MAD DOGS release their hotly anticipated upcoming full length record, titled "We Are Ready To Testify", with Go Down Records. Kick ass Rock 'n' Roll music with a true love for Garage sounds, all wrapped up in a 70s' atmosphere - Italy's very own MAD DOGS are known for their high energetic and powerful sound, swinging grooves and fuzzy guitar virtuosity.
Today the band from San Severino Marche unleashed a brand new music video for the track "Not Waiting", the third and final single taking from the upcoming album, streaming here:
Says the band about the song:
"Not waiting" is the longest and most articulated track of the album. With this piece we want to realize a rock song that plays for more than 3 minutes and that it is out of the verse-chorus scheme, even if the style is always ours. The 70s sound goes along perfectly with an incredible organ played by Nicola Bagnoli that explodes both in the intro and the outro. The guitar phrasing and the great rhythmic section blend with an aggressive melody. The lyrics remind us the importance of living day by day and carpe diem without being crushed by the daily routine. "Now it's time to live my life, with my victories and defeats, not waiting"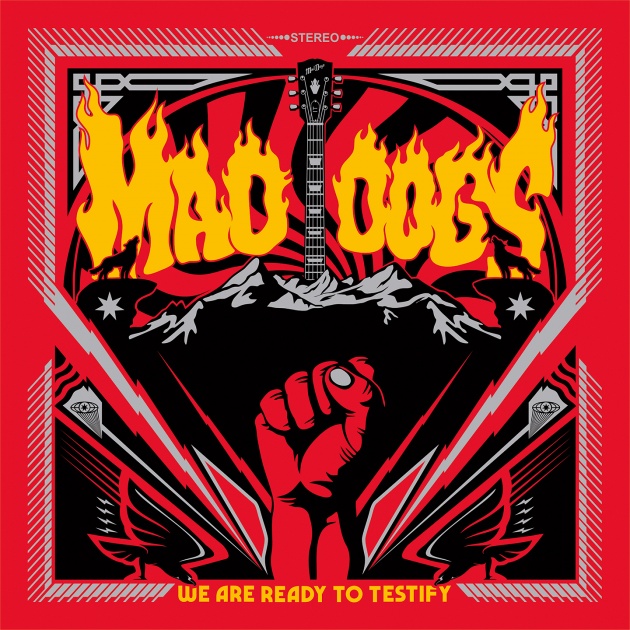 "We Are Ready To Testify" is the third studio album of MAD DOGS and on this record the band unleashes a powerful sound remarking all its rock'n'roll attitude, the love for garage and high energy rock'n'roll but also leaving room for more refined '70 ambience and sounds.10 songs, overwhelming riffs, adrenaline-filled ups and downs where echoes of The Hellacopters, Sonic's Rendezvous Band and Radio Birdman, meet with MC5, Miracle Workers and New Christ. Recorded at Teatro Delle Voci in Treviso, Italy, "We Are Ready To Testify" is the evidence that fighting for what you believe in and following your dreams is the main route to follow in order to be free.
"We Are Ready To Testify" will be coming out October 16th on Go Down Records and is now available for pre-order at THIS LOCATION
 
Tracklist:
01. Leave Your Mark On What You Do
02. No Regrets
03. Not Waiting
04. Take The Time
05. What Do You Say?
06. Hard Fight
07. Ben's Legacy
08. I Believe In R'n'R
09. We Are Ready To Testify
10. Postcard From Nowhere
 
MAD DOGS are:
Marco Cipolletti: Guitar,vocals
Luca Zenobi: Guitar
Simone Mosciatti: Bass
Giacomo Zepponi: Drums, backing vocals
For more info visit:
www.facebook.com/maddogsrnr
www.instagram.com/maddogs.band
www.youtube.com/user/Maddogsband
www.godownrecords.com
www.facebook.com/godownrecords