[Press Release] AKHLYS - Albums details, first song and tour announcement unleashed
Five years after the critically acclaimed " The Dreaming I " whose nightmarish dreamscapes showed a perfect fusion of Dark Ambient moments and Black Metal feriocity,  Debemur Morti Productions  is delighted to announce that  AKHLYS  return with their third album entitled " Melinoë ". Named after the Orphic Goddess (which can also be seen on the cover artwork), mastermind  Alchameth  ( NIGHTBRINGER, AORATOS )   once again dives deep into madness, nightmares as well as esoteric insights and perfectly shows how such themes may be given musical essence and form.
AKHLYS  channel the structural arcs of dream experience as they weave martial drumming, swarming counterpoint guitars, spellbinding Dark Ambient textures and vocal paroxysms of euphoric terror in five long compositions, namely:
01. Somniloquy 02. Pnigalion 03. Succubare 04. Ephialtes 05. Incubatio
" Melinoë " was crafted as a trio -  Alchameth  (vocals, guitars, bass, keys, lyrics),  Eoghan  (drums) and  Chthonia  (backing vocals) - while  Alchameth  being solely responsible for the compositions of the songs and the lyrics. Recorded at the  Promethean Forge Studios  in early 2020, the album was later produced, mixed and mastered by  Dave Otero  ( CATTLE DECAPITATION, WAYFARER ) at  Flatine Audio  with the help of  Charlie Abend . While  Denis Forkas Kostromitin  ( BEHEMOTH, WOLVES IN THE THRONE ROOM ) is responsible for the cover-artwork and  Abraxas Nox  took care of the band photos (with edits by  Chthonia ), the layout of " Melinoë " was handled by  Kontamination Design   ( ARCHGOAT ).  
" Melinoë " will be released on CD, vinyl and digitally on December 18th. Pre-orders are possible now via the label's  EU shop ,  Bandcamp  and  US shop .
o illustrate the spellbinding strength of the newest records and its ability to weave a dense nightmarish atmosphere, we present the song " Pnigalion"  in all its splendour to the public. As  Jonathan Selzer  of  Metal Hammer UK  points out, this piece grants a glimpse into infinity:
At nigh-on 13 minutes' long, the preview track " Pnigalion " is more than a glimpse into infinity, but it's going to annihilate any sense of linear time, it's opening whorl of guttural chants leading into a luminous, knife-edge journey through realms where rampaging elements and cosmic matter collide, and all sense of reality is stretched to an exhilarating breaking point.
" Pnigalion" , therefore, demonstrates the magical facets and aspects " Melinoë " has to offer, as  Alchameth  himself states:
It is indeed quite a lengthy track and covers much ground throughout its structure. I feel there are passages that shine with the old atmosphere of " The Dreaming I ", all the while offering many evolutions stylistically and manifesting a spirit that is equally as potent as what came before yet further developed.
"Pnigalion"  is a term that originally stems from the Ancient Greek and can be translated as something like "throttler" or "strangler", while also being the name of the nightmare demon of the Greeks, as  Alchameth  explains:
"Pnigalion"  draws upon some of my personal experiences with the sleep paralysis phenomenon as well as the dreams and waking visions that have occurred around this phenomenon. There is no intent to lay bare any sort of hidden truth to the listener here, as the lyrics are relaying the experiential side of highly personal and inexplicable phenomenon, experiences which do not tend to lend themselves to any sort of universal discursive analysis (although some will no doubt find some of what is relayed here personally familiar). This track in particular begins with a poem I had previously written about my sleep paralysis related visions, certain lucid dreams that have led up to the paralysis events in some cases, while in other cases occurring directly after, and the "waking vision" and visitation that often occurs in the hypnogogic state during the paralysis. The lyrics that follow expand upon the poem in the songs intro with an emphasis on the manic and often dreadful visitation occurrence and poetically interpreted as the pnigalion, the nightmare demon of the Greeks. The significance of these experiences have become personally sacred to me over the years. This song is one piece of a larger narrative that covers a wider territory within the field of sleep, dream, and trance phenomenon, all from the experiential and esoteric viewpoint.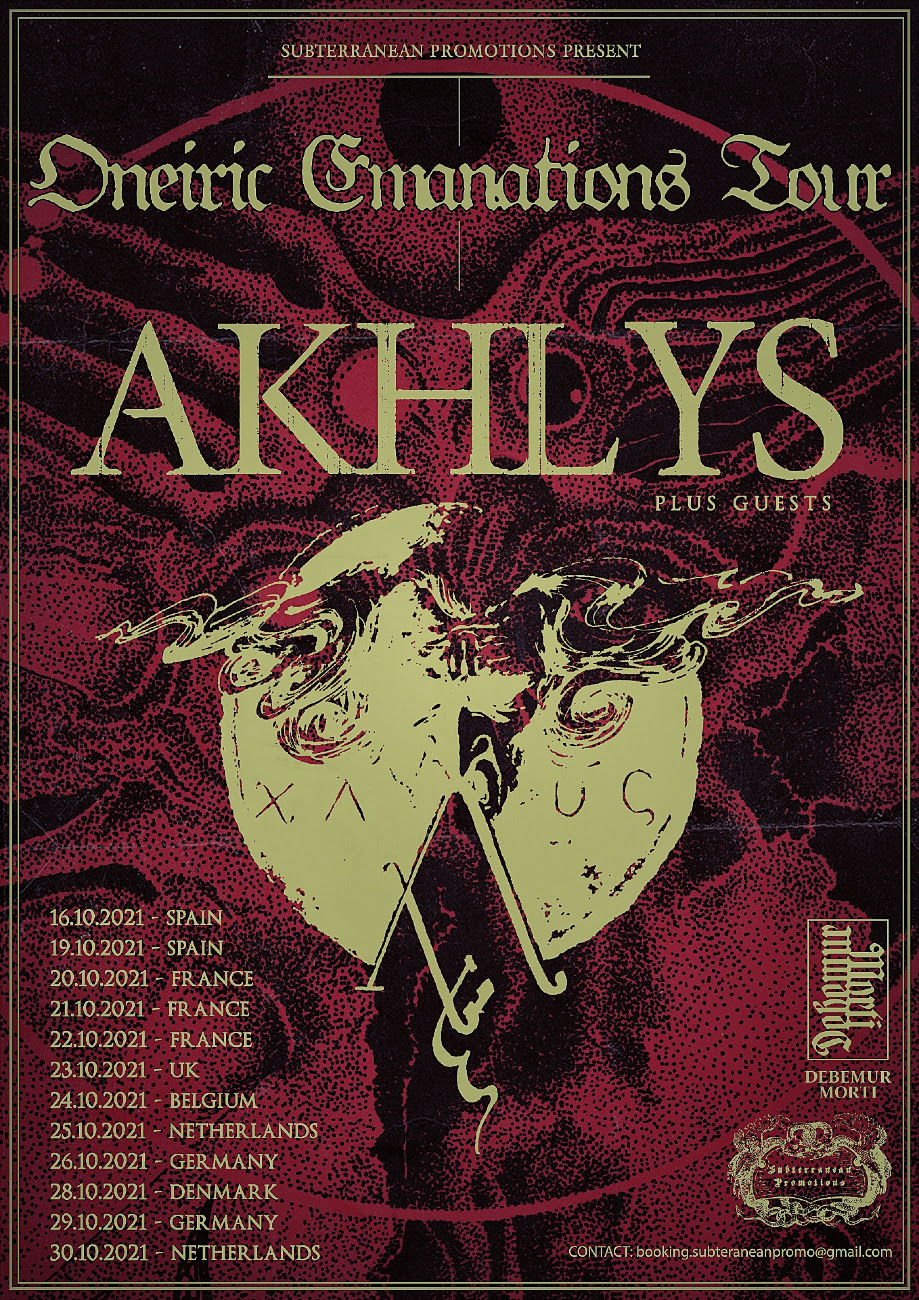 Despite Covid-19 still spreading like the great plague through Europe and the world, AKHLYS are announcing the "Oneiric Emanations Tour" through Europe for October 2021 and have every intention to bringing their magic to the old continent. Together with not yet revealed guests, AKHLYS will invade Spain, France, the UK, Belgium, the Netherlands, Germany, and Denmark. More info about the tour will be unveiled in due time.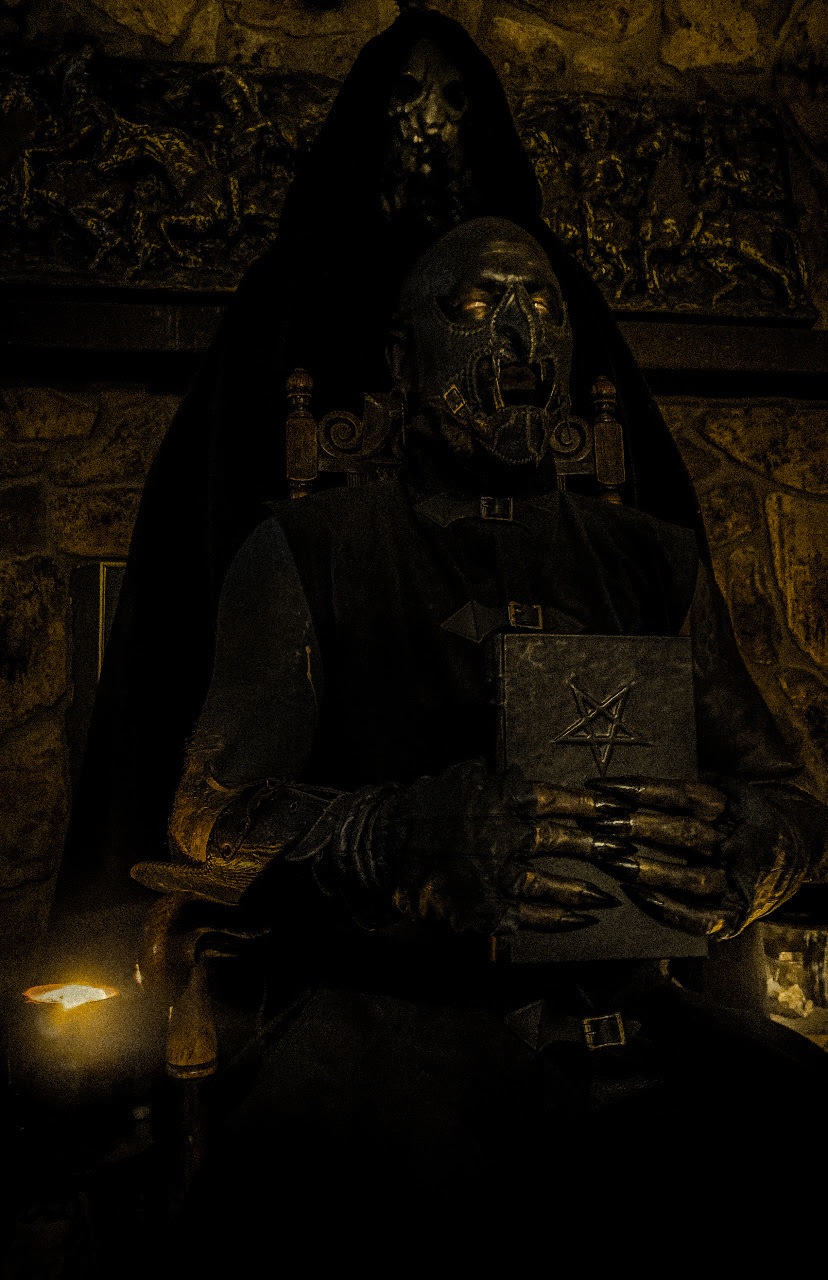 AKHLYS was formed in 2009 by Naas Alcameth (NIGHTBRINGER, AORATOS) as a musical expression for the personal and inexplicable phenomenon, visions and journeys that occur in the liminal lands between slumber and awakening. Exploring these concepts through Dark Ambient with the 2009 debut "Supplication" and Black Metal music with 2015's "The Dreaming I", Naas has once more reified and rarified this vision, giving rise to the third and crowning work, "Melinoë". 
​|| Debemur Morti Productions ||