Misanthropik Torment - Murder is my Remedy - Reviewed By Full Metal Mayhem ! Check it out here at this link: https://lorenzvangore.wixsite.com/fullmetalmayhem/post/misanthropik-torment-mit-murder-is-my-remedy
Release date: The album was released on April 1, 2021. 

Other releases of the band: This is their eighth album, in addition they have released four singles, two EP's and one compilation. 

How did I get to know the band: Here, too, Metal Devastation Radio came up to me and with Black/Death I rarely say no. 

How do I find the disc: Not bad and quite worth listening to, so let's go. 

PURGE catches in with rather alienated sounds, including a voice. It sounds like a rather tedious radio broadcast, or the obligatory cursed tape from a horror movie. After that we start at the mid-tempo, with quite decent death metal. The vocals sound pretty good and fit the rest, but the whole thing doesn't really kick. Maybe it will be even better. 

MISANTHROPIK MIND starts again with spoken text, behind it are sounds, like from a TV or a radio. The actual song can do something. Here I feel it. The vocals continue to go towards grind, the more I listen to the music. Really not bad. There are always quite high creeps in it, which is responsible for the black metal part. 

KING OF FOOLS offers another intro, this time maybe even a sample before we get the actual song. It really sounds like a mix of black and death. Not too technical, growls and nasty screams, yes he's good. 

M.I.M.R. starts with a really drumming, like from a stuttering engine. That's why a, driving song spins, which goes directly into the neck and the vocals just sound to the point here. My favorite of the album. 

SADISTIC STATE OF MIND kicks off right at the beginning and that's just a quick try to get, for the frenzy that follows. Quieter passages keep coming, but the basic tenor is: At full throttle on the feeding board. 

ZERO FUCKS sounds like an ideal song, when once again everything goes well by the ass. Beautifully aggressive and yet with a "lick me on the ass" attitude. A successful mix for a song that I like to listen to. 

BENIGHTED & DEATH goes a little towards grind again, but has reduced the tempo quite a bit, but turned up the heavyness. Normally I like such songs, but something is missing here, so on to the next track. 

THE VICTIM HAS DIED gives us once again the concentrated load of madness at the end. The track sounds quite chaotic, but if you listen in more closely, you can find pleasure in it. 

Conclusion: The album can do something. If you are on Death Metal with a little grind and black bonds, you can listen here. One or the other song has made it into my playlist. - Full Metal Mayhem
Misanthropik Torment Signs Distribution Deal With Envenomed Music ! Check it out! https://www.facebook.com/MetalDevastationPR/posts/2448234268655939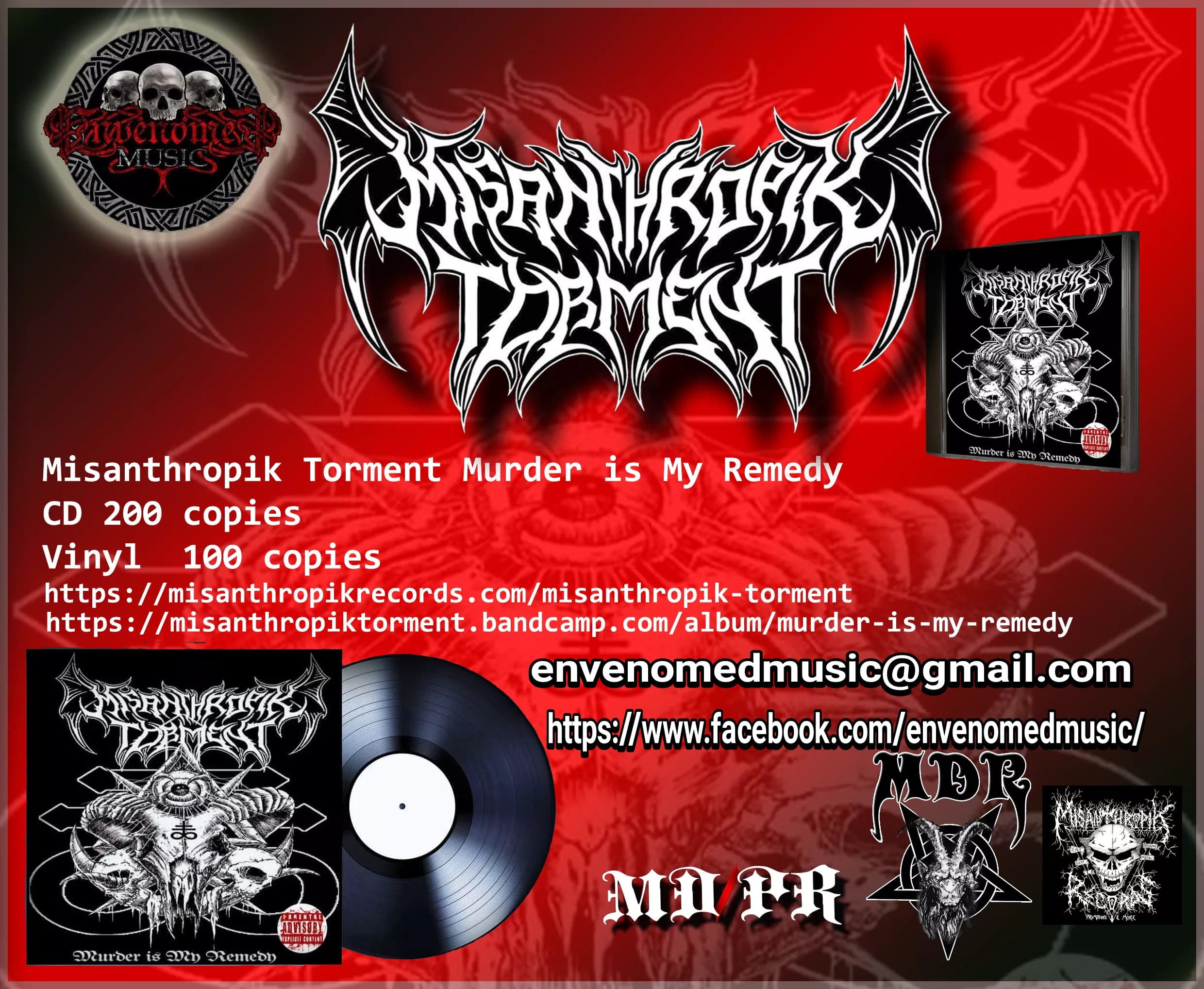 Find out more info on Envenomed Music here at this link: https://envenomedmusic.bandcamp.com/
Lexington, Kentucky's ' Misanthropik Torment' is somewhat of a one man operation.  Formed in February 2017. Leviathan is the vocalist, lyricist and founder of ' Misanthropik Torment' . Leviathan writes everything! Mixes & masters and publishes everything himself. He  sometimes works with other solo artists or instrumentalists from all over the globe to create his therapeutic madness.
Recently Josh Freeman from the band ' There's only one Elvis ' joined ' Misanthropik Torment' on a journey into the mind of the deranged.
The new album ' Murder Is My Remedy ', features Josh Freeman from the band ' There's only one Elvis '. Josh Freeman composed all the instrumentals for this album and features as a guest vocalist.
' Murder Is My Remedy' can only be described as brutality at its most insane! Touching on topics about the sickness of humanity, and what drives a person to have a misanthropik mind. The record will be released April 1st, 2021 and it will be available on all streaming platforms!
Misanthropik Torment's musical influences range from many different genres of metal and rock such as, Deicide , Morbid Angel , Cannibal Corpse , Death , Possessed , Ozzy Osbourne , Marilyn Manson , Korn , Iron Maiden , Megadeth , Queensryche , Twisted Sister , Skid Row , Obituary , Death Angel , Mayhem , Dark Throne, etc.
 A lot of people ask what is the meaning behind ' Misanthropik Torment '?  " Misanthropy is an extreme hatred for humanity, in which I do have, however by my nature I am not a hateful person, it is the sickness of humanity that has driven me to be Misanthropik . Because by my nature I am not a hateful person, I am tormented by my own hatred, thus Misanthropik Torment was created. I am the product of what the world has created me to be, this monster that they hate is the reflection of themselves. " - Leviathan
Misanthropik Torment is also currently working on a book titled ' The Evolution Of My Psychosis ' due to be released by January 1st of 2022 along with 2 new albums!
For fans of Six Feet Under, Morbid Angel, Dying Fetus
Check out the new lyric video for 'Zero Fucks'!
Check out these singles from the album!
Check the band out on Spotify and add them to your playlists!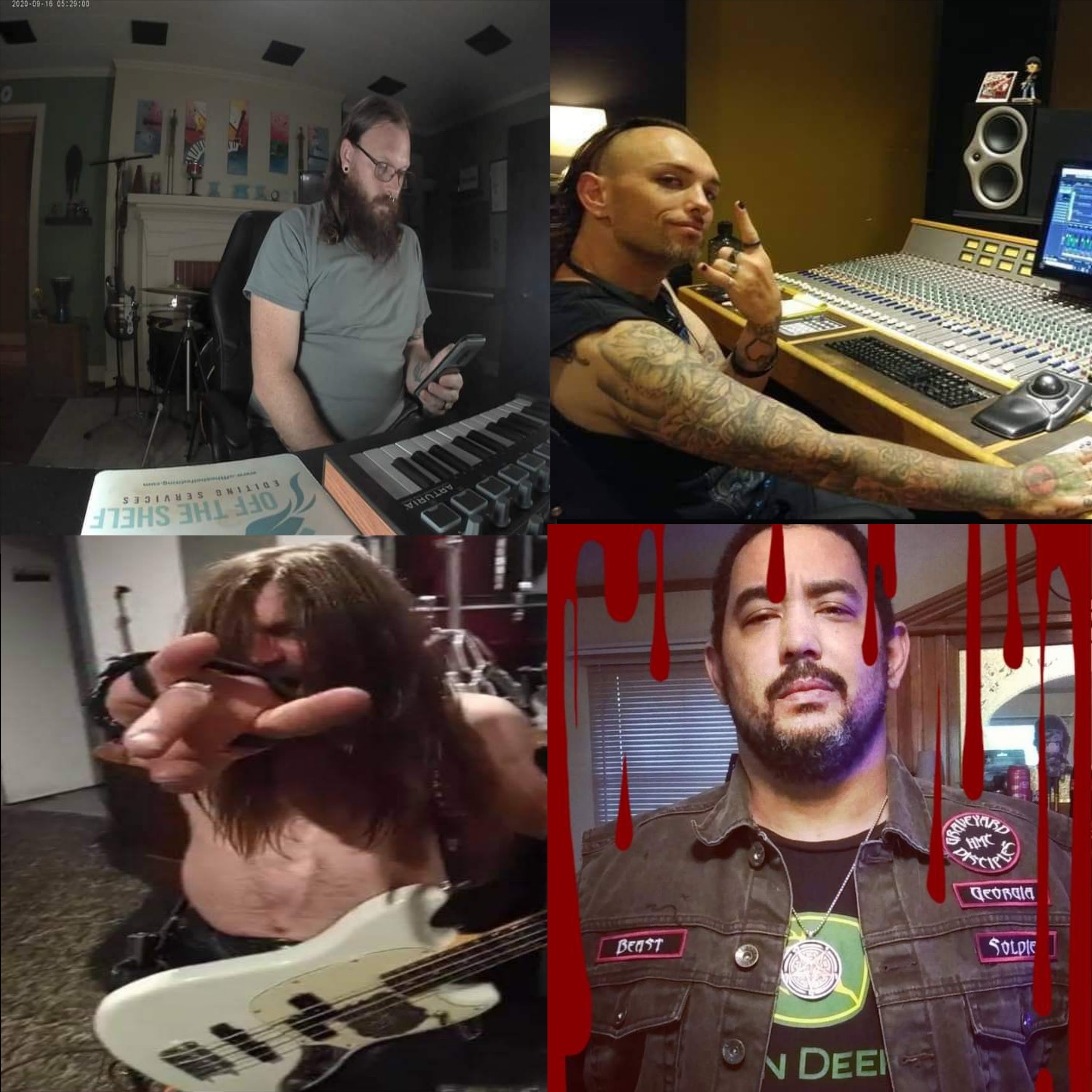 Follow the band at these links:
Facebook: https://www.facebook.com/ErickLeviathanScarlet/
Twitter: https://twitter.com/MetalconectionX
Instagram: https://www.instagram.com/metalconectionnewsmx/
Music Links:
Youtube: https://www.youtube.com/channel/UCQlEcnB2aQG3t_gU4UrrQIQ
Spotify: https://open.spotify.com/artist/3TEDJTdOP5GPBfsLOYVLwI
Bandcamp: https://misanthropiktorment.bandcamp.com/
Reverbnation: https://www.reverbnation.com/misanthropiktorment
Deezer: https://www.deezer.com/us/artist/61133342/radio ...
Apple Music: https://music.apple.com/us/artist/misanthropik-torment/1448445594
Ever Metal: https://ever-metal.com/tag/misanthropik-torment/