In the darkest of years, MOONSPELL have announced to play a special Halloween LIVE show, taking place in the South of Portugal, an ancient town named Beja, on October 31st 2020!
At the local theatre Pax Julia, originally built in 1928, the band will deliver their annual and own brand of Halloween to the world: An exclusive live concert for 300 guests but that can be witnessed WORLDWIDE by the wolfpack, scattered and lying in wait for this to happen since the quarantine left all boats on shore.
On October the 31st, Saturday, a fullmoon, with the show starting at 21.30 (PT/UK), 22.30 (Europe), 1.30 PM (PDT), 4.30 PM (NY/EDT), 5.30 PM (MX /CDT), 6.30 AM (NOV 1st/GMT+9), 7.30 AM (NOV 1ST/GMT+10), MOONSPELL will put an amazing show, a dedicated production and the chance for you to watch LIVE + COMMENT!
MOONSPELL have just recently played their first shows in Portugal since the world went on lockdown, and seem to prove Portugal is on the lead when it comes to organize shows in these uncertain times.  As the band just shared their first live experiences online:  " Under a beautiful Portuguese sky we returned to our live performances. Congrats to the Wolfpack whom even with a mask and sitting down took our wolfheart to tragic heights. Thanks also for being so civilized, observing the rules while enjoying the show. Without you there's no tomorrow. Kudos to the promoter, city hall and all the technicians and security. Moonspell is proud to be one of the bands playing live already! We feel blessed and lucky."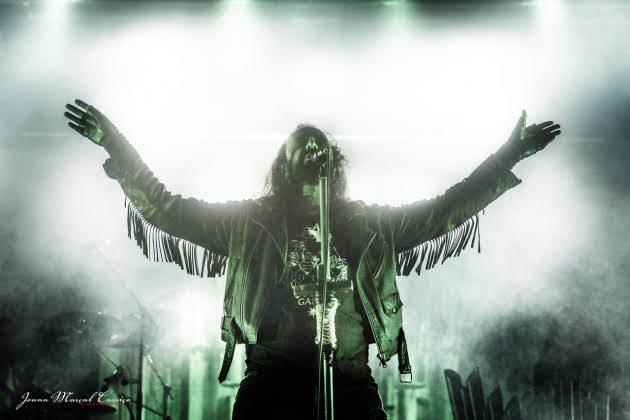 [ photo © JOANA CARRIÇO PHOTOGRAPHY ]
This Halloween will see them LIVE at one of their most special shows to date:  "From Beja, Portugal, to the world out there, we are proud to present you HALLOWEEN 2.0, the event Moonspell fans have eagerly awaited for in this year of the plague!"

The show will be limited to 300 guests at the historic location of the theatre in Beja, but a streaming link will be available at the platform BOL afterwards and for everyone who buys a ticket, can't watch it live or wants to watch it again.  Grab your ticket, for the physical or digital live experience with MOONSPELL this Halloween via the following links:
Virtual ticket: 5,30€ (inc TAX) 
https://www.bol.pt/Comprar/Bilhetes/90840-moonspell-sala_virtual_pax_julia/Sessoes
Physical ticket (15€ inc TAX, limited to 300 tickets!):
https://paxjulia.bol.pt/Comprar/Bilhetes/90836-moonspell-pax_julia_teatro_municipal/Sessoes
Upgrade tickets + merch bundles are available at: wolfpack@moonspell.com or on www.moonspell.rastilho.com (you need to have a valid ticket)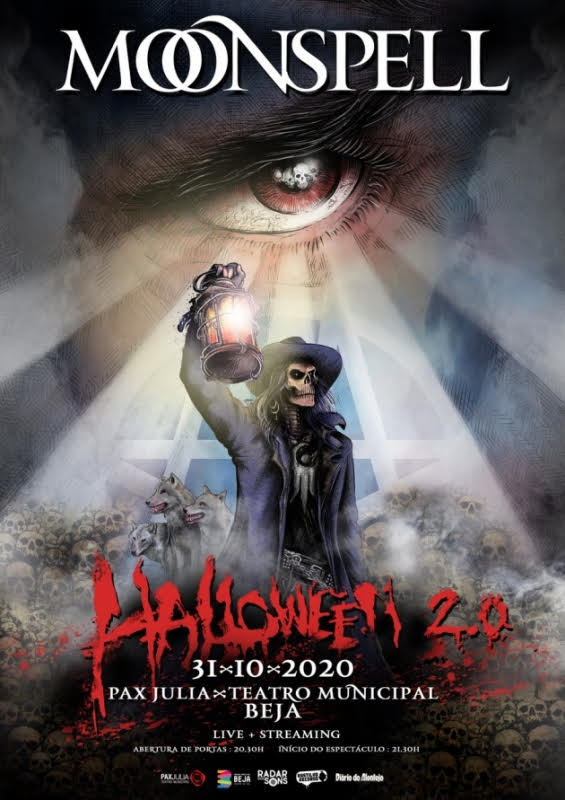 It's no secret that MOONSPELL, in more than 25 years of their band history, have always been close to their dedicated fanbase, delivering special and captivating shows on countless, extensive tours all over the world, and creating an impressive back catalogue of diverse, impactful and versatile records, which influenced entire dark and gothic metal generations.

Just recently, MOONSPELL launched a Patreon page and welcomes you to become a member of the band's exclusive and official fanclub, the WOLFPACK! Run by MOONSPELL directly, the fanclub is offering exciting and various models to engage closer with the band and to enjoy priority, exclusive experiences not to be found anywhere else than in the WOLFPACK. Be it exclusive news and contents, as well as merchandise, show tickets, Meet & Greet, and a great deal of amazing, in-depth experiences with MOONSPELL and their members, all support goes directly to the band. Become a member of the pack now and chose which wolf you are at  THIS LOCATION!

For More Info About MOONSPELL Visit:
www.moonspell.com
www.facebook.com/moonspellband
www.instagram.com/moonspellofficial
www.napalmrecords.com/moonspell
www.moonspell.rastilho.com