Swedish black metallers   WATAIN   will release their new album on January 5, 2018. To coincide with the disc's release, the band will embark on short European tour, consisting of shows in Stockholm, Sweden; Berlin, Germany; Tilburg, Netherlands; London, England; and Paris, France.
WATAIN 's next album will be the follow-up to   "The Wild Hunt" , which came out in August 2013 via   Season Of Mist .
Asked in a 2015 interview with   Metal As Fuck   if he could see   WATAIN   pushing the boundaries of orthodox black metal even further on its next CD, frontman   Erik Danielsson   said: "Orthodox black metal was the common term for a few selected bands that co-existed for a few years in the beginning of the millennia, and to my knowledge the term has since then been continuously misused and discredited by idiots, which is why we have refrained from using it in relation to   WATAIN   since many years back.
"Anyway, yes, we broke rules and crossed borders on   'The Wild Hunt'   for sure," he continued. "That is one of the main things we do with this band. I do not see it as going in a certain direction, however.
"The progression of   WATAIN   reflects the changes of a landscape — external and internal — along the path that we are destined to walk upon.
"When we wrote   'The Wild Hunt' , our surroundings were very heavy, solemn, stern and life-altering. If we were to write an album now, I think it would sound quite different. Just like each of our albums sounded different to its predecessor."
Erik   added that his personal perspective of   "The Wild Hunt"   material has changed after performing it live with his bandmates for the last several years. "It grows stronger, and increases in depth and weight," he said. "The songs evolve on stage, their character intensifies, their venom grows more potent, more direct. It is a very rewarding and inspiring process.
"I relate to the idea of that writing a song in   WATAIN   is similar to releasing/unleashing something," he explained. "The recording of it in a studio would represent its birth, and the performing of it on a stage is where we allow it to come to life, where it is charged with the force that we have accumulated over the years. I think people who have listened to the album will know what I mean when they see the shows." Via Blabbermouth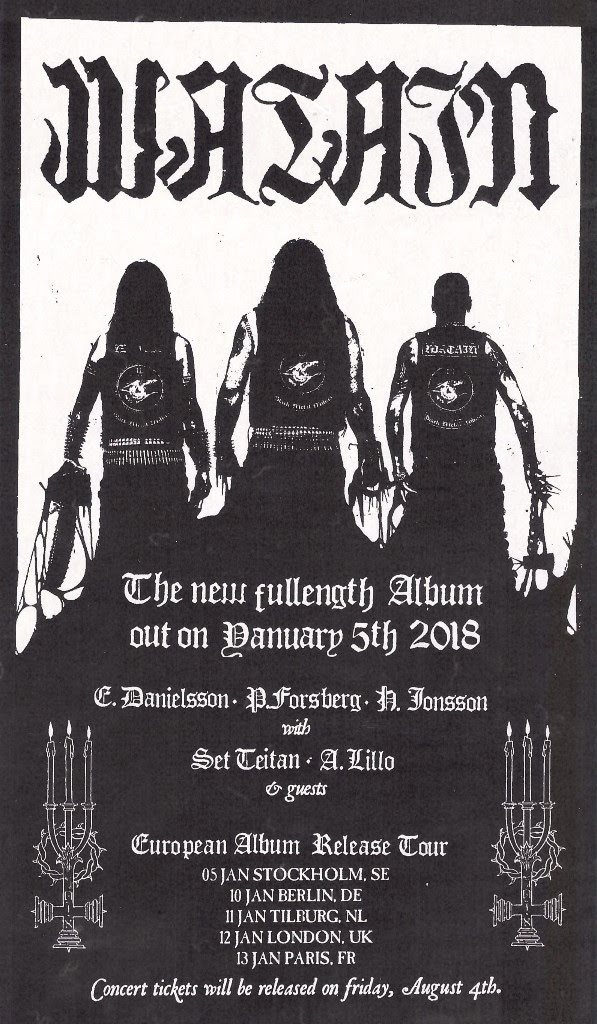 Till then watch this!