Deathrattle Podcast lurks in the shadows once again, presenting to you some of the finest cuts from the underground music scene. It's the usual mixture of heavy sounds.
Creeping about on this show is
MARTYR
Putrid Offal
Aborted Fetus - Ural Massive Brutality
KÖRGULL THE EXTERMINATOR (Official)
Dead Quiet
KIND
Carniça
Requiem's Sathana
Initiate Decay
Amaterazu
Martyr (Track from 'Live In Japan' )
HUMANFLY
Listen in here each week.
Sunday - Metalzone Radio @
http://www.metalzone.gr/
4PM EST, 9 pm UK, 10pm CET 11pm EET
And chat about the music here
https://metalzone.ishoutbox.com/
Monday - Hand Of Doom
https://www.handofdoomradio.com/how-t
... 2pm CST, 3pm EST, 9pm CET, 8pm , 10pm EET
Tuesday Downtuned Magazine & Radio @8pm EET/EEST, 7pm CET, 6pm UK, 1pm EST/EDT, and.....
Thursday - 2am EET/EEST, 1am CET, that is, Wednesday 00:00 UK, 7pm EST/EDT.
And now also Ripper Radio @
http://www.ripperradio.com
TUESDAY/THURSDAY 3pm EST and 8pm UK.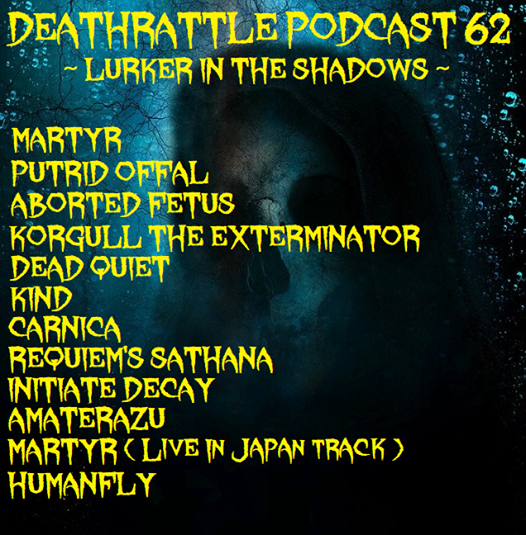 Martyr is a heavy metal band from Utrecht that has existed since 1982. During its existence a set of demo cassettes were released, as well as a number of long players. The general public first became acquainted with Martyr in 1985, when the song " En Masse (Stand Or Die) " appeared on the collective album " Metal Massacre VI " of the legendary American label Metal Blade . Other greats on this record included Possessed , Hallow's Eve, Dark Angel, The Obsessed, Hirax, Hades and Nasty Savage .
​​
​​The debut album " For The Universe " from the same year is still considered a classic in heavy metal circles. For example, the leading website " Encyclopaedia Metallum: The Metal Archives " wrote the following about this album: "Martyr's songwriting is vastly superior to most of its competitors". In 2014, the group was honored by the " Dutch Steel (80's Metal From The Netherlands) " collector for Martyr's contribution to Dutch heavy metal history. E.e.a. the then mayor of Utrecht, Jan van Zanen , did not miss either, he sent the group a personal letter in early 2018 to thank Martyr for their ambassadorship for the city.
​​
​​The group frequently performs at home and abroad, as a headliner or as a support act for a better-known act within the heavy metal spectrum (for example as support of ex- Iron Maiden singers Paul Di'Anno and Blaze Bayley, Trivium, Iced Earth, Manilla Road , Lizzy Borden, Raven and Saxon ). The absolute highlights of Martyr's career so far have been their 3 tours in Japan , which featured frenzied crowds. The feedback Martyr receives based on their performances is purely positive.
​​
​​Martyr is now writing songs for the new album with already two released singles "No Time For Goodbyes" (1 June 2020) and "Fire Of Rebellions" (17 July 2020)
Reviews:
​​
​​"Martyr is the Dutch pride, and the present Dutch visitors made that clear to everyone" (MMM, 2005)
​​
​​"Martyr convinced me to the fullest, that they are still able to write some real good songs. Containing the old school influences, but with some new influences peeping around the corner as well "(Metal Maidens, 2009)
​​
​​"The end of the metal night was reserved for Martyr from Utrecht. They burned down the metal stage and closed an exciting day at the Zuiderstrand in The Hague "(Markus' Heavy Metal Blog, 2015)
​​
​​"To close the metal stage, the band Martyr was allowed to give a performance. A good ending for a successful festival "(Gig review, 2015)
​​
​​"... I thought Martyr's performance was one of the best of the day" (Lords Of Metal, 2015)
​​
​​"This way Martyr quickly gets the audience with him, showing and hearing that the band clearly belongs to the Dutch metal top" (Metalfan, 2016)
​​
​​"After the regular set [during a performance in Athens], access to the dressing room was barricaded by some Greeks to satisfy the hunger for more Martyr" (Rockmuzine, 2016)
​​
​​"Where many experienced metal bands gradually lose their flair and punch on stage, these energetic Utrechters play as if they have discovered the fountain of eternal youth. Young metal bands: buy a notebook quickly, buy a ticket for Martyr and then take notes. There is a lot to learn from this band "(3 voor 12 Utrecht, 2016)
​​
​​"They are the best metal band for a party in Holland and I don't think you can get tired of seeing them over and over" (EP weblog, 2017)
​​
​​ワ イ ヤ レ ス マ イ ク を 使用 し て い た Rop van Haren は 途中 か ら は フ ロ ア に 降 り て オ ー デ ィ エ ン ス と 握手 や ハ イ タ ッ チ, ハ グ を し な が ら の パ フ ォ ー マ ン ス. 全 て の オ ー デ ィ エ ン ス と ス キ ン シ ッ プ す る か の よ う に フ ロ ア を 動 き 回 り な が ら 唄 う Rop van Harenに 触 発 さ れ て オ ー デ ィ エ ン ス も 大 い に 盛 り 上 る 。MARTY は 長 い キ ャ リ ア で 叩 き 上 げ て き た タ ALL ー ー ー フ さ ー ー さ ー ー ー さ ー ー さ ー ー さ ー ー て さ ー ー フ さ ー ー て さ ー さ ー ー さ ー ー デ 発 ー れ オ ー デ エ ー ス さ ー ー さ ー ー さ(Beeast, 2017)
​​
​​"Eine schönere Show vor richtig gut gefüllter Hütte im Metropool kann man kaum besser planen, zumal die Gäste auch schon beim Opener zahlreich die claim Plätze einnehmen und der heimischen Band auch reichlich Support gönnen (The Pit, 2018);
​​
​​"Upon arrival, the band has just started and immediately manages to create a big grin on my face as well as make my heart crave solid classic metal" (Heavy metals, 2018).
​​
​​"The Best Live Album Of The Year" – Templo do Rock (Programa de rádio)
​​
"About time they had their live album published, impressive live performance, The Great MARTYR" - Metalbrothers.es
​​"Impressive registration of a very special performance"(8/10) – Aardschok
​​"Great atmosphere ,a must have for Martyr fans" – Metal-Experience
​​"Live Album Of The Month July" – Rock of Ages Radio  
​​"The Legends" - Rock Stakk Records
​​"Live in Japan is a full on (10/10) -  The Dirty Room
​​"MARTYR really shows its best side on this Live album" (8.5/10) - Lords Of Metal 
​​"Buy or Die !!!" – Headbangers Lifestyle Magazine
​​"This awesome album sounds like you are at the concert yourself" – White Room Reviews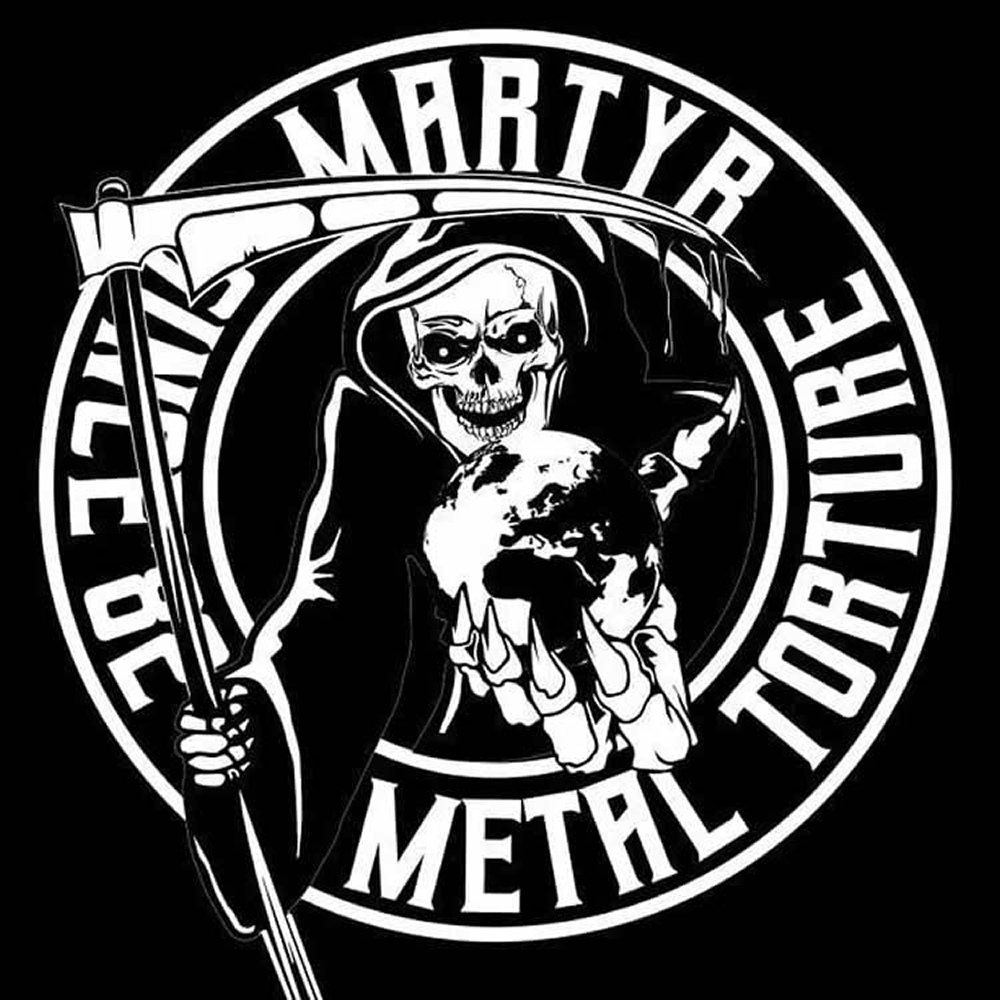 Follow the band here: 
https://www.facebook.com/MARTYRONLINE
https://open.spotify.com/artist/6Os2c8U66NlOGOZF2GGLX6
https://martyronline.bandcamp.com/
https://www.ittlr-shop.nl/c-3106245/martyr/
https://twitter.com/martyronline2
Subscribe to them on YouTube here:
https://www.youtube.com/channel/UCJe9heNuzBi6foQcYoqiVlw?sub_confirmation=1