Linkin Park vocalist Chester Bennington's wife Talinda Ann Bentley took to Twitter once again early Friday, moments after deleting her tweets in which she confessed to cheating on her husband with bandmate Mike Shinoda.
In the latest tweet, Talinda said she "encouraged him to kill himself I told him no one cared."
Original Story:
In a shocking turn events in the apparent suicide of Linkin Park frontman Chester Bennington, his wife Talinda Ann Bentley confessed on Twitter that she was cheating on her husband with band member Mike Shinoda.
"I guess this is the time to say it but I have been cheating on Chester with Mike Shinoda....," Talinda wrote. "I never really loved him and I'm not hacked I just was in love with the money hurts to say," she said in another tweet. However, the tweets were immediately taken down.
It is unclear whether Bentley's messages were an emotional outburst or if her Twitter account was hacked.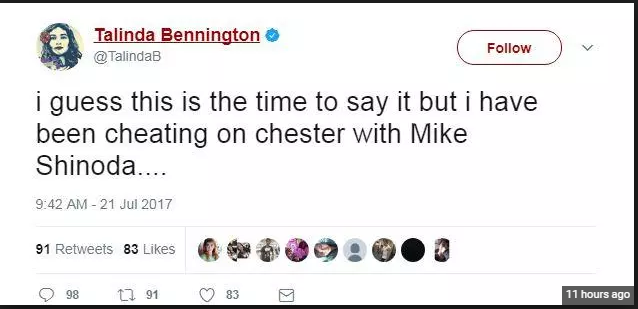 Screenshot of Chester Bennington's wife Talinda Bentley's now-deleted tweets. Photo: Twitter screenshot
Bennington's wife not only revealed that she was cheating on her 41-year-old husband but also fuelled rumors about his untimely death. "He didn't kill himself, he was already did [sic] before he hung himself, I have proof..," she wrote.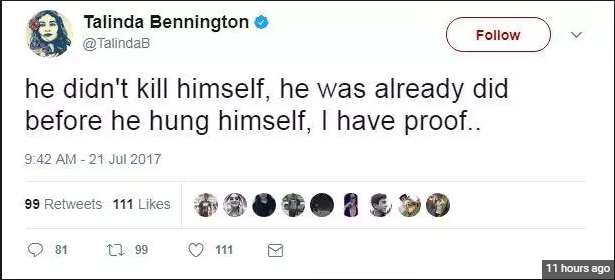 Bennington hanged himself at a private residence in Palos Verdes Estates, California, where his body was found. He is survived by his six children, Jaime, with former girlfriend Elka Brand, adopted son Isaiah, son Draven with first wife Samantha Marie Olit, and children Tyler Lee and twins Lily and Lila with his second wife, Talinda.
Mike Shinoda, an original founder of the band in 1996, is married to author Anna Hillinger since 2003 and the couple have two children together. The 40-year-old had earlier paid tribute to the late singer, saying he was "shocked and heartbroken" by Bennington's death.
Shinoda produced and co-wrote much of Linkin Park's music and was also part of the band's latest album, "One More Light," which was released May 19. The album debuted at No. 1 on the Billboard 200 chart.
Shinoda has not yet responded to Talinda's tweets or about the alleged cheating.
Talinda's now-deleted tweets early Friday were the first time she spoke out following the death of her husband, who had been fighting drug and alcohol abuse. While the tweets did raise some eyebrows, it is unclear if there was any conspiracy behind his death.
Bennington got involved with drugs before he was a teenager. "I started using drugs when I was 11," he had said previously. "I definitely wasn't making records at that time. I was exposed to it really young and there were a lot of things that happened to me as a young person that were really difficult for me to deal with. I found myself alone a lot."
This is a developing story. Via YahooNews