Black Mourning Light Fest 2017 Announce Line-Up Adds 
w/ Blasphemy, Revenge, Rites of Thy Degringolade, Antichrist + more

Oct 13 / 14 - Edmonton, AB @ Starlite Room  - Tickets On Sale Now!
  Black Mourning Light,  the   Edmonton, AB black and doom metal festival being  presented by Crown of Viserys  and  GigFly.ca  on   October 13th and 14th  at the Starlite Room  has updated their 2017 line up to include locals   THE LUCIFER PROJECT  featuring drummer Bryan James Newbury (Into Eternity/ Untimely Demise) and guitarist Adam Sweeney (Untimely Demise) along with Alberta / Ohio based  THE PROJECTIONIST  featuring Lord Matzigketius (ex-Idolatry) on vocals, Ghast (ex-Operation Winter Mist) on guitar, Destroyer (Unrest) on bass, Parageist (ex-Vile Insignia) on guitar and Malphas on drums. 
This year's infernal ritual features legends  BLASPHEMY (Vancouver, BC) and  REVENGE (Edmonton, AB)  headlining plus some of the most insane black metal and death metal acts to ever grace a stage with  EVILHEART  (Mexico),   FORTRESS  (Kalispell, MT),  GRAVEHILL  (Los Angeles, CA) and  FUNERAL OF GOD ( Canton, OH) plus a carnage of Western Canada acts that includes  RITES OF THY DEGRINGOLADE (Edmonton, AB),  ANTICHRIST (Vancouver, BC),   XUL  (Armstrong, BC), SORGUINAZIA  (Edmonton, AB),  SCYTHRA  (Regina, SK) and  GOATHAMMER  (Saskatoon, SK).

BML organizer Dustin Ekman comments:

"This year we are taking Black Mourning Light to a new level of brutality, and I couldn't be more honoured to have true legends in black metal on the festival. Revenge and Blasphemy are two of the biggest names in black metal and with them are some of the best bands in the world to create an absolutely killer lineup This is a year to not be missed, that's for sure."


Tickets are available at the following Edmonton locations Starlite Room,  Blackbyrd Myoozik, Rendezvous Pub and online at the following links:
Tickets are $45 for one day, $75 for both days.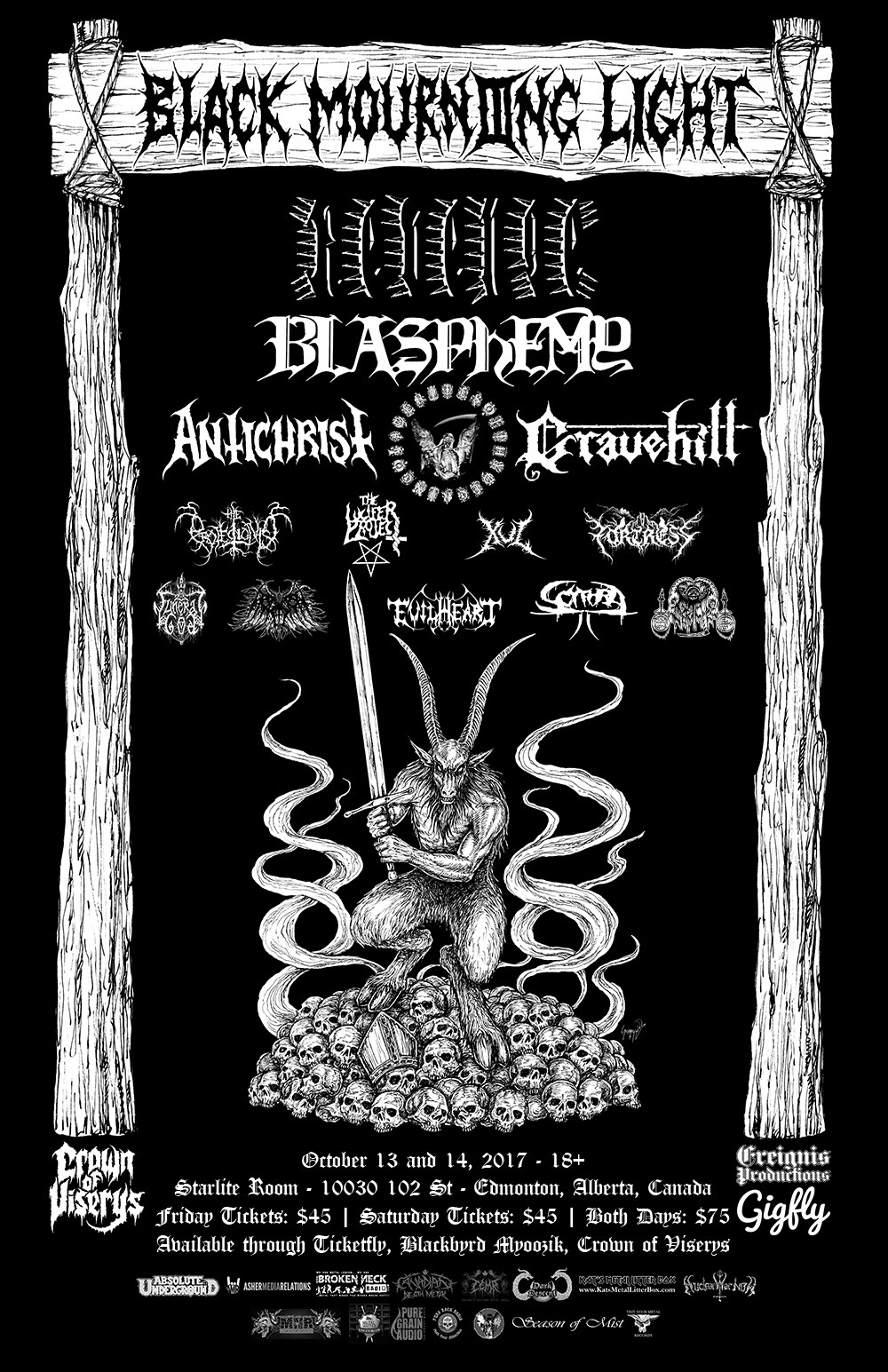 2017 Logo and Art by Sickness666
Main BML Logo by Christophe Szpajdel

BML 2017 Line-Up & Set Times:

Friday, October 13th  
Rites of Thy Degringolade 
The Lucifer Project

Doors 

5pm

 
Saturday, October 14th
Antichrist 
Gravehill
The Projectionist 

About BML:
Black Mourning Light Metal Festival is the black metal and doom festival founded by Dustin Ekman of  Crown of Viserys . Created to fill a void in Edmonton's black and doom scene. After two successful years in 2015 and 2016, Black Mourning Light Festival returns for a 2017 edition. The 2017 onslaught will feature bands from across Canada and USA. Those that attended the 2015 inaugural ritual and the 2016 two day mayhem will not be disappointed by 2017, as they can expect a different while similar experience to those events. 

Last year's 2016 edition featured a line up of black, death and doom bands from across Canada plus the USA with UADA, Panzerfaust, Erimha, Helleborus, Idolatry, Display of Decay, Vile Insignia, Hive, Wormwitch, Norilsk, Cell, Holocaust Lord, Nachterror, Dethgod, Ye Goat-Herd Gods and Hunted By Ravens.

For more info, please visit  https:// blackmourninglight.wordpress. com .


About the bands:
Blasphemy

Facebook

One of the first truly extreme metal bands, not only in Canada but around the world, BLASPHEMY invokes a large degree of respect. Founded back in 1984, the band is often cited as being a pioneer of the Death/Black 'War Metal' sound. After a demo and two very well received albums, the band had cemented their legacy very quickly. Their importance has been affirmed by the number of times those two legendary albums, "Fallen Angel of Doom'' and Gods Of War' have been issued and reissued around the world. They set a standard that many still follow today.
Revenge
Website
One of the most prolific bands to ever come out of the Canadian Black Metal scene with four full-length albums, two EP's and multiple international tours and festival appearances behind them, Canada's REVENGE have for over a decade cultivated what is arguably one of the most confrontational sounds in the metal underground. Keeping an extremely low profile as far as engaging the public with interviews and social media, Revenge has instead utilized the word of mouth approach to build a large die hard following worldwide that continues to grow every year based on the strength of the bands Music, lone wolf attitude and insanely chaotic live performances. (As those who witnessed their extremely well received appearance at this year's Maryland Death Fest can attest to.) The band's appearance at Noctis Fest will mark their first appearance in western Canada and only their second Canadian show ever in the bands 13 year existence. Not to be missed, Revenge walk alone above the weak enemy scum with absolute disregard for all who question their approach of undying intolerance for the swine known as mankind.
=====
Rites of Thy Degringolade
Facebook
In the name of Rites, the Graciousless, the Merciless. Master of the Day of Judgement ..Guide us in the Left Path!
=====
Fortress
Facebook
The next generation of metal coming to knock your teeth in. Stay tuned for big things to come!
=====
Sorguinazia
Better than being simply Lovecraft-inspired is to sound like something that's shambled over from some unknown dimension, to sound like something that perhaps would've inspired Lovecraft. Sorguinazia are likely a little too intense for a man who died a decade before the birth of rock 'n' roll, but these Canadian self-proclaimed demons practice a style of black metal that sounds coaxed forth from a benighted lacuna between the strangest of planes.
=====
Gravehill
Facebook
Old school blackened heavy metal in the vein of Autopsy, Death, Hellhammer, Celtic Frost, Sodom, Venom, Massacre, and Slayer. 
=====
Antichrist (Canada)
Facebook
Antichrist was a cult Canadian band that played bestial/war metal in the vein of genre innovators Blasphemy. Their lone release, a full-length entitled Sacrament of Blood was recorded in 1994, but wasn't released until 2011 by NWN! Productions.
=====
Xul
Website
A five piece group based out of Vernon, British Columbia, Canada, following in the footsteps of bands such as: Behemoth, Dissection, and Immortal, XUL have left the beaten path and set out to forge their own brand of Blackened Death Metal.
An energetic and interactive live performance – with crushing rhythms seamlessly coalescing into atmospheric passages, accompanied by punishing percussion waves and subtle vocal harmonies – expands upon the previously established essence of the sub-genre. With songs reminiscent of war-torn landscapes, destructive human nature and evil intention, XUL has captivated audiences and garnered positive reviews, and on 

June 16

′th 2012, released their first full length album, entitled "Malignance".
Driven by determination and a diverse accumulation of musical comprehension, XUL has toured Western Canada, as well as proven themselves worthy to share the stage with bands such as: Obscura, Exhumed, Vreid, Kampfar, Woods of Ypres, Macabre, Withered, Cephalic Carnage, Archspire, Skeleton Witch, Beyond Creation, and 3 Inches of Blood. After XUL's first cross Canada tour, and with a new album recorded, they have decided to take some time to think about what the future holds.
=====
Funeral of God
Facebook
Founded by Demogorgon in February of 2014. Funeral of God is a black metal band based out Canton, OH. It is dedicated to creating sonic terror for Lucifer.
=====
Scythra
Facebook
Scythra are a four-piece death metal band from Regina, SK. Formed in February 2014, and playing shows since June 2014, we have had a few lineup changes and our songwriting has evolved immensely. We are greatly influenced by old school death metal bands like Cannibal Corpse and Morbid Angel, as well as bands from every other spectrum of metal. We all have a love for atmospheric music and it is something we try to incorporate into our sound.
Evilheart was formed in 1999 in Culiacan, Sinaloa, Mexico. On July 13, 2001 the band released its first demo "Summoned To War." In 2003 after major lineup changes the band recorded its first album "Dark In Glory", which was released on May 3, 2004. Over the years Evilheart has shared the stage with international acts like Dimmu Borgir, Amon Amarth, Deicide, Malevolent Creation, Asesino, Cellador, Behemoth, Cage, Hypocrisy, Havok and Sothis. The band released its first demo "Summoned To War." in 2001, which has been followed by 2007's "Storm Of Annihilation" and 2012's "Quinquaginta" (Latin for "Fifty"), which was re-released in 2014 by Canadian label Test Your Metal Records. 
=====
Goathammer
Bandcamp
Communal Invokators of Abhorrence. Unholy Cryptfucking Metal. Obey The Hammer

=====

The Projectionist

Facebook

The Projectionist (formerly Lord Matzigkeitus) is a project of pure Hellthundering black metal invoking spell casting through isolation, and darkness.

=====

The Lucifer Project

Facebook

- 30 - 

"Edmonton extreme metal event Black Mourning Light Festival grows bigger and better" -  Beatroute
"Another addition to the growing number of festivals exploding out of the Western Canadian woodwork as of late is Edmonton's Black Mourning Light" -  Decibel Mag
"Black Mourning Light to darken weekend" -  GigCity.ca


Media Partners:
Absolute Underground Magazine
BrokenNeckRadio.com
Canadian Death Metal
Canada's Extreme Metal Radio
Crown of Viserys
Dark Descent
Gigfly.ca
KatsMetalLitterBox.com
Metal Master Kingdom
MetalNationRadio.com
Nuclear War Now
PureGrainAudio.com
PureRockRadio.net
Ross Bay Cult
Season of Mist
Test Your Metal Records