Long-running death metal icons Cannibal Corpse will return to stages this Winter on a US headlining tour with support from labelmates Whitechapel and Revocation! A celebration of the 40th Anniversary of Metal Blade Records, the trek begins February 19th in Atlanta, Georgia and makes its way through over two dozen cities, closing on March 26th in Ft. Lauderdale, Florida. Additional support will be provided by Shadow Of Intent. Tickets go on sale Friday, October 15th at 10:00am local time.
Comments Cannibal Corpse's Alex Webster, "We're very excited to announce our first tour for "Violence Unimagined" as part of this amazing lineup with Whitechapel and Revocation. We can't wait to get back on the road and be on stage again. See you all soon!"
Comments Whitechapel's Alex Wade, "We are excited to get back on the road after two years of no shows and what better band to do it with than death metal legends Cannibal Corpse. We thank them for bringing us along and can't wait to see you all out there playing songs off our new album Kin."
Comments Revocation's Dave Davidson, "It's been almost two years since our last show; needless to say we're beyond excited to hit the road with Cannibal Corpse, Whitechapel, and Shadow Of Intent this Winter. This tour will be an absolute banger, get your tickets now so you're not left out in the cold wishing you were circle pitting with all of your friends."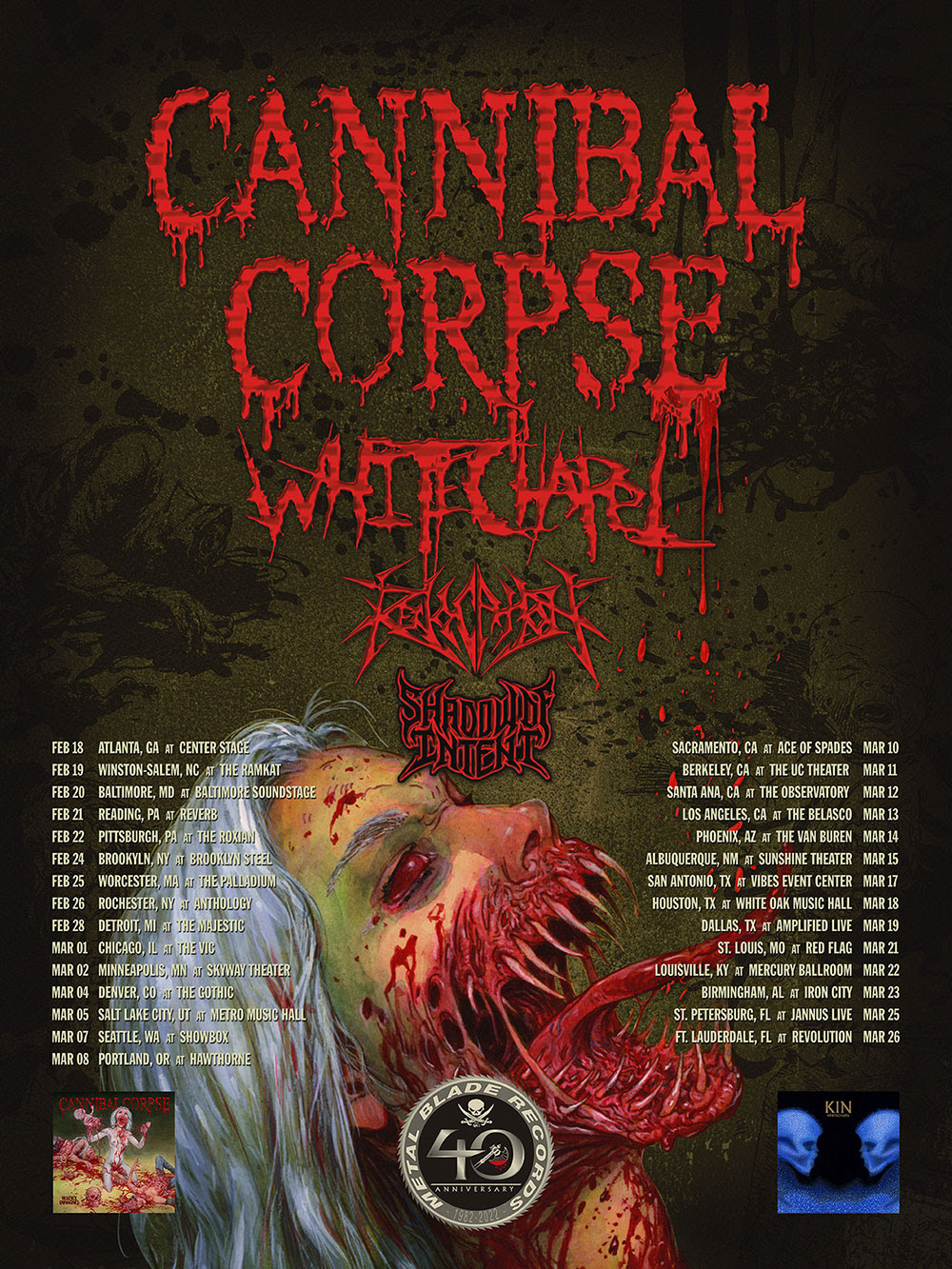 See all confirmed dates below.
Cannibal Corpse
Tour w/ Whitechapel, Revocation, Shadow Of Intent:
Feb. 18, 2022 - Center Stage - Atlanta, GA
Feb. 19, 2022 - The Ramkat - Winston-Salem, NC
Feb. 20, 2022 - Baltimore Soundstage - Baltimore, MD
Feb. 21, 2022 - Reverb - Reading, PA
Feb. 22, 2022 - The Roxian - Pittsburgh, PA
Feb. 24, 2022 - Brooklyn Steel - Brooklyn, NY
Feb. 25, 2022 - The Palladium - Worcester, MA
Feb. 26, 2022 - Anthology - Rochester, NY
Feb. 28, 2022 - The Majestic - Detroit, MI
Mar. 01, 2022 - The Vic - Chicago, IL
Mar. 02, 2022 - Skyway Theater - Minneapolis, MN
Mar. 04, 2022 - The Gothic - Denver, CO
Mar. 05, 2022 - Metro Music Hall - Salt Lake City, UT
Mar. 07, 2022 - Showbox - Seattle, WA
Mar. 08, 2022 - Hawthorne - Portland, OR
Mar. 10, 2022 - Ace Of Spades - Sacramento, CA
Mar. 11, 2022 - The UC Theatre - Berkeley, CA
Mar. 12, 2022 - The Observatory - Santa Ana, CA
Mar. 13, 2022 - The Belasco - Los Angeles, CA
Mar. 14, 2022 - The Van Buren - Phoenix, AZ
Mar. 15, 2022 - Sunshine Theater - Albuquerque, NM
Mar. 17, 2022 - Vibes Event Center - San Antonio, TX
Mar. 18, 2022 - White Oak Music Hall - Houston, TX
Mar. 19, 2022 - Amplified Live - Dallas, TX
Mar. 21, 2022 - Red Flag - St. Louis, MO
Mar. 22, 2022 - Mercury Ballroom - Louisville, KY
Mar. 23, 2022 - Iron City - Birmingham, AL
Mar. 25, 2022 - Jannus Live - St. Petersburg, FL
Mar. 26, 2022 - Revolution - Ft. Lauderdale, FL
Cannibal Corpse will be touring in support of their critically lauded Violence Unimagined full-length, recently released via Metal Blade Records. Comprising eleven tracks, Violence Unimagined is state of the art death metal played with passion and breathless precision, making for another flawless addition to what is inarguably one of the premier catalogues of the genre. "It really follows the path we've been going down for a few years now," notes Webster. "I think we approach the writing in a similar way most every time: each of us try to write the heaviest, most memorable songs we can. We want each song to have its own identifiable character. Showing my age, I like to say you can 'drop the needle' on any point of one of our albums and quickly tell which song you're listening to."
While they continue to do what they do with aplomb, the one substantial change to Cannibal Corpse is the addition of guitarist Erik Rutan to their ranks, joining Webster, founding drummer Paul Mazurkiewicz, guitarist Rob Barrett, and vocalist George "Corpsegrinder" Fisher. Known for his roles in Morbid Angel, Ripping Corpse, and most notably fronting the mighty Hate Eternal, Rutan has long established himself as one of the most dynamic forces in contemporary death metal. Simultaneously, he has built up a reputation as one of the most in demand producers in metal, having previously produced four Cannibal Corpse albums (in addition to Violence Unimagined), alongside the likes of Goatwhore, Soilent Green, and Belphegor. Filling in live on guitar since 2019, in 2020 he became a full member, contributing to the writing process. "I think the most noticeable difference on this record will be the addition of Erik to the band. He wrote three full songs for the record, music and lyrics, and his songwriting and guitar playing have added something new, and I think his musical style integrated into ours very well," Webster enthuses. This is not all that he brings to the band. "He's a great friend of ours, so on a personal level, he's been a perfect fit, as we knew he would be. Beyond that, he's one of the hardest working people I know, in music or otherwise, and he maintains a high energy, positive demeanor in challenging situations where other people might go in a negative direction. This energy and great attitude rubs off on the rest of us as well. That's really a perfect situation to have when you add someone to a band, or any kind of team: someone who's great at what they do, and also inspires the people around them."
To preview and purchase Violence Unimagined visit: metalblade.com/cannibalcorpse
"Cannibal Corpse doesn't simply continue to prove its relevance with Violence Unimagined, they've offered an album that's as good as anything death metal fans could hope for in 2021. They sound as savage as a new band that's trying to make its mark." - Blabbermouth
"…the Floridians' fifteenth studio album serves as a periodic reminder that, no matter how many pig-squealing, crypt-plundering, meat-sculpting scavengers follow in their entrail-strewn wake, nobody will ever topple them from atop their flesh-embroidered throne." - MetalSucks
"…Cannibal Corpse are tearing through your eardrums with their trademark heavy as fuck death metal sound." - MetalInjection
"After three decades and change, Cannibal Corpse have become the Motörhead of death metal - naturally reliable, ever in the zone, still louder and heavier than any of the bands who followed them." - Kerrang
"Fifteen albums later and Cannibal Corpse continue to showcase an unrivaled dedication to sickness, offering eleven new horrifying tracks that bring their level of violence to heights unimagined." - New Noise Magazine
http://www.cannibalcorpse.net
https://www.facebook.com/cannibalcorpse
https://twitter.com/CorpseOfficial
https://www.instagram.com/cannibalcorpseofficial