On June 8th, Brazilian heavy metallers RAGE IN MY EYES will release their new lyric video, created with fan photos/footage, for an unreleased song "I Don't Want to Say Goodbye", as a tribute in honor of the late vocalist, ANDRE MATOS. Today the band has revealed a video teaser, watch it here: https://www.facebook.com/RageInMyEyes/videos/251225922822273

Comments the band:
"This is the teaser for the Andre Matos tribute that will be out on Monday, June 8th. We hope you all love it as much as we did."
.
#andrematos #andrematostribute #andrematosforever #andrematoseterno #andrematosvive #tribute #rageinmyeyes #angra #shaman #viper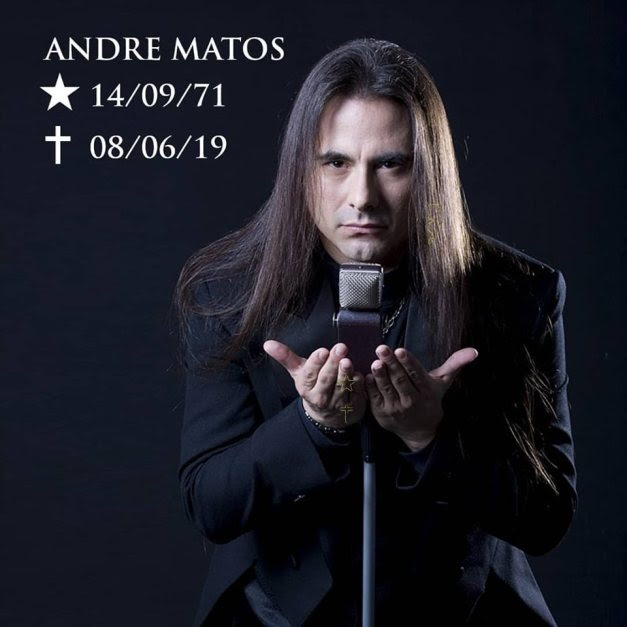 The idea of composing a song in honor of Andre Matos came from drummer Francis Cassol and guitarist Magnus Wichmann, as the drummer explained: "The music is unreleased, it was composed as a tribute to André. A few days after his death, without us, Magnus was composing music and I was lyrics. We are very much fans of him and we are very shaken by his premature death. And the lyrics are almost like a thank you. Talk about the importance of his work in my life, and we think the fans will identify themselves".
The group also disseminates its return to the programming of Radio Atlantis, on the program alt Rock, running Monday to Friday at 20 pm and on Saturdays, at 17 pm, with daily drops at 10:15 pm and 17:45 pm and presented by Leandro Bortholacci. To listen to the radio, just go to http://atl.clicrbs.com.br or tune in on FM 94.3 MHz.
—————---
Just recently RAGE IN MY EYES released an acoustic version of 'Death Sleepers' for Heavy Talk's Quarentine Rock Online Fest. In case you missed it, watch the video here:
On February 12th 2020, RAGE IN MY EYES unleashed their brand new official music video for 'Hole in the Shell', filmed on October 9th 2019 in Porto Alegre (Brazil) where RAGE IN MY EYES joined IRON MAIDEN at Gremio Stadium. The video includes the behind-the-scenes and performance footage! Watch the video here:
———————
RAGE IN MY EYES are blending heavy/prog metal with elements of milonga (a music genre from southern Brazil, Uruguay and Argentina), the band presents a never-heard metal before.
RAGE IN MY EYES is a heavy metal band from Brazil. For 17 years the band went under the name SCELERATA, that had a huge history in the Brazilian heavy metal scenario. The band had three albums released worldwide, including the acclaimed album "The Sniper", feat. guest appearances from Paul DiAnno (former Iron Maiden) and Andi Deris (Helloween). Scelerata was also Paul DiAnno's official Brazilian backing band from 2009 to 2014, playing 50+ shows with this heavy metal icon. On October 9th, 2019, RAGE IN MY EYES joined IRON MAIDEN in Porto Alegre, Brazil, at Gremio Stadium. With this huge background, the musicians are now aiming for the future.
RAGE IN MY EYES' new album, entitled "Ice Cell", has just been made available on all digital platforms. The album was recorded between 2017 and 2018 in the cities of Los Angeles (USA) and Porto Alegre (Brazil) and was produced by Magnus Wichmann at Magneto Studio (Brazil) and Daufembach Studio (USA). It was mixed and mastered in Los Angeles by the renowned Brazilian producer Adair Daufembach. The cover was designed by Tiago Masseti, who has worked with Hibria, Luis Kalil and Daydream XI. According to the band, the graphic art seeks to show the mascot Sage in a darker mood: "We wanted to present a more realistic Sage, with a strong expression and at the same time that seemed marked by life; we brought him closer to us."
Listen to "Ice Cell" on Spotify: https://open.spotify.com/album/2BtduBVMyoLJYIMf6LhfH8
Also watch:
"Death Sleepers" video –
More information at
BAND: https://www.facebook.com/RageInMyEyes | https://rageinmyeyes.com
MANAGEMENT: https://alphaomega-management.com | https://www.facebook.com/OfficialAlphaOmegaManagement