"Blood Offerings is all old ground, but it is hallowed earth. We've heard everything played on this album before, but we've never heard it played quite like this. If you're that curmudgeon who keeps saying nothing can displace your aging death metal album collection, it might finally be time to buy a new record." - Decibel

Blood Offerings is the newest studio recording from Bay Area death cult NECROT. Released via Tankcrimes on June 9th, the record earned the #29 spot on Billboard's Hard Rock Chart and #52 on Billboard's New Artist Chart upon its first week of release!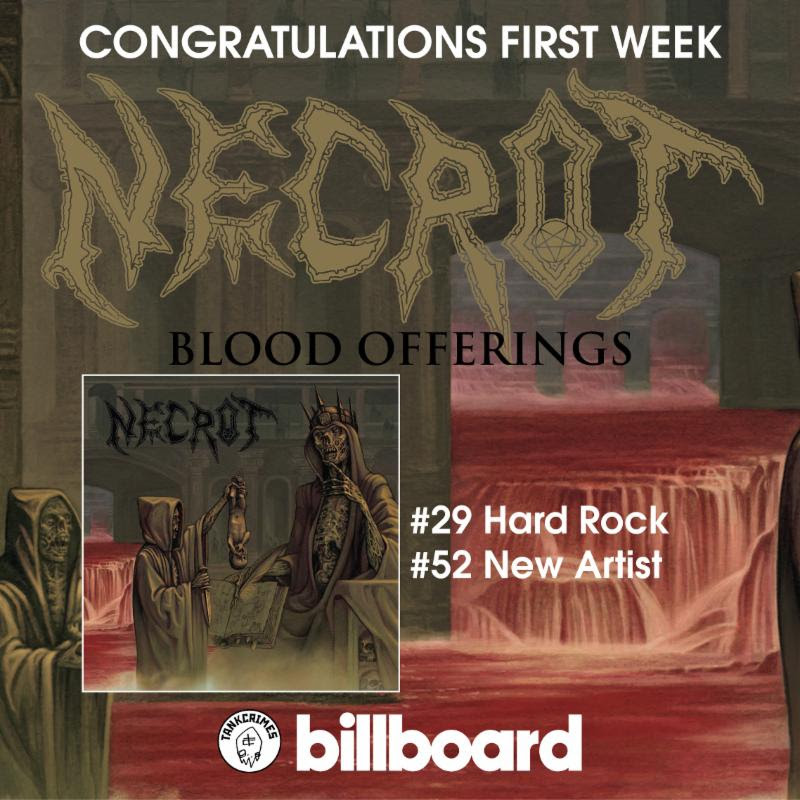 The eight ravaging tracks comprising NECROT's Blood Offerings were captured by Greg Wilkinson at Earhammer (Vastum, Graves At Sea), mastered by Brad Boatright at Audiosiege (Nails, Gatecreeper), and comes shrouded in the unhallowed cover art of Marald Van Haasteren (Bolt Thrower, Baroness). Blood Offerings is out now on CD, LP, and digitally on Tankcrimes and on cassette through Sentient Ruin Laboratories. The limited vinyl edition comes as a foil-stamped, gatefold deluxe LP available in four color variants: 150 in purple splatter, 350 in gold splatter, 500 in black, and 1000 in gold.
NECROT will embark on the month-long North American tour with Denmark-based death metal tyrants, Undergang, beginning June 30th and rolling through July 29th. The band will also make their way to Europe this fall for a journey that will include stops at Bloodshed and Graveland Fests. Further details to be unveiled in the coming weeks.

NECROT w/ Undergang:
6/30/2017 Thee Parkside - San Francisco, CA
7/01/2017 5 Star - Los Angeles, CA
7/02/2017 Tower Bar - San Diego, CA
7/03/2017 Yucca Tap Room - Phoenix, AZ
7/04/2017 Launchpad - Albuquerque, NM
7/05/2017 Sidewinder - Austin, TX
7/06/2017 Satellite Bar - Houston, TX
7/07/2017 Siberia - New Orleans, LA
7/08/2017 The Earl - Atlanta, GA
7/09/2017 The Brass Mug- Tampa, FL
7/11/2017 Slim's - Raleigh, NC
7/12/2017 The Camel - Richmond, VA
7/13/2017 Sidebar - Baltimore, MD
7/14/2017 Gooski's - Pittsburgh, PA
7/15/2017 Saint Vitus Bar - Brooklyn, NY
7/16/2017 Dusk - Providence, RI
7/17/2017 Stamps - Buffalo, NY
7/18/2017 Corktown Tavern - Detroit, MI
7/19/2017 The Summit - Columbus, OH
7/20/2017 Quarters - Milwaukee, WI
7/21/2017 Reggie's - Chicago, IL
7/22/2017 Lookout Lounge - Omaha, NE
7/23/2017 Hi Dive - Denver, CO
7/24/2017 Club X - Salt Lake City, CO
7/26/2017 The Highline - Seattle, WA
7/27/2017 High Water Mark - Portland, OR
7/28/2017 Starlite - Sacramento, CA
7/29/2017 Eli's - Oakland, CA

Forged in 2011, NECROT - founded by current and former members of Acephalix, Vastum, Saviours, Watch Them Die, Atrament, Rude, and more - unleashed the audio bone-crush of their The Labyrinth full-length in 2016 via Tankcrimes. Spewing forth eight tracks amassed from three hard-to-find and long out-of-print demo tapes, the record reaped critical acclaim from fans and media alike compelled by the band's unrepentant Autopsy, Bolt Thrower, and Sacrilege worship.

"Metaphorically, it's like putting your ear up to the chest of a rotting corpse and listening to the parasites eat it from the inside out. NECROT has recorded an album so putrescent you can almost smell it." - Paste Magazine

"...essential listening..." - Indy Metal Vault

"...a modern-day classic...Bolt Thrower played a simple, but highly aesthetic style of death metal. NECROT refreshes the template with a slew of quality, catchy riffs and accessible song structure that sounds quite original." - Echoes And Dust

"...an album that does the region's growling, guttural legacy proud, and with a new layer of contemporary punch." - Treble

"...raw, fast and razor sharp... a pummeling at its finest!" - Metal Assault

"...Blood Offerings separates itself from the pack by offering, in addition to blood, some damn fine riffs." - Last Rites

"Engrossing from start to finish, NECROT have crafted a death metal masterpiece in Blood Offerings"that looks reverently towards the genre's past while casting its own deadly shadow for the future." - Riot Nerd

http://www.facebook.com/cyclesofpain
http://www.tankcrimes.com
http://www.facebook.com/tankcrimes
http://www.tankcrimes.merchtable.com
http://www.sentientruin.com
http://www.facebook.com/SentientRuin