Mötley Crüe drummer Tommy Lee's wife and famous internet personality, Brittany Furlan Lee, saddened the fans with a devastating statement about her mental health on recent Instagram posts.
As far as we know, Brittany is having a funny and happy life with Tommy even though they are in the self-quarantine during the coronavirus outbreak. She has been sharing lots of funny videos and making everybody laugh.
However, Brittany's mental status wasn't as good as we thought. While the summer is coming up, Brittany figures out that her anxiety is getting worse and worse.
Afterward, she wrote a letter to anxiety to make sure she gets rid of this problem. Brittany stated that this disease is ruining every good thing in her life and that's why she wants to leave it behind.
Also, she said goodbye to anxiety in the letter, and we wish for the best for Brittany. Hopefully, she will overcome anxiety as she farewell to it in the letter.
Here is what Brittany Furlan Lee wrote after sharing an article:
"My anxiety has been so much worse in the hot weather, and I didn't understand why until reading this."
Here is Brittany's letter to the anxiety:
"Dear Anxiety, As hard as it is for me to write this letter, it has to be done… It's over between us. I know it has been many many years, and you probably didn't see this coming but I have been unhappy with you for far too long.
I need to get away from you. I have a beautiful life now, I am loved, I love what I do, and there is just no place for you here anymore. I'm sorry. There is no need to have you make me feel like I'm dying on a perfectly sunny day; no need to make my heart pound out of my chest for no reason when I'm traveling to some of the most beautiful places in the world."
Brittany continued:
"You honestly ruin everything. And because of that, I would say I wish you well but I don't. I wish no one ever have to be plagued with the pain and agony you caused within the walls of my mind for so many years; making me feel unsafe and insecure when I was in the safest places I could ever be.
I hope you die honestly. And get buried. Far away from anyone. And left without a grave marker, without a stone, so no one will ever remember what you did to people like me. You've taken so many good years of my life that I'll never get back, so many precious moments… And with that I say – Goodbye you terrible terrible creature."
You can check out the posts below.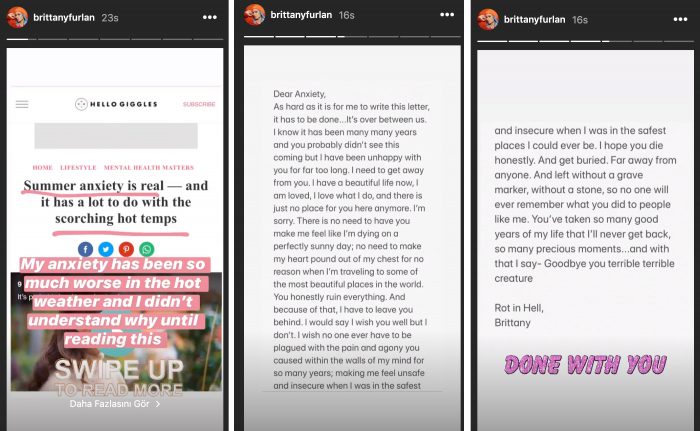 Via MetalHeadZone