Firebrand Canadian Doomsters Smoulder have premiered the title track from forthcoming EP Dream Quest Ends, courtesy of Ride Into Glory and NWOTHM Full Albums Youtube channel. Stream it below.
Song Premiere: "Dream Quest Ends"
SMOULDER will release new EP Dream Quest Ends March 13 on Cruz Del Sur Music. The EP's first single, "Warrior Witch of Hel," was released previously and can be streamed at
this location
.
Hot off the heels of their well-received
Times of Obscene Evil and Wild Daring
debut, Smoulder close the first chapter of their career with the
Dream Quest Ends
EP. A snapshot of 2019 for Canada's Smoulder reveals a series of accomplishments most bands would die for: Several sold-out vinyl pressings of their first full-length album,
Times of Obscene Evil and Wild Daring
, invites to European festivals and inclusion on multiple best-of 2019 lists, including Decibel magazine, Metal Sucks, Metal Hammer Greece and Last Rites. The year was, in every sense, a resounding success for a band who formed in 2013 and only had one demo to its name prior to Times of Obscene Evil and Wild Daring's release. 
As a way to close the chapter on the Times of Obscene Evil and Wild Daring cycle, Smoulder is releasing the
Dream Quest Ends
EP, which features two new songs, a cover of Manilla Road's "Cage of Mirrors," as well as the three cuts from their debut 2018
The Sword Woman
demo. The artwork for Dream Quest Ends was handled by Michael Whelan, who also lent his iconic artistry to the Times of Obscene Evil and Wild Daring cover.
Dream Quest Ends
was recorded in Toronto and Chicago in October 2019 at Swift Road Studios (Chicago) and in Toronto at DNA Music Labs. The two new compositions, "Dream Quest Ends" and "Warrior Witch of Hel" were written by drummer Kevin Hester several years ago and were molded into a "more Smoulder-esque" sound, complete with more lead guitars and choir-like vocal parts. While these two cuts serve as the last remaining songs from the band's demo and Times of Obscene Evil and Wild Daring period, they offer up a more bluesy and psychedelic take from the band's first LP, as well as quiet acoustic parts and dueling vocals. 
Smoulder's cover of "Cage of Mirrors" pays appropriate homage to Manilla Road leader Mark Shelton, who passed away in July 2018. The idea for the cover came from guitarist Vincent, who cited the song's emotional vocal delivery and epic story-driven occult sword and sorcery lyrics as the perfect fit for the band. And once vocalist Sarah Ann worked to match Shelton's wavering, unusual delivery (complete with his growls and laughs), their cover of "Cage of Mirrors" fell into place. 
Dream Quest Ends
may conclude the end of the first chapter of Smoulder's career (hence, the title), but the band has already made an indelible impression on doom denizens the world over. With one triumphant album and an EP in the books, Smoulder will devote most of 2020 to the live front before taking some time to recharge and regroup for their next adventure. 
CD and Vinyl Pre-Orders
LP (Black):
https://tinyurl.com/uzpfbay
LP (Bone):
https://tinyurl.com/udmfg59
LP (Neon Violet):
https://tinyurl.com/rqrszlr
CD:
https://tinyurl.com/uumccw4
Track List
1. Dream Quest Ends
2. Warrior Witch of Hell
3. Cage of Mirrors [Manilla Road]
4. Sword Woman [demo 2019]
5. Voyage of the Sunchaser [demo 2019]
6. The Queen is Gone [demo 2019]
"I'm thrilled to learn that the band is already putting out another album, Dream Quest Ends, which is scheduled for release on March 13, once again on Cruz del Sur. Granted, it's only got three songs on it… but still! I'll take three new Smoulder songs over a billion new Five Finger Death Punch tracks."
- MetalSucks
"Smoulder's skullgoblet runneth over, for here they come with another three hefty tracks of laid-low-but-borne-at-shoulder-height, downright bluesy doom."
- Decibel
"Up the hammers and down the nails directly into my heart; Smoulder leans into the lilting, castle-storming epic metal of Manilla Road. Tons of classic doom charisma shot through with Sarah Ann's commanding howl."
- NPR Music
"Smoulder's brand of epic heavy metal crossed with crushing doom topped off with grandiose fantasy lyrics makes for an engaging listen to say the least."
- Ride Into Glory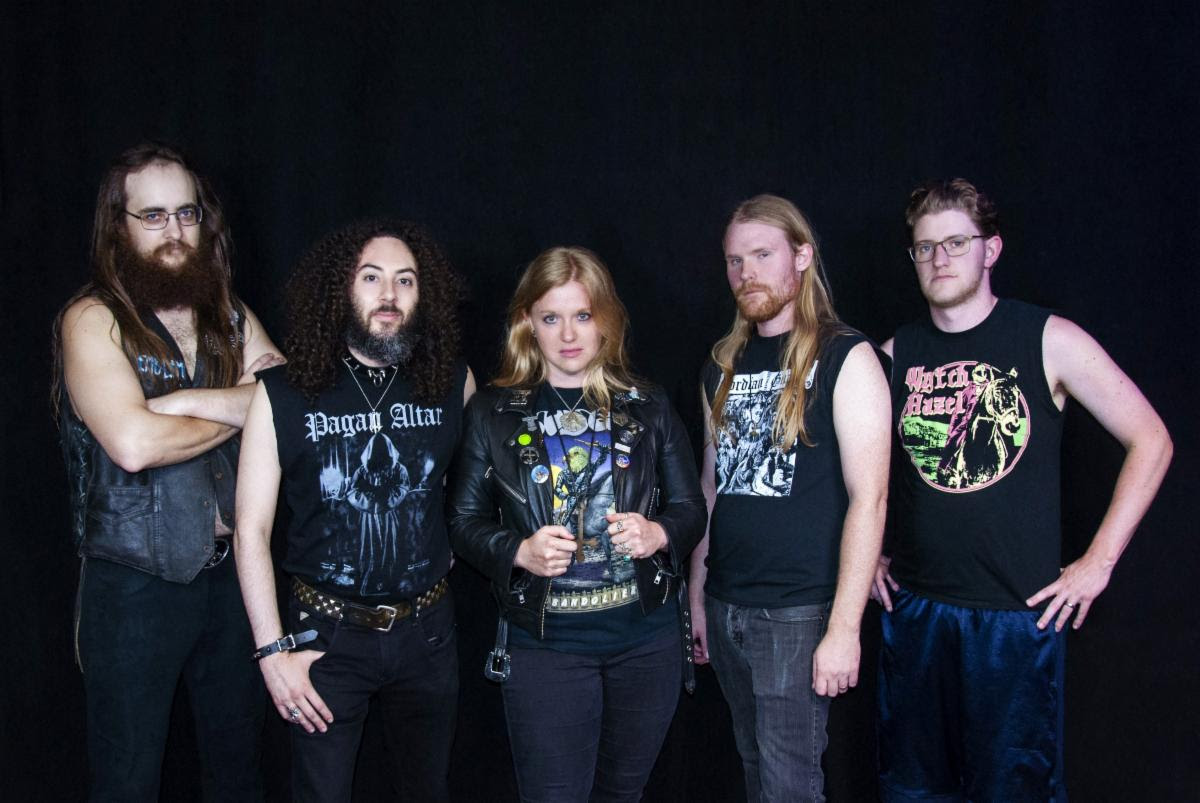 Line-up
Sarah Ann - Vocals
Shon Vincent - Guitars
Collin Wolf- Guitars
Adam Blake – Bass
Kevin Hester - Drums
Photo credit: Kimo Verkindt
facebook.com/SmoulderDoom/
instagram.com/smoulder_doom/
cruzdelsurmusic.com
cruzdelsurmusic.bandcamp.com/