Bobbyrock joins us for a live Q&A with fans and listeners. We talk about live shows, influences, throwing stink bombs in the pit, nazi punks, and more! This episode features new music from Bobbyrock, Gravehuffer, Bewitcher, I Am The Law, Howling Giant, And Winterwolf. This episode also features requests from the audience for Goatwhore, Six Feet Under, Motorhead and more.
Track List
1 - Body Hammer - Fear Factory
2 - The Zach Moonshine Intro: Overtime Overkill!
3 - (Don't Need) Religion (Motörhead Cover)/The All-Destroying - Goatwhore
4 - Demon Face/Stalingrads Cross - Gravehuffer
5 - Under the Witching Cross/ In the Sign of the Goat - BEWITCHER
6 - Dance Of The Southern Witch - I Am The Law
7 - The Pioneer - Howling Giant
8 - BobbyrocK Interview Featuring Back To You/Space (Radio Edit 1)
9 - Fast And Frightening/Off The Wagon - L7
10 - Space Lord - Monster Magnet
11 - 20 Eyes/I Turned Into a Martian - The Misfits
12 - Have A Drink On Me - Six Feet Under
13 - The Devils Whiskey - Brutal Death Fuck
14 - At Dawn They Sleep - Slayer
15 - Slip It In/Six Pack - Black Flag
16 - Sippin' On A Forty - Gina And The Eastern Block
17 - Ace Of Spades/The Chase Is Better Than The Catch - Motorhead
18 - Soul Bleed - Damageplan
19 - Moonshine Bullshitting On Air: Talking about the Dimebag!
20 - Little Wing (Live Hendrix Cover) - Dimebag Darrell
21 - Love, Hate, Love - Alice In Chains
22 - Damage Is Done - Black Label Society
23 - Xero Tolerance - Type O Negative
24 - Too Many Devils And Drugs - FISTULA
25 - You Only Live Once - Suicide Silence
26 - Kadathian Doom - Winterwolf
Listen to the full show below on Mixcloud:
Listen to the interview alone on YouTube: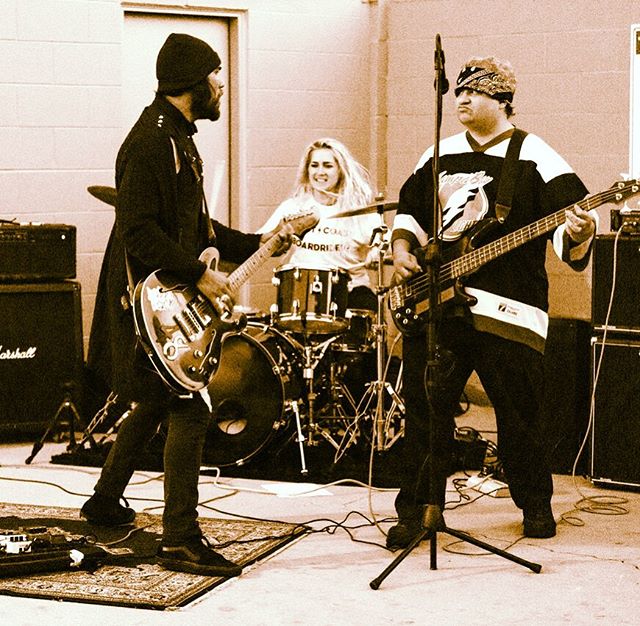 From Southern California (Huntington Beach), BobbyrocK Is Called "Thee Punk of Rock" a Tune Slanger They Say . Huge Sound Coming From This Alternative Punk Rock Artist With His Band . Guitarist/Singer/Writer Justin "Bobby" Brescia , Tony "T-BONE" Camillo On The Royal Rumble Bass With Hard Hitting Sister Lindsey Martin Set The Tone As A LETHAL Trio . As Seen On The Hit Reality MTV Show 'The Hills' . With a TV Backround , Companies Such As The MTV Network , Us Weekly , E! NEWS , Nylon Magazing , And VOGUE Amongst The Heaviest Hitters In The Industry All Know Who Justin 'Bobby' Brescia Is On A First Name Basis , Constantly Keeping Up With Him And Then Bands Whereabouts Via Up To Date News Articles , Live Podcasts , Photo Shoots , And Coming To His Shows !
Finishing His 4th Consecutive U.S. Tour & Completing His 1st Australian Tour With Sold Out Shows , 'Dressed In Błack' A NEW ALBUM One Of Four , Is A First All Acoustic Album by Justin And Will Be Released February 19' . One Thing's For Sure, When Justin "BobbyrocK" Brescia Hits The Stage You're In For A Real Treat! In The Mean Time Keep Your Eyes And Ears Pealed For Shows In Your Area Along With Updates About New Music & Tours !
You'll Be Hearing From Us Soon - BobbyrocK
Follow the band here http://bobbyrockusa.com/
Big shout out and thanks to Infested Prophecy for the shirt that covers my torso during the recording of this show and Goatwhore for for making kick ass tunes to get the show going!