Devil's Child Records
is extremely excited to present the second release in their "Bootleg Series" of live albums with the legendary heavy psychedelic prog rock of Norway's Motorpsycho! Entitled 'Cloudwalkers', the set was captured live at Freak Valley Festival, May 31st, 2014. 
The audio tracks were recorded live by Jens Hunecke, with mix and mastering done by series curator Tony Reed (Mos Generator, Big Scenic Nowhere, et al.) at his
HeavyHead Recording Company
in May 2019. You won't find this one on Spotify or YouTube, this is a vinyl-only release especially for the Motorpsycho fans!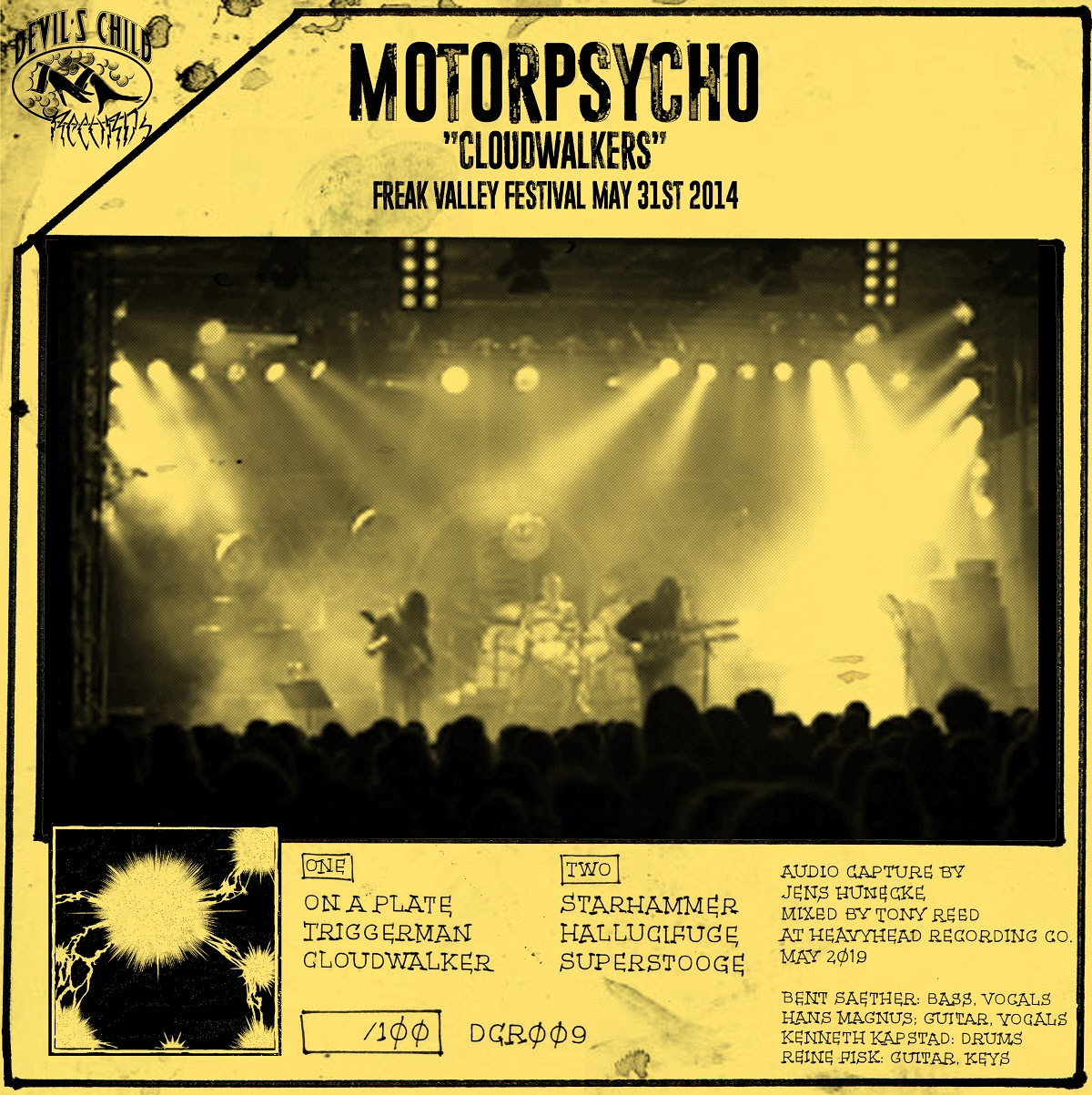 A few words from Rachel Williams, overlord at
Devil's Child Records
:
"For those of us who gravitate toward music, there is something purely magical about a live music performance. When we gather around a band we love, moving to the music is almost homage to our ancestors dancing around the fire with their tribe. Bootlegs of live performances can capture some of that magic and allow us to relive it whenever we choose.
"In the Bootleg Series, we want to capture the excitement of sharing bootlegged live music, whether it's a band that you're not familiar with or an old favorite from a show that you didn't know was recorded, this series is all about the music. We use quality recordings, mixed and mastered at HeavyHead by Tony Reed. With only 100 copies pressed on black vinyl, these records come with a basic jacket that features a handmade and glued cover that is stylized to look like the bootleg records from the 70's. These are simplistic designs because these records are meant to be on the turntable; so drop the needle, sit back, and enjoy."
Some personal insight about Motorpsycho from Tony Reed:
"In my opinion, Motorpsycho are the greatest band that exists in the modern underground rock scene. Although their first album was released in 1991, and alongside the Melvins, Motorpsycho has been one of the most prolific bands in the heavy rock genre. I didn't discover the band until May 31st, 2014. I was backstage at Freak Valley Festival in Netphen, Germany (Mos Generator played earlier that day) talking to Rolf Gustavus, the owner of Stickman Records. At some time during the conversation, Rolf suggested we go out front and check out one of the bands on his label. As we came around to the front of the stage and I started to pay attention to the music, they kicked into "On A Plate". I was hooked!!! Fast forward a few weeks to me getting the multitrack audio files for the Mos Generator set from that day, and I asked if I could get the multitracks for the Motorpsycho set, if I promised not to share. My request was accepted, and I've been listening to that show ever since." (continued below)



'Cloudwalkers' Tracklist:

Side One:
On A Plate
Triggerman
Cloudwalker

Side Two:
Starhammer
Hallucifuge
Superstooge