EYEHATEGOD Kicks Off European Tour With Napalm Death, Misery Index, Rotten Sound, And Bat!
"...one of America's great live bands..." - Rolling Stone
EYEHATEGOD continues their worldwide live takeover in 2020 with a European tour supporting UK grindcore legends Napalm Death. The Campaign For Musical Destruction Tour begins tonight February 7th in Oberhausen, Germany and will make its way through over two dozen cities upon its conclusion March 8th in Cologne, Germany. Additional support will be provided by Misery Index, Rotten Sound, and Bat. From there, the band will play four additional shows in Greece, Ukraine, and Russia. EYEHATEGOD is also confirmed to play Psycho Smokeout 2.0 in Los Angeles, California in April and Psycho Las Vegas in Las Vegas, Nevada in August. See all confirmed dates below.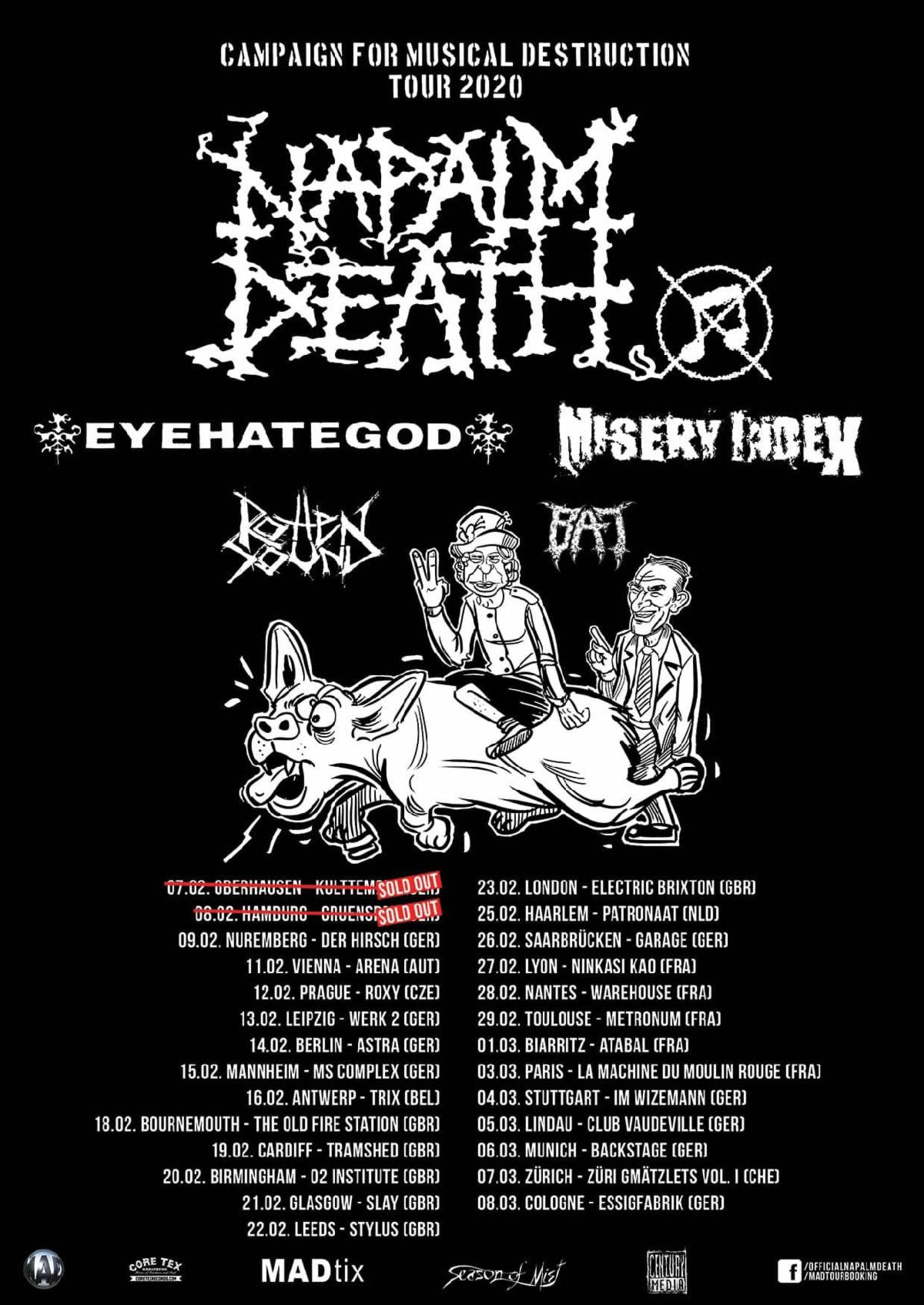 EYEHATEGOD w/ Napalm Death, Misery Index, Rotten Sound, Bat:
2/07/2020 Kulttempel - Oberhausen, DE * Sold Out
2/08/2020 Gruenspan - Hamburg, DE * Sold Out
2/09/2020 Der Hircsch, Nuremberg, DE
2/11/2020 Arena Wien - Vienna, AU
2/12/2020 Roxy - Prague, CZ
2/13/2020 Werk 2 - Leipzig, DE
2/14/2020 Astra - Berlin, DE
2/15/2020 MS Complex - Mannheim, DE
2/16/2020 Trix - Antwerp, BE
2/18/2020 The Old Fire Station - Bournemouth, UK
2/19/2020 Tramshed - Cardiff, UK
2/20/2020 O2 Institute - Bimingham, UK
2/21/2020 Slay - Glasgow, UK
2/22/2020 Stylus - Leeds, UK
2/23/2020 Electric Brixton - London, UK
2/25/2020 Patronaat - Haarlem, NL
2/26/2020 Garage - Saarbrucken, DE
2/27/2020 Ninkasi Kao - Lyon, FR
2/28/2020 Warehouse - Nantes, FR
2/29/2020 Le Metronum - Toulouse, FR
3/01/2020 Atabal - Biarritz, FR
3/03/2020 La Machine du Moulin Rouge - Paris, FR
3/04/2020 Im Wizemann - Stuttgart, DE
3/05/2020 Club Vaudeville - Lindau, DE
3/06/2020 Backstage - Munich, DE
3/07/2020 Meh Suff! Winter Fest - Zurich, CH
3/08/2020 Essigfabrik - Cologne, DE
3/10/2020 Temple - Athens, GR * EHG only
3/12/2020 Monterey Club - Kyiv, UA * EHG only
3/13/2020 Opera Concert Club - Saint Petersburg, RU * EHG only
3/14/2020 Crystal Hall - Mosco, RU * EHG only
4/18/2020 Psycho Smokeout 2.0 @ Catch One Riff Compound - Los Angeles, CA
8/14-16/2020 Psycho Las Vegas @ Mandalay Bay - Las Vegas, NV
EYEHATEGOD released their self-titled full-length in 2014 via Housecore Records in North America. The record broke the band's decade-and-a-half gap since their previous studio album and, reaping critical accolades both stateside and abroad, remains their most successful release to date. EyeHateGod is currently available via Housecore Records
HERE
. For digital orders, go
THIS LOCATION
where the record can be streamed in full.
Last year, the band release a new track, "Three Black Eyes," via Metal Swim 2, the second volume of Adult Swim's Metal Swim compilation series still streaming at
http://adultswim.com/metal
.