Doro Pesch, The Voice Of WARLOCK, Celebrates 30th Anniversary Of Legendary Triumph And Agony Full-Length; Special US Tour Dates Featuring Guitarist Tommy Bolan Announced
Released in 1987, Triumph And Agony is the fourth studio album from German heavy metal titans WARLOCK. The record was a mammoth success globally with hit singles and MTV's Headbangers Ball favorites "All We Are" and "Für immer" among other now-pinnacle anthems like "East Meets West," "Metal Tango," "I Rule The Ruins," and "Touch Of Evil." Triumph And Agony stands among heavy metal's true cult classics.
Gushed Decibel Magazine of the zenith offering, "Triumph And Agony contains one glorious anthem after another for the duration of its (too short) forty-minute run time. 'All We Are' is the big fist-pumper, their 'Rock You Like A Hurricane' or 'You've Got Another Thing Comin'.' 'Three Minute Warning' absolutely scorches, something Accept would have been proud to write. 'I Rule The Ruins' lays waste to everything and THEN rules it. 'Kiss Of Death' provides the requisite tragic vampire soliloquy, and 'Make Time For Love' provides the requisite drama ballad. 'East Meets West' taps some serious spine with its love letter to the Land Of The Rising Sun, while 'Metal Tango' may be the only, well, metal tango. And then there's 'Touch Of Evil,' which ends with one of the most astonishing vulgar displays of screeching ever recorded."
And three decades later, the record has lost none of its charm. In honor of its 30th anniversary, this September, WARLOCK vocalist Doro Pesch will, for the first time ever, perform the fist-raising full-length in its entirety on two European festival dates this Summer and a special run of US live performances. Joined by original Triumph And Agony guitarist Tommy Bolan alongside bassist Nick Douglas, drummer Johnny Dee, guitarist Bas Maas and guitarist/keyboardist Luca Princiotta, Pesch will hit Worcester, New York City, Detroit, Chicago, and Los Angeles.
"Triumph And Agony was our breakthrough album in America," issues Pesch, "and it's still one of my absolute favorites! I'm so excited to play some of these songs for the first time and I'm so much looking forward to play with Tommy again. I'm sure it's gonna sound great and we'll put on a killer show."
Doro Pesch, The Voice Of WARLOCK:
6/08/2017

Sweden Rock - Norje, SE
7/07/2017

Norway Rock Live - Kvinesdal, NO
9/08/2017

Palladium - Worcester, MA [ tickets ]
9/10/2017

BB King's - New York, NY [ tickets ]
9/12/2017

Token Lounge - etroit, MI [ tickets ]
9/14/2017

Reggie's - Chicago, IL [ tickets ]
9/16/2017

The Whisky - Los Angeles, CA [ tickets ]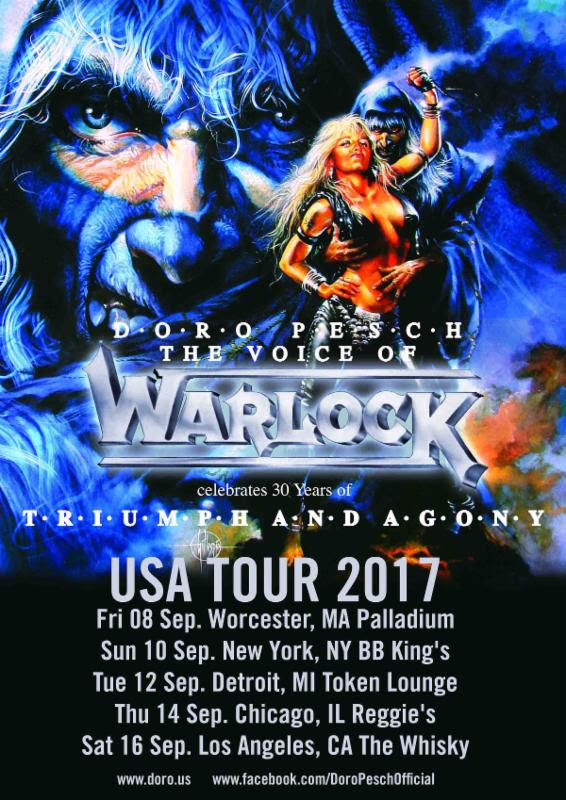 {jrYouTube_embed} invalid value received for "youtube_id" parameter ()