Metalitalia.com, Vertigo and Cerberus Booking are proud to reveal the first confirmed bands for the ninth edition of Metalitalia.com Festival, scheduled for Saturday, September 26th, 2020 at the Live Music Club in Trezzo sull'Adda (Milan, Italy).
 
Headliner of the 2020's line-up will be none other than the almighty SODOM! Following the return of legendary guitarist Frank "Blackfire" Gosdzik and the addition of Stefan "Husky" Hüskens (ASPHYX) on drums, the band fronted by Tom Angelripper will play an exclusive show based on their masterpiece "Agent Orange", as the album celebrates the 30th anniversary of its release this year.
 
We also have the pleasure of bringing back to Italy one of the most popular extreme metal bands of the last decade: BATUSHKA. The Polish black metal band led by guitarist and composer Krzysztof Drabikowski will perform a special show surrounded by their usual amazing stage scenography. Expect songs from the beautiful debut album "Litourgiya" and from its worthy successor "Панихида".
 
This year we are putting an emphasis on the extreme side of metal, hence we are honoured to welcome the legendary PESTILENCE! The Dutch band founded by Patrick Mameli has defined the thrash and technical death metal movement with records such as "Malleus Maleficarum", "Consuming Impulse" and the more progressive-oriented "Testimony of the Ancients". These are essential records for any metal fan!
 
Talking about fundamental bands, here's an act that has been able to perfectly combine the darkness of black metal with the brutality of death metal since their debut "The Nocturnal Silence", which is still considered one of the most important albums in both genres. Following their excellent comeback album "Mark of the Necrogram", we are truly honoured to add NECROPHOBIC to the line-up!
 
Today's announcements ends with the masters MALEVOLENT CREATION, the band that gave us undisputed masterpieces such as "The Ten Commandments" and "Retribution", authentic milestones of the Floridian death metal scene.
 
Stay tuned because more bands and further details will be announced in the coming weeks!
 
TICKETS:
 
Pre-sale: €39.00 + fees
At the door: €45.00
 
Tickets are already available on  Ticketone  and via any other authorized retail channel.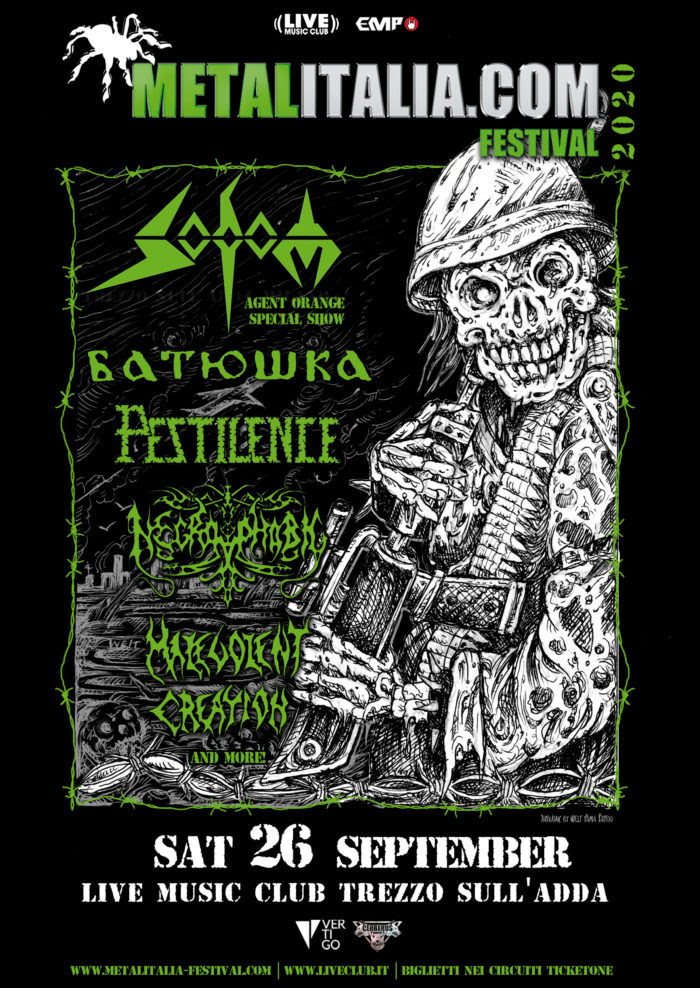 METALITALIA.COM FESTIVAL 2020
Live Music Club – Trezzo sull'Adda (Milan)
Saturday, 26th September 2020
SODOM (Agent Orange special show)
tba
BATUSHKA
PESTILENCE
NECROPHOBIC
MALEVOLENT CREATION
tba
tba
 
Facebook event HERE
 
Info:
METALITALIA.COM
www.metalitalia-festival.com
www.facebook.com/Metalitalia.comFestival
www.metalitalia.com
VERTIGO

www.vertigo.co.it

www.facebook.com/VertigoHardSounds

www.facebook.com/vertigo.co.it
CERBERUS BOOKING

www.cerberusbooking.com

www.facebook.com/cerberus.booking
LIVE CLUB

www.liveclub.it
SUPPORTED BY:

EMP Mailorder

www.emp-online.it