LOCK UP: Demonization Full-Length To See North American Release This Friday; European Tour Underway
Listenable Records will unleash Demonization , the long-anticipated new full-length from legendary grindcore masters LOCK UP , in North America this Friday, April 28th.


LOCK UP
features Kevin Sharp (Brutal Truth, Venomous Concept, Primate, etc.) on vocals alongside bassist Shane Embury (Napalm Death, Meathook Seed, Brujeria etc.), drummer Nick Barker (Cradle Of Filth, Dimmu Borgir etc.), and guitarist Anton Reisenegger (Pentagram - Chile, Criminal). Already available in Europe, Team Rock gushes of the band's Demonization release, "From the title track's unearthly doom to the flashes of blackened dissonance that pepper ' Locust' and more, Demonization is a bravura display of merciless extremity with balls and brains." Decibel Magazine concurs crowning the fourteen-track behemoth a, "head-turning contender for best extreme metal album of 2017." 
LOCK UP recently kicked off a European tour supporting Demonization alongside Napalm Death and Brujeria with additional support from Power Trip. The Campaign For Musical Destruction European Tour 2017 commenced on April 25th and will run through May 21st. See all confirmed dates below.

LOCKUP: Campaign For Musical Destruction Tour 2017 w/ Napalm Death, Brujeria, Power Trip:
4/26/2017 Pustervik - Gothenburg, SE
4/27/2017 Kraken STHLM - Stockholm, SE
4/28/2017 Roxy - Flensburg, DE
4/29/2017 Factory - Magdeburg, DE
4/30/2017 Patronaat - Haarlem, NL
5/01/2017 Underground - Köln, DE
5/02/2017 SO36 - Berlin, DE
5/04/2017 Kwadrat Klub - Krakow, PL
5/05/2017 Klub Fléda - Brno, CZ
5/06/2017 K19 - Kassel, DE
5/07/2017 Garage - Saarbrücken, DE
5/09/2017 O2 Institute - Birmingham, UK
5/10/2017 Classic Grand - Glasgow, UK
5/11/2017 Rebellion - Manchester, UK
5/12/2017 The Electric Ballroom - London, UK
5/13/2017 Le Glazart - Paris, FR
5/14/2017 Zappa - Antwerpen, BE
5/16/2017 Espace André Malraux - Six-Fours-Les-Plages, FR
5/17/2017 L'Usine - Geneva, CH
5/18/2017 Zona Roveri - Bologna, IT
5/19/2017 NCO Club - Karlsruhe, DE
5/20/2017 Backstage - München, DE
5/21/2017 Effenaar - Eindhoven, NL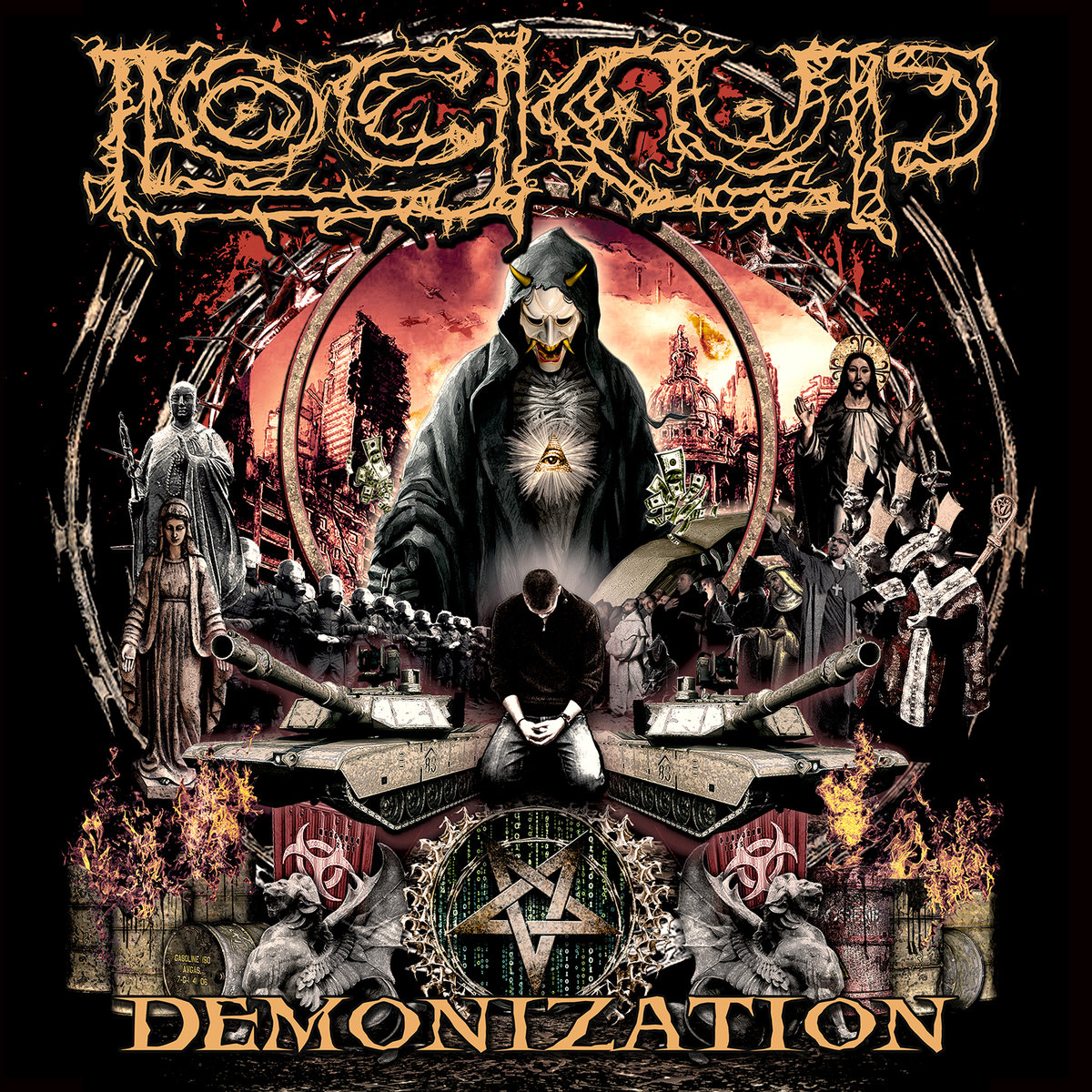 After amicably parting ways with long standing vocalist and metal brother Tomas Lindberg (At The Gates), LOCK UP was honored to have Kevin Sharp step up to the proverbial plate to infuse the band with his unique take on their patented pandemonic death grind hybrid. As a longstanding friend of the band, Sharp adds flavors to the already fermenting cocktail of disharmony, a pot that is stirred ferociously with Reisenegger's twisted riffs, Barker's maniacal drum battery, and Embury's subterranean demonic bass rumbles.

LOCK UP's Demonization has been long in the making for a variety of reasons. Logistically, the band is based in different corners of the globe. Life invades at any given moment disrupting the thought process as it does for anyone. At the same time, the realities/brutalities of life have also inspired the band's creative process in many ways.

Lyrically, this record deals with the rise and the fall and the rise again of the human consciousness: The struggle to resist the powers that be, the addiction of escape, the turmoil of reality, and how to survive the carnage and come out stronger....the reborn phoenix!

Musically, Reisenegger's riffs scream out in every mutated direction - fast, heavy and darkly colorful manifesting a true homage to the underground from which the band members all originate while simultaneously setting new standards in extremity. Barker's drumming surpasses lightning speeds of precision. The chaos is joyfully indefinable as he charges through the compositions like a bull to the red flag of hate. Embury's bass tones once again invoke rapid, low-end bestial movements to carry the lost souls across The River Styx! And Sharp, what needs to be said? Nearly thirty years of guttural exorcisms that continue to inspire the world underdogs. It just doesn't get any better than this.

"It's an exhausting experience for sure, but it's that burnt-to-a-crisp extremity you're after in the first place when you listen to a band with a pedigree like LOCK UP's. They deliver that on all fronts. If you want to feel like a scorched skeleton by the time an album wraps up, Demonization is the wall of fire meant to do that for you." -- No Clean Singing

"...LOCK UP's best work yet, with tighter songwriting, a nastier and more violent sound, and the confidence of members who certainly know what the hell they're doing. It's sure to be one of the best extreme metal releases of 2017, and it's certainly a masterclass in the style." - New Noise

"...Sharp brings a more corrosive approach to the band that fits in perfectly. Demonization is yet another quality release that not only lives up to the members' respective bands' legacies, but to LOCK UP's in particular." - Exclaim!

"LOCK UP's previous output has certainly lived up to its collective billing of men who have made a profound influence on underground metal. Demonization
, though, feels just a shard nastier and mobile, the product of several men who could easily rest on their laurels. Not so. LOCK UP is more twisted than before...which is saying a lot." - Dead Rhetoric

http://www.facebook.com/LockUpOfficial
http://www.shop-listenable.net
http://www.facebook.com/listenablerecs
http://www.listenable.net