DESCENDANTS OF CROM III (2019): Steel City Gathers The Heavy Underground; Feat. THE OBSESSED, VALKYRIE, BACKWOODS PAYBACK! Sept. 20-22!
A GATHERING OF THE HEAVY UNDERGROUND -
- SEPTEMBER 20-22, 2019 -
- STEEL CITY, USA -
 
The weekend of the third annual DESCENDANTS OF CROM has nearly arrived. The Pittsburgh, Pennsylvania underground scene of heavy rock and metal is healthy and thriving and the perfect location. Feeding great regional bands to a hungry crowd and serving up internationally legendary fan-favorites to entice music lovers in the door to experience these amazing local artists.
The inaugural gathering launched in 2017, and DESCENDANTS OF CROM quickly became a strong contender among established regional music festivals. In this third year, the 2019 events begin on Friday, September 20th, with a Pre-Gala evening at Howlers, followed by two full-day events on Saturday and Sunday at Cattivo. 
Shy Kennedy, the Descendants Of Crom founder and owner of Blackseed Records, has once again curated a beautiful mixture of acts for Descendants Of Crom III. Today's announcement fulfills the final lineup, with a most incredible roster of bands included for 2019. All are invited to join and enrich the experience at the Pre-Gala and Weekend Events! 
After all, we are all DESCENDANTS OF CROM.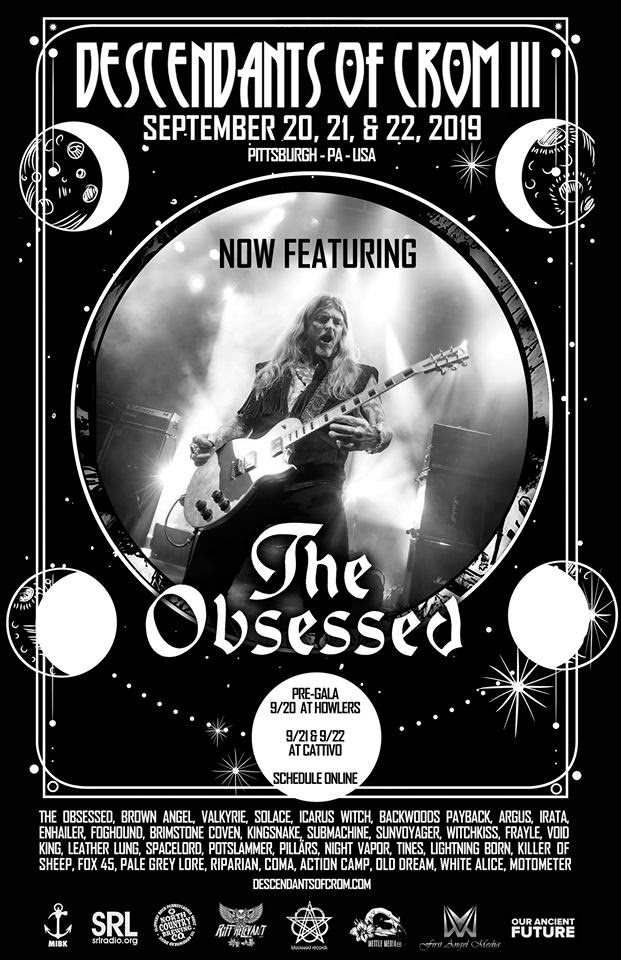 BLACKSEED RECORDS PRESENTS:
DESCENDANTS OF CROM III
September 20 - 22, 2019
Pre-Gala - Friday, September 20th - Howlers
ICARUS WITCH + ENHAILER + SUBMACHINE + VOID KING + FOX 45 + MOTOMETER
Day One - Saturday, September 21st - Cattivo
THE OBSESSED + VALKYRIE + IRATA + ARGUS + FOGHOUND + KINGSNAKE + SUN VOYAGER + POTSLAMMER + WITCHKISS + TINES + PILLÄRS + NIGHT VAPOR + ACTION CAMP + COMA + OLD DREAM
Day Two - Sunday, September 22nd - Cattivo
BROWN ANGEL + SOLACE + BACKWOODS PAYBACK + BRIMSTONE COVEN + FRAYLE + LEATHER LUNG + SPACELORD + LIGHTNING BORN + KILLER OF SHEEP + PALE GREY LORE + RIPARIAN + WHITE ALICE
 
 
The full schedule of set times and stages can be found at:
http://www.descendantsofcrom.com/Bands.php
 
Tickets: http://www.descendantsofcrom.com/Tickets.php
RSVP: https://www.facebook.com/events/216035832675553/
 
 
http://www.descendantsofcrom.com/
https://www.facebook.com/DescendantsOfCrom/
https://www.instagram.com/descendantsofcrom/