Rich from Day Of Doom joins The Zach Moonshine Show to talk about the new album "Epitaph of the Darklord"! This episode features brand new music from Nile, Exhorder, Municipal Waste, Cell, Sathamel, Day Of Doom, Fit For An Autopsy, Black Mood, Karyn Crisis' Gospel of the Witches, Saint Karloff, Eclipser, Cortége, LAMASSU, Opeth, Knaaves, and much more!
Track List
1 - Long Shadows of Dread/4th Arra of Dagon/Sacrifice Unto Sebek - NILE
2 - The Zach Moonshine Intro
3 - My Time/Hallowed Sound/Beware the Wolf - Exhorder
4 - Wave Of Death - Municipal Waste
5 - God of the NetherRealm - CELL
6 - A New Age of Lycanthropy - Sathamel
7 - Day Of Doom Interview Featuring IN QUENCHLESS FLAMES OF HELL/CURSED INTO FIRE/WATCHING - THE WORLD BURN
8 - The Sea Of Tragic Beasts - Fit For An Autopsy
9 - Toxic Hippies II/Personal Addiction - Black Mood
10 - Bullshitting On Air
11 - Drawing Down the Moon/Blood of the Mother - Karyn Crisis' Gospel of the Witches
12 - At the Mountains of Loudness/Supervixen (Electric Return)
Saint Karloff
13 - Devil Girl From Mars - Murderock
14 - On Mournful Waves Of Eternal Dusk/Coagulation - Eclipser
15 - Capricorn - Cortége
16 - Under The Watch Of A Crow - LAMASSU
17 - All Things Will Pass - Opeth
18 - The Serpent's Root - Knaaves
Listen to the full episode below on Mixcloud!
Listen to the full interview alone on YouTube!
Long Island, New York Death Metal titans Day of Doom have revealed their 5th Album, "Epitaph of the Darklord" artwork designed by Jesus Lhysta of Rotted Artist.
"Epitaph of the Darklord" will be released on October 31, 2019 on 3 Demon Records.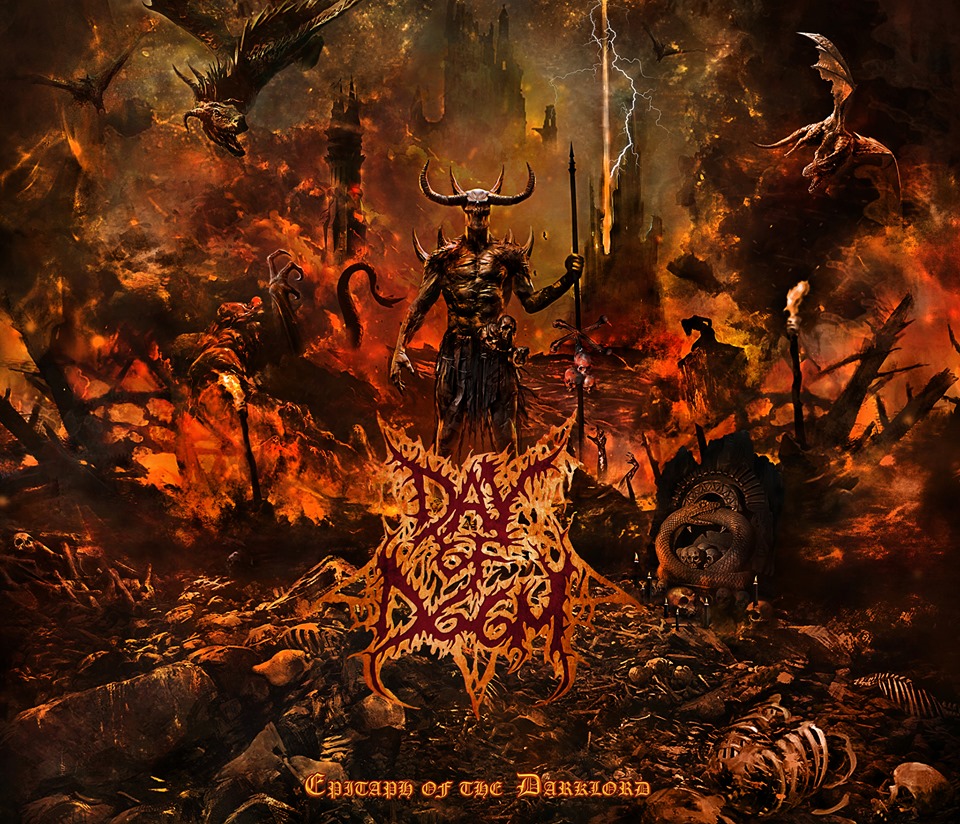 Day of Doom knew the artwork for "Epitaph of the Darklord" had to be the evil twin to the music they created. Day of Doom went on the hunt for an artist and there are so many amazing artist's around, it got crazy so they took a step back and that's when they were contacted by Rotted Artist ( Jesus Lhysta ). From the first glance of his art Day of Doom knew they had found the artist who would bring the Darklord to reality. Once they spoke that sealed the deal. Soon after the art concept was discussed and shortly after Day of Doom started getting ideas back and they were floored by what they saw. Rotted Artist ( Jesus Lhysta ) brought the Darklord and his domain to reality.
The new album artwork done by Rotted Artist (Jesus Lhysta ) captures the essence of evil on all levels of the extreme. The origins of the Darklord are revealed and led beyond the realms of the insipid. "Epitaph of the Darklord" will devour your lost souls. - Doug Randazzo
We have seen the end of day's and the new artwork done by Rotted Artist ( Jesus Lhysta ) shall make you feel it. Prepare for musical
hellfire - Sam Lara
Rotted Artist ( Jesus Lhysta ) created a visual that is the perfect complement to the musical insanity that is "Epitaph of the Darklord". Jesus is a talented, down to earth, very easy to work with person and we cant wait to work with him again. Now you can see the Darklord and his domain all in it's glory. You have been forewarned, the Darklord is coming. - Rich Hervey
Epitapth of the Darklord
Track Listing:
1. Epitapth
2. Darklord
3. Breed to Kill
4. God Defamer
5. Exterminating Angels
6. In Quenchless Flames of Hell
7. Cursed into Fire
8. Kingdom of Salvation