Today doom rock legends THE OBSESSED will kick off their US headlining tour in Pittsburgh, Pennsylvania. The trek will wind its way through more than three-dozen venues, ending on May 20th in Baltimore, Maryland. Karma To Burn will provide direct support throughout the tour while Fatso Jetson and Lo-Pan will provide additional support on select dates. The tour includes a stop at Berserker IV in Pontiac, Michigan this weekend. Additionally, THE OBSESSED will join Weedeater and labelmates Primitive Man on five West Coast shows during the run from April 27th through May 1st. See all confirmed dates below.
Last week THE OBSESSED unveiled their long-awaited Sacred full-length. With renewed energy and purpose, THE OBSESSED sounds heavier and more relevant than ever before. On Sacred, the band doubles down on enormous, heaving riffs and pummeling low-end across twelve tracks of eternal doom. Rounded out by guitarist/vocalist Scott "Wino" Weinrich's lyrical honesty and iconic throaty vocals, Sacred is an album that further pushes THE OBSESSED into the annals of heavy metal history, and well-worth the two-plus decade wait. The band will perform once again as a three-piece featuring Wino, Reid Raley, and Brian Costantino.
Sacred
is out now on Relapse Records on CD, LP, deluxe 2xLP, and digital formats. Physical orders and bundles are available via Relapse.com HERE and digital downloads can be ordered via Bandcamp at THIS LOCATION . The deluxe 2xLP bundle includes an enamel logo pin, signed art print, and two bonus tracks.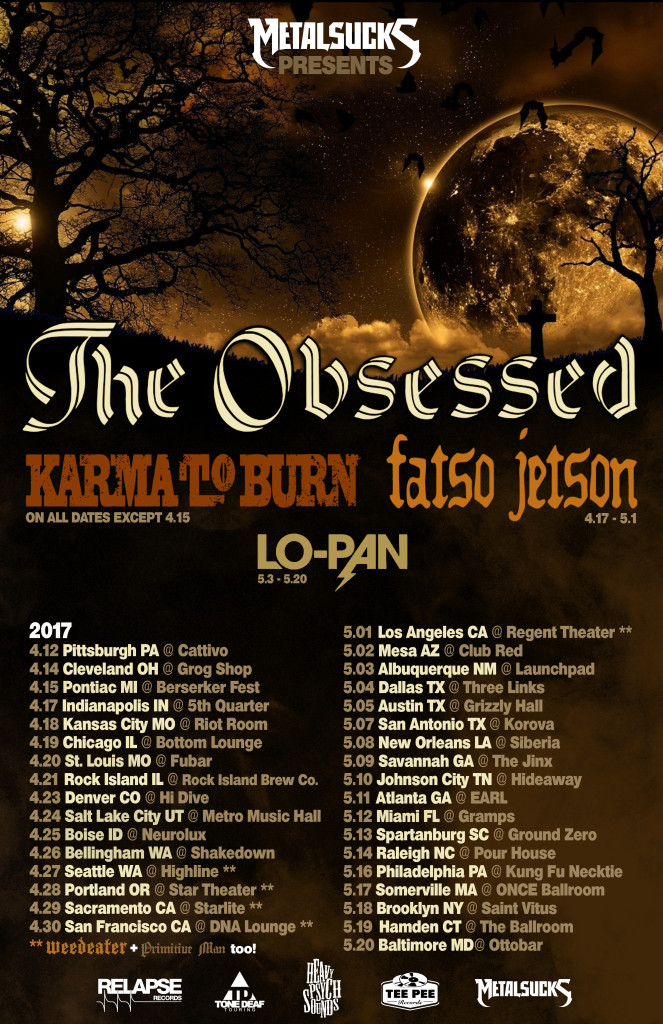 THE OBSESSED w/ Karma To Burn:
4/12/2017 Cattive - Pittsburgh, PA
4/14/2017 Grog Shop - Cleveland, OH
4/15/2017 Berserker IV (The Crofoot) - Pontiac, MI &
4/17/2017 5th Quarter - Indianapolis, IN +
4/18/2017 Riot Room - Kansas City, MO +
4/19/2017 Bottom Lounge - Chicago, IL +
4/20/2017 Fubar - St. Louis, MO +
4/21/2017 Rock Island Brewing Co. - Rock Island, IL +
4/23/2017 Hi-Dive - Denver, CO +
4/24/2017 Metro Music Hall - Salt Lake City, UT +
4/25/2017 Neurolux - Boise, ID +
4/26/2017 Shakedown - Bellingham, WA +
4/27/2017 Highline - Seattle, WA ** +
4/28/2017 Star Theater - Portland, OR ** +
4/29/2017 Starlite - Sacramento, CA ** +
4/30/2017 DNA Lounge - San Francisco, CA ** +
5/01/2017 Regent Theater - Los Angeles, CA ** +
5/02/2017 Club Red - Mesa, AZ
5/03/2017 Launchpad - Albuquerque, NM #
5/04/2017 Three Links - Dallas, TX #
5/05/2017 Grizzly Hall - Austin, TX #
5/07/2017 Korova - San Antonio, TX #
5/08/2017 Siberia - New Orleans, LA #
5/09/2017 The Jinx - Savannah, GA #
5/10/2017 Hideaway - Johnson City, TN #
5/11/2017 EARL - Atlanta, GA #
5/12/2017 Gramps - Miami, FL #
5/13/2017 Ground Zero - Spartanburg, SC #
5/14/2017 Pour House - Raleigh, NC #
5/16/2017 Kung Fu Necktie - Philadelphia, PA #
5/17/2017 ONCE Ballroom - Boston, MA #
5/18/2017 Saint Vitus - Brooklyn, NY #
5/19/2017 The Ballroom at Outer Space - New Hanover, CT #
5/20/2017 Otto Bar - Baltimore, MD #
# w/ Lo-Pan
& No Karma To Burn
** w/ Weedeater + Primitive Man
+ w/ Fatso Jetson

THE OBSESSED was formed in the late 1970s in Potomac, Maryland by legendary guitarist Scott "Wino" Weinrich (Saint Vitus, Spirit Caravan). The band spawned in the realm of musicians/artists such as Black Sabbath, Frank Zappa, The Dictators, and The Stooges. The earliest lineup consisted of Wino, bassist Mark Laue, guitarist John Reese, and drummer Dave Flood. In 1983, Wino took over vocal duties and the band became a three-piece to record the Sodden Jackal EP.
The band broke up in the late '80s after Wino moved to California to join Saint Vitus. At that time, a German label, Hellhound Records, and the booking agency that had signed Saint Vitus, released The Obsessed, originally recorded in 1985, prompting Wino to reform THE OBSESSED. After multiple lineup changes, the band signed to Columbia Records in 1994 to release their third and final album, The Church Within. Despite highly acclaimed reviews, THE OBSESSED would breakup following the release, seeing Wino forming Spirit Caravan (then Shine) and other projects.

In September 2011, THE OBSESSED returned to the stage at Roadburn Festival with The Church Within's legendary lineup (featuring Wino, Greg Rogers, and Guy Pinhas). The band played a few more reunion shows over the next couple years at Hellfest Open Air 2012 and Maryland Deathfest XI in May 2013 with bassist Reid Raley.

Wino announced the full-time return of THE OBSESSED in March 2016 and the band's official signing to Relapse Records to record the follow up to The Church Within. The new lineup originally consisted of Spirit Caravan bassist Dave Sherman and Wino's longtime friend and former road crew member. drummer Brian Costantino. On October 31st, 2016, Wino announced the lineup for THE OBSESSED, included bassist Bruce Falkinburg and guitarist Seraphim, making that the first time the band had been a four piece in over thirty-five years. Now in 2017, THE OBSESSED unleashes Sacred, the band's first studio album in over two decades.

"Sacred delivers the band's trademark bouncy punk-meets-doom vibe, complete with bluesy solos, thundering drums, and band leader Scott 'Wino' Weinrich's drawling voice..." - Noisey

"Sacred is a twelve-track slayer in all categories; it's thrown together like some sad man's journey through a psychedelic, down-tuned wonderland. All of the requisites of classic Sabbath inspired jams are here, and there's certainly a lot of fresh energy provided through the newly restructured band..." - New Noise

"... Sacred will rank among the top albums of 2017." - The Obelisk

"... a definitive statement from doom metal's most dedicated practitioner." - Team Rock

"The production may have more bottom end than Lunar Womb or The Church Within but there's no denying that the songs are cut from the same cloth - Sputnik Music

"...a worthy comeback for a band who with true cult status even when the term has overused. A great return, and one of Wino's best performances in years. - Ghost Cult

"... the energy felt on this record is incredibly dynamic and very true... a triumphant return." - Metal Observer

"Wino is a national treasure and as authentic as a musician can be. In a time without Lemmy's bigger than life personality, Wino's underground earnestness is all the more precious and Sacred does right by the legacy of THE OBSESSED." - Angry Metal Guy