EXTREME BLACKENED DEATH METAL GROUP, NEVALRA, UNVEILS DUAL COVER ART FOR DEBUT ALBUM
March 28, 2019 – Los Angeles, CA - The extreme black/death trio NEVALRA will release their debut album, "Conjure The Storm," on June 7. Two nights later, the Missouri-based group will kick off a six-week European tour with Carach Angren, Thy Antichrist and Wolfheart in Leipzig, Germany. The tour's complete itinerary – which also includes appearances at notable summer metal festivals Hellfest, With Full Force and Dokk'em Open Air – appears below.

"NEVALRA is insanely excited to join black metal giants Carach Angren across Europe for a quite extensive summer Tour," explains vocalist/guitarist Scott Eames. "Alongside Wolfheart & Thy Antichrist, this tour is bound to be quite the theatrical spectacle for fans of dark music. With a lineup like this, there is no doubt it's going to be horrifying… bank on it."

"Conjure The Storm" – which was mixed and mastered by the legendary Dan Swano (Asphyx, Incantation, Marduk) – is the follow-up to NEVALRA's debut 2015 EP, "The Black Flame," which MetalSucks writer Phil Boozeman named one of his Top 10 metal albums of 2015. ("Eames' shrieks need to be heard in person to be believed," Phil wrote, "because what you hear on the recording is exactly how Eames and the rest of the band sound live.") A short teaser can be heard at this location (
).
The cover art for "Conjure The Storm" was designed by Seth Siro Anton of Septicflesh, who has previously collaborated with the likes of Decapitated, Belphegor and Nile. The artwork for the CD and digital versions of the album will differ slightly from the art for the limited-edition vinyl release. Pre-orders are available here:
https://m-theoryaudio.com/store
. More information about the album will be unveiled in the coming weeks.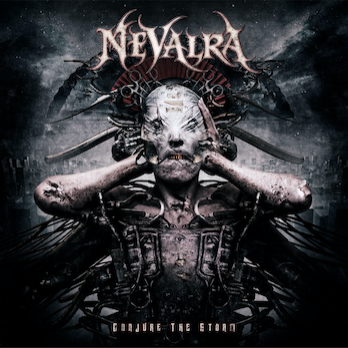 NEVALRA was founded in 2013 by guitarist/vocalist Scott Eames (Thy Antichrist) and quickly evolved from a one-man band into a full-fledged group. The band has headlined extensively throughout the Midwest in addition to performing alongside such notable groups as Deicide, Suffocation, Venom Inc. and Trivium. In 2018, the group made their second appearance at the Full Terror Assault festival, where they shared the stage with the likes of Demolition Hammer, Death Angel and Immolation, and Cincinnati's Transplant Fest (Incantation, Ringworm, Black Fast).

NEVALRA is currently endorsed by B.C. Rich, Randall Amps, EMG Pickups, KHDK, Ernie Ball, Spectraflex Cables (home of the Scott Eames Signature Series "TERROR-Flex" Guitar Cables), Floyd Rose and more.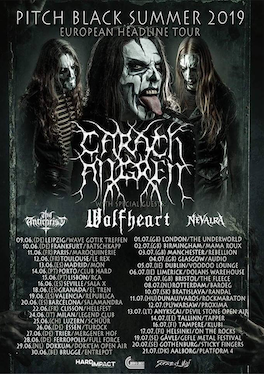 NEVALRA on tour with Carach Angren, Wolfheart, Thy Antichrist:
09 Jun 19 Leipzig (DE) Wave Gotik Treffen
10 Jun 19 Frankfurt (DE) Batschkapp
11 Jun 19 Paris (FR) Maroquinerie
12 Jun 19 Toulouse (FR) Le Rex
13 Jun 19 Madrid (ES) Mon
14 Jun 19 Porto (PT) Club Hard
15 Jun 19 Lisbon (PT) RCA
16 Jun 19 Sevilla (ES) Sala X
18 Jun 19 Granada (ES) El Tren
19 Jun 19 Valencia (ES) Republica
20 Jun 19 Barcelona (ES) Salamandra
22 Jun 19 Clisson (FR) Hellfest 2019
24 Jun 19 Milan (IT) Legend Club
25 Jun 19 Luzern (CH) Schuur
26 Jun 19 Essen (DE) Turock
27 Jun 19 Trier (DE) Mergener Hof
28 Jun 19 Ferropolis (DE) With Full Force 2019
29 Jun 19 Dokkum (NL) Dokk'em Open Air 2019
30 Jun 19 Brugge (BE) Entrepot
01 Jul 19 London (UK) The Underworld
02 Jul 19 Birmingham (UK) Mama Roux
03 Jul 19 Manchester (UK) Rebellion
04 Jul 19 Glasgow (UK) Audio
05 Jul 19 Dublin (IE) Voodoo Lounge
06 Jul 19 Limerick (IE) Dolans Warehouse
07 Jul 19 Bristol (UK) The Fleece
08 Jul 19 Rotterdam (NL) Baroeg
10 Jul 19 Bratislava (SK) Randal
11 Jul 19 Dunaujvaros (HU) Rockmarathon 2019
12 Jul 19 Warsaw (PL) Proxima
13 Jul 19 Anykšciai (LT) Devilstone Open Air 2019
14 Jul 19 Tallinn (EE) Tapper
16 Jul 19 Tampere (FI) Klubi
17 Jul 19 Helsinki (FI) On the Rocks
19 Jul 19 Gävle (SE) Gefle Metal Festival 2019
20 Jul 19 Gothenburg (SE) Sticky Fingers
21 Jul 19 Aalborg (DK) Platform 4
For more information, please visit:
http://www.nevalra.com
https://www.facebook.com/nevalra
https://www.instagram.com/nevalraofficial
https://www.youtube.com/nevalra
https://www.twitter.com/nevalra
http://www.scotteames.com