Miley Cyrus Sings 'Say Hello 2 Heaven' at Chris Cornell Tribute & Lars Ulrich From Metallica Is Beyond Inspired!!
METALLICA drummer Lars Ulrich says that he was "stunned" by Miley Cyrus 's take on the TEMPLE OF THE DOG classic "Say Hello 2 Heaven" at this past Wednesday's (January 16) "I Am The Highway: A Tribute To Chris Cornell" concert at the Forum in Los Angeles.
Cyrus , whose addition to the show earlier in the week raised a few eyebrows, first hit the stage in a sparkly minidress for an acoustic cover of Cornell 's "Two Drink Minimum" , then returned later in the night to join TEMPLE OF THE DOG for the aforementioned "Say Hello 2 Heaven" .
"Thank you, everybody," she said at the end. "I fucking wanted to sing this song tonight. We love you, Chris . Thank you for bringing us all together like you always have. It's a fucking honor. This was the fucking best day."
On Friday, Ulrich took to his Instagram to post a photo of him backstage with Cyrus , along with the message: "Still stunned by your next level version of 'Say Hello 2 Heaven' for Chris ! Beyond inspiring."
The marathon concert also featured METALLICA , FOO FIGHTERS , Adam Levine , Fiona Apple , Ryan Adams , Ziggy Marley , THE MELVINS and the surviving members of AUDIOSLAVE and SOUNDGARDEN .
Introduced by comedian Jack Black , METALLICA opened its four-song set with a cover of SOUNDGARDEN 's "All Your Lies" , followed by two of its own classic tracks, "For Whom The Bell Tolls" and "Master Of Puppets" , before closing with SOUNDGARDEN 's "Head Injury" .
The show climaxed with the three surviving members of SOUNDGARDEN joined by a rotating selection of singers and musicians, including Taylor Momsen ( THE PRETTY RECKLESS ), Marcus Durant , Taylor Hawkins ( FOO FIGHTERS ), Buzz Osborne ( THE MELVINS ) and others, for a run through eight of their songs, including "Rusty Cage" , "Flower" , "Outshined" and "Black Hole Sun" .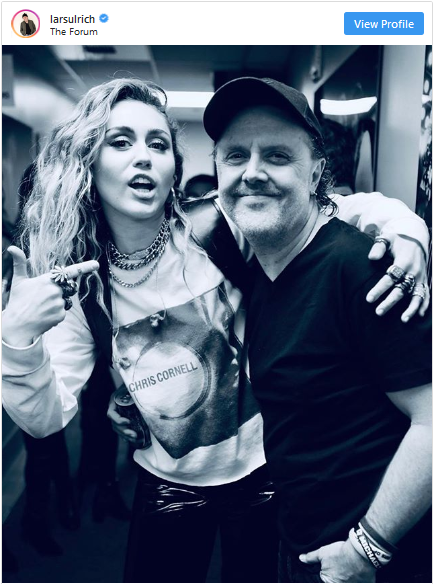 Via Blabbermouth