Kirkebrann / Visegard - Split - "Kirkegard" - Reviewed by Metal Digest ! Check it out here at this link: https://metal-digest.com/2022/03/25/kirkerbrann-visegard-kirkegard-split/
Can Norwegian black metal still stay relevant in the 2020's? The answer is yes, the genre has moved beyond burning churches and fingering the remains of dead goats. These days, black metal poses the questions in life that maybe we're too afraid to answer, digging deep into the psyche drawing out those primal energies. To continue asking these questions are Kirkerbrann and Visegard who have released 'Kirkegard', their latest split.
                Fans of black metal and in particular Norwegian black metal will know exactly what to expect here, the pair demonstrate their wares with pride and the show the world not just what they are capable of, but what the genre can do in the 21st Century with their pummelling blast beats, tremolo picking and shrieking vocals all packaged up in a production which although recorded with expertise and care, does its best to mimic the sound of when black metal was truly in its prime. Furthermore, the mixes of both sides of this split are enhanced by some high-profile guest appearances such as Nattefrost from Carpathian Forest and Morfeus from Limbonic Art twiddling the knobs to great effect on each side of the split respectively.

                There isn't anything here on this split which Kirkerbrann or Visegard haven't done before, but what they do is keep it real with some decent black metal vibes which continues to demonstrate just how alive the black metal underground is. - Metal Digest
Release Date: November 30th, 2021
FFO: Carpathian Forest, Black Altar, Vulture Lord
Odium Records announces on 30th of November a premiere of the split of two Norwegian bands - Kirkerbran and Visegard titled "Kirkegard". Each of the bands prepared six songs. About an hour of pure Norwegian black metal rooted in the 90s. 
Split is released as 6 panels digi pack cd with 16 pages booklet and digital. 
 You can order it at: https://www.odiumrex.com/webshop or https://www.odiumrecords.bandcamp.com
Check out these videos!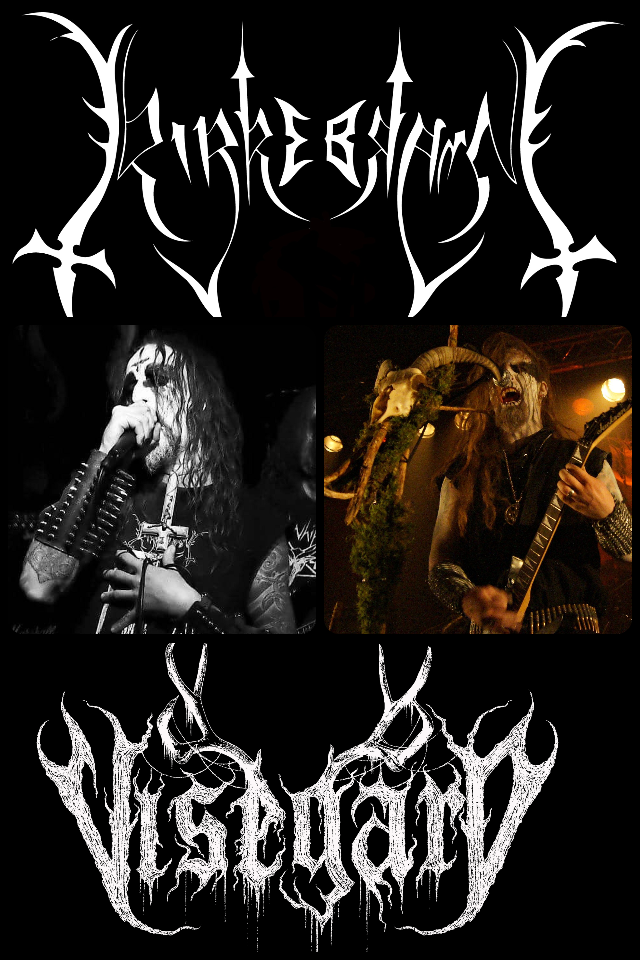 Among the invited guests you will hear Nattefrost. Daniel Vrangsinn of Carpathian Forest is responsible for the mix of vocals on Kirkebrann's side whilst Morfeus known from Limbonic Art is behind the whole of Visegard's production.
Tracklist:
Kirkebrann site:
Black Metal Blues
Døden Byr Opp Til Dans
Vederstyggelig Samsara
Terroritt
Lange Nette
Hedensk Dødsmarsj_
Visegard side:
Skogsdømt
Månedans
Draugen
Fortapelsen
Hvor Gausta Rår
Jerva Jakop
 Kirkebrann lineup:
Draug - Vocals
Hrafn - Gitar
Nasreten - Gitar
Januz - Bass
Nødset - Drums
Guest Vocals on "Terroritt" by Campbell
Guest Vocals on "Lange Netter" by Nattefrost
Visegard lineup:
Nasreten – vocals, guitars
Slakt – bass, additional vocals
Banahogg – drums
Guest vocals on ''Hvor Gausta Rår'' by Januz and Petter Berg.
Kirkebrann recorded in 2016 at SBC studio, engineered by Kirkebrann and mixed by Hrafn, vocals mixed by Daniel Vrangsinn
Visegard Recorded in 2016/2017
Drums recorded at the Blindfolded dungeon in 
Larvik.
Guitars, bass and vocals recorded in Transient LAB.
Engineered and mixed by Morfeus in Transient LAB
More info at these links:
https://odiumrecords.bandcamp.com/
www.facebook.com/odiumrex
www.facebook.com/Visegardofficial
www.facebook.com/Kirkebrann