Tobias Forge On Taking Ghost's Live Show Into U.S. Arenas, Achieving Mystery In The Social Media Age
Since forming in 2006, Swedish metal act Ghost has toured opening for metal and rock stalwarts like Iron Maiden, Slayer, Mastodon, Alice in Chains and more, gradually bringing their music to more and more people in America.
The group has never had a lack of famous cheerleaders, like Foo Fighters frontman Dave Grohl who produced the 2013 covers EP If You Have Ghost (and is rumored to have performed in costume, unbeknownst to fans, in the group's backing band as a "Nameless Ghoul").
Their third album Meliora marked a major leap forward in the United States, giving Ghost its first #1 album, topping the top rock albums chart and leading to slots in front of larger crowds at places like Lollapalooza in 2016.
But it's their most recent studio effort Prequelle (June, Loma Vista) which signaled a breakthrough for Ghost in the United States.
While Meliora hit #1 on a rock chart, Prequelle managed to debut at #3 on the Billboard 200 albums chart, just underneath Kanye West and Post Malone, in front of Luke Combs and Cardi B, no easy feat in America today for a group holding guitars.
As expected, the group's current "A Pale Tour Named Death" road trip sees them playing larger venues in America than ever before, making the jump to arenas on some dates (The Forum in Los Angeles this Friday, November 16 and Barclays Center in New York on December 15) for their first time as a headliner.
It belies the necessity of a strong live show for any rock act in a changing music industry landscape.
"I think that it's crucial. I think that playing live, if you want to be an artist - that's what artists do," said Ghost frontman Tobias Forge. "I mean, if you're a carpenter, you need to build sh-t. For us, if you're a
rock band, there's no way around it. You have to tour. You have to tour a whole lot."
On a recent November stop at Chicago's Aragon Ballroom (capacity 5,000), Ghost performed from a massive three-tiered stage, amidst the religious imagery fans have come to expect, under an arena-ready light show, that comfortably housed Forge and his seven piece backing band (Ghost's Nameless Ghouls).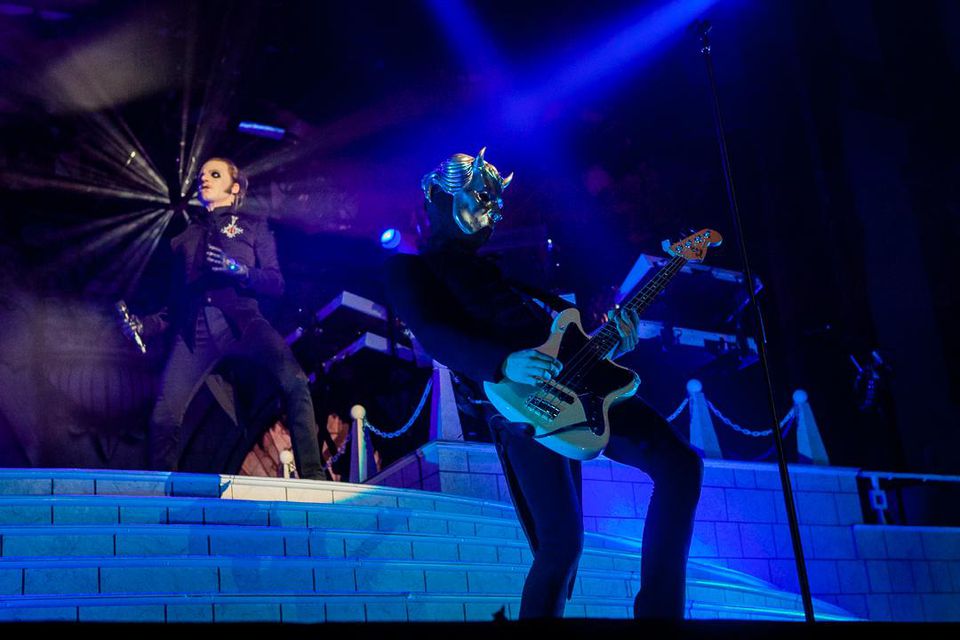 (Left to right) Cardinal Copia and Ghost's Nameless Ghouls, on stage Thursday, November 1, 2018 at the Aragon Ballroom in Chicago(c) Philamonjaro Studio
The key logistically during a tour that jumps from larger mid-size venues to arenas and back, is how to present that show in the larger setting without losing what makes it a virtually unparalleled staging somewhere like Chicago's Aragon.
"I think that one of our biggest hurdles right now - not in terms of imagination and planning but just economically and practically - is how to make those arena shows not look like we just put our theatre show into The Forum or Barclays. It needs to look like we look like this every night on the tour," observed Forge astutely. "There's usually a makeshift stage - a very generic square stage. A PA company has come in and put up a big PA, usually with a lot of speakers and stuff in front of the stage. So you end up in a situation that in a way sort of increases the distance between you and the crowd," observed Forge of what bands can often expect if they choose to rely upon the staging provided to them in the typical arena. "Whereas if you go see Bon Jovi, he will have built a stage that is meant to be in some sort of proximity to the crowd," he said, noting the need for hands-on customization prior to Ghost's L.A. and New York shows.
Forge pointed out the need to hire a video team to properly utilize arena video screens or jumbotrons for these larger shows, singling out the need for additional lighting and followspots. It's the type of attention to detail that has defined the group's costumes, staging, messaging and music for over ten years and primes Ghost for success in larger U.S. venues.
"I like that," said Forge of the challenge involved in properly pulling off Ghost's first American arena concerts. "This is my job. This is my dream. This is what I have been wanting ever since I was a kid. I sat in front of my TV in our living room. I had a VCR looking at tapes I'd freeze frame and draw the stage. I loved that stuff. It takes a lot of planning and you definitely have to grind your teeth a lot knowing [maybe] it won't really turn out the way I wanted… but f--k it," said Forge of the risk.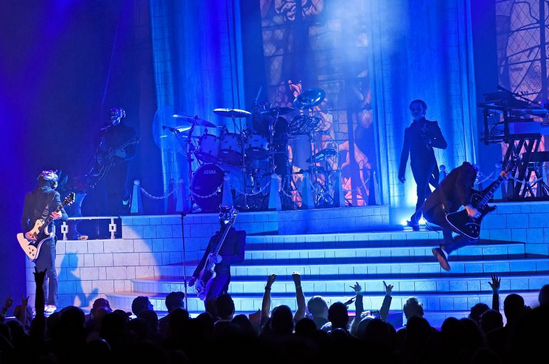 LOUISVILLE, KY - OCTOBER 29: Cardinal Copia and the Nameless Ghouls of the band Ghost performs at The Louisville Palace on October 29, 2018 in Louisville, Kentucky. (Photo by Stephen J. Cohen/Getty Images)Getty
With each album, Forge has built for Ghost fascinating, character-driven narrative that plays out both on album and on stage, as one of the most interesting, thought-provoking acts in rock and roll.
Each album sees Forge take on a new persona, moving from the fourth and final incarnation of his Papa Emeritus character to Cardinal Copia on Prequelle.
Anonymity was at the root of that and thoughtful fans, for the most part, played along with a wink and a nod, agreeing to Forge's no photo policy as band members, for most of the band's existence, went to great lengths to try and hide their identities, regardless of the level of difficulty that involves following the rise of social media.
In the past, Forge was wont to give interviews in character and/or in costume in an effort to drive the story forward and keep up that air of anonymity. But a 2017 lawsuit by former band members over royalties changed the identity of Papa Emeritus from occasional online whisper to brisk confirmation virtually overnight.
"That was of course... uncomfortable. The last couple of years have, in between spawning a new record that has been successful and tours that have been very pleasant, also been quite grueling," noted Forge of dealing with the lawsuit and the forced change it brought (one of the only elements of Ghost over which he was able to exercise no control). "I had to take into consideration that as much as I wanted the images that people have been fed to be strong enough to sort of survive whatever images would appear of me and however I would be presented, you never know if it changes the perception of the general crowd," he said of the potential consequences in being forced to pull back the curtain a bit so to speak.
Some of the best rock music has been driven by narrative storytelling. Led Zeppelin, Pink Floyd and more used the idea to great effect on the concept albums of the 70s. Prince and David Bowie certainly built the idea of mystery into the characters they portrayed publicly. And general unpredictability has always made for the best rock and roll moments.
In the internet age, where the answer to any question about any celebrity is only a click away, it's become kind of a lost art. But Ghost continues to make that mystery a crucial part of everything they do regardless of the challenge involved.
"I don't find it too difficult. With Ghost, I never really foresaw that it was going to take off the way it did. I knew that the songs were good. I knew that it had the ability to turn people's heads. I knew that we were going to have a crowd. [But] I never thought it would propel into the Grammy world or arenas and all that," said Forge. "So it was easy to make that decision from an aesthetic point of view. Because I want it to be highly theatrical."
Forge notes that while his idea of fame has changed over the years, he believes that it's possible to maintain some sense of anonymity despite the times.
"I like the fact that my work in Ghost is famous and people know it and we have our crowd. But I am not as antsy about getting recognized on the street as I might have once been," said Forge of his rock ambitions. "As long as I don't get an Instagram account and start tweeting all over the place about what I think about this, that or the other, I think I should be able to maintain that level of mystery. There's definitely a middle way to have both: you can be a celebrity but you can still be kind of mysterious. Look at Nick Cave... I know a lot about him. But he's still as mysterious to me as ever."
Ghost's ability to hone its act and develop an audience organically over the course of twelve years, four studio albums and a series of EPs is also the product of a bygone era.
As it's become more difficult to monetize recorded music, acts tend to be discarded fast as major labels go for the quickest, easiest, most profitable hit. Rock acts in particular have suffered, with little time to develop a sound, let alone a unique persona. That fact isn't lost on Forge as Ghost continues to experience some of its greatest North American success.
"I am very fortunate that I was signed to a label where I was given an old school treatment where I was signed for several records and given the opportunity to evolve and develop - which, unfortunately, is something that most labels would not allow now. Maybe that changes in the future. I think you also have to have a lot of faith in the future," he said. "I think the dark ages of the entertainment industry were definitely between 2000 and 2010 basically - ten years. As soon as streaming sort of caught up, there's been sort of an incentive for the big powers to keep investing. There's definitely a need for entertainment," said Forge of changing online consumption methods.
With a #1 record under their belt, and a top 5 debut on the pop chart, the key to Ghost's success has been in the way Forge has consistently managed not just to challenge his audience but engage them by making them an integral part of one of music's most unique success stories.
"One thing that I hadn't predicted at all upon Ghost's inception, was the unbelievable surge of creativity that it spawned amongst our fans. I'd say as much as I am the initiator of this and the creator of most of the narrative, I think that the cult, the lifestyle that seems to be Ghost, is definitely something that has been carried forth and developed by our thousands of fans who are building it. They sort of take it and run with it," noted Forge. "For a brand like ours, if I did not have that fan engagement, I would not be sitting here in Tulsa doing an interview with Forbes."
I am a Chicago-based writer and broadcaster who's tracked the changing music industry since the mid-90s with frequent contributions to WGN Radio and the Daily Herald.
Jim Ryan is a Chicago based writer/broadcaster who's interviewed a Ramone and a Rolling Stone. Follow him on Twitter @RadioJimRyan or visit online at radiojimryan.com. radiojimryan@gmail.com
Via Forbes