In their endless quest to push and support current underground acts that perpetuate the odor of vintage death metal, on January 21st, 2019, Memento Mori is proud to present Vile Apparition's striking debut album, Depravity Ordained. Memento Mori will handle the CD version, while Blood Harvest shall handle the vinyl and cassette versions (release date TBA).
Oozing out of Melbourne, Australia, Vile Apparition is a new project of Oliver Ballantyne (drums) and Jamie Colic (guitar, bass, vocals), both ex-members of the mighty Sewercide that left shortly after the recording of that band's debut album, Immortalized in Suffering, in order to pursue other endeavors. Vile Apparition's self-released debut four-song demo, Atrocious Captivity, was picked up for a cassette release in early 2018 on Transylvanian Tapes, just in time for the band to fill their live lineup for their first run of shows starting January 2018.
Alas, Atrocious Captivity was but a brief taste of the nastiness to come, now in the form of Vile Apparition's full-length debut, Depravity Ordained. No lies in that title: this is fetid 'n' filthy death metal that puts a premium on the BLUDGEON! Old-school as it comes, of course, Vile Apparition's no-frills approach hearkens to the likes of Morpheus Descends, Ripping Corpse, and Deteriorot as well as the early works of Suffocation, Deeds of Flesh, and Cryptopsy. An astounding exhibition of ridiculous, malignant heaviness that'll drill a hole in your skull and blow your brain cells to smithereens, the album will also include the preceding demo as bonus tracks.
With suitably classic cover art courtesy of Chaostouched and mastering by Dan Lowndes at Resonance Sound Studio, Vile Apparition bring you blunt-force trauma with Depravity Ordained! Get blunted with the album's title track HERE at Memento Mori's official YouTube channel.
Cover and tracklisting are as follows: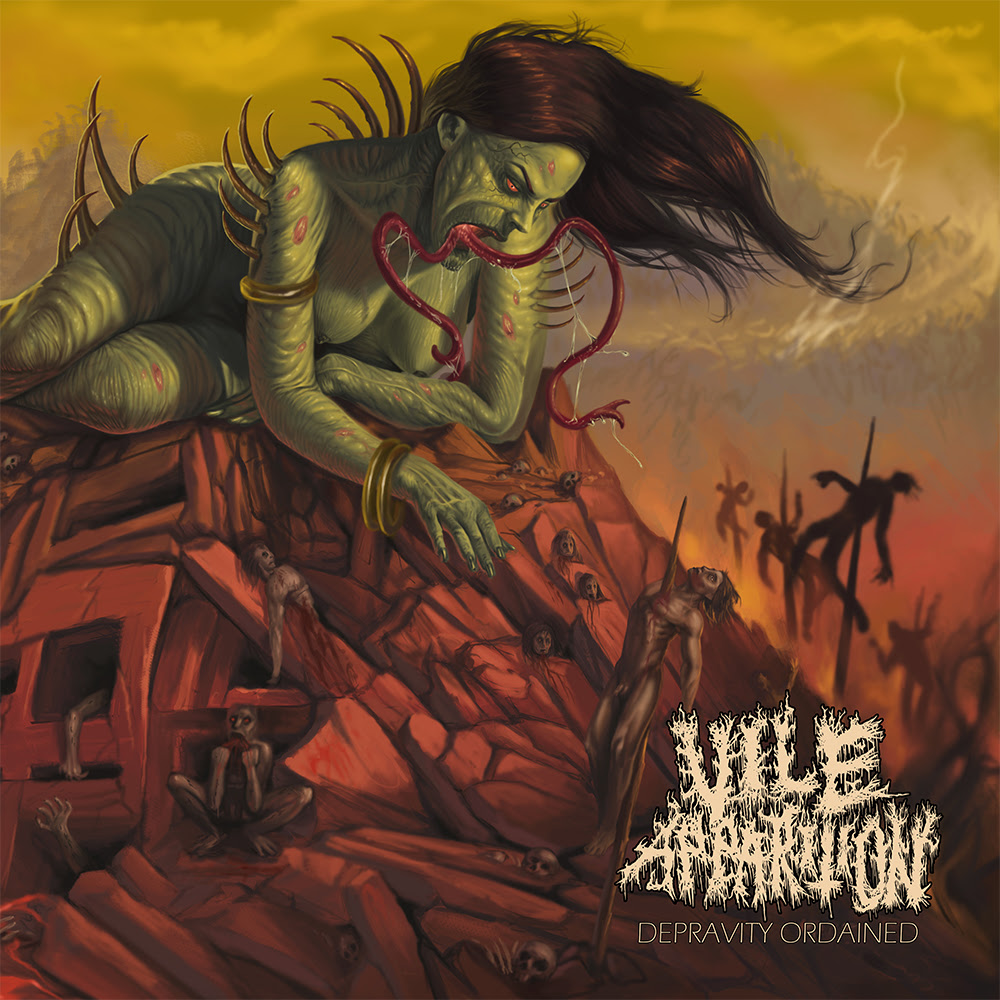 Tracklisting for Vile Apparition's Depravity Ordained
1. Mauled and Nameless
2. Depravity Ordained
3. Dissect to Enucleate
4. Aeon of Impalement
5. The Cursed Path
6. Malevolent Aphantasia
7. Repulsive Desire
8. The Gate
9. Window of the Grotesque
10. The Abyssal Plain (demo 2017)
11. Anatomized Remnants (demo 2017)
12. Atrocious Captivity (demo 2017)
13. Featureless Deity (demo 2017)
MORE INFO:
www.facebook.com/vileapparition
www.vileapparition.bandcamp.com