US-based brutal death metal band VISCERAL DISGORGE have posted a video of their drummer, William Denne, performing at The Riot Room in Kansas City (MO) on October 29th. The video was shot by Sick Drummer Magazine at VISCERAL DISGORGE's ongoing North American tour with Suffocation, Cattle Decapitation and Krisiun. The tour will run through November 17th. Watch the video at: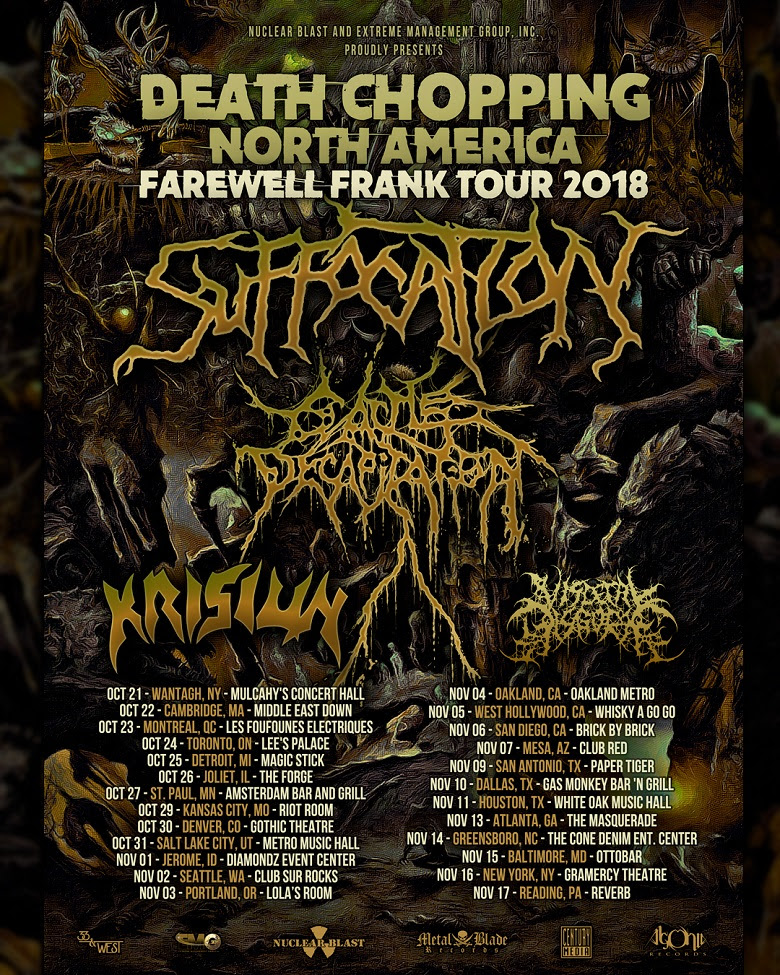 Remaining tour dates:
Death Chopping North America Farewell Frank Tour 2018
SUFFOCATION, CATTLE DECAPITATION,
KRISIUN, VISCERAL DISGORGE.
11.06: San Diego, CA @ Brick By Brick
11.07: Mesa, AZ @ Club Red
11.09: San Antonio, TX @ Paper Tiger
11.10: Dallas, TX @ Gas Monkey Bar 'N Grill
11.11: Houston, TX @ White Oak Music Hall
11.13: Atlanta, GA @ The Masquerade
11.14: Greensboro, NC @ The Cone Denim Ent. Center
11.15: Baltimore, MD @ Ottobar
11.16: New York, NY @ Gramercy Theatre
11.17: Reading, PA @ Reverb

Emerging from the violence-ridden bowels of Baltimore, Maryland, VISCERAL DISGORGE began vomiting forth their unique style of brutal death metal; captivating the enthusiasts of brutality everywhere. In late 2009, the band signed with an independent Japanese death metal label Amputated Vein Records, and, shortly after, prepared their debut album "Ingesting Putridity". The debut showcased the graphic illustrations of renowned Japanese artist Toshihiro Egawa for the album artwork. The imagery and lyrical content primarily focuses on gratuitous graphic violence, which is highly influenced by various works of horror fiction, science fiction, and horror films. The album received critical acclaim from sveral sources, including Decibel Magazine, and is now considered by many as a death metal classic.
Shortly following the release of "Ingesting Putridity", VISCERAL DISGORGE started gaining momentum, and quickly developed a loyal national and international following. The demand facilitated metal festival appearances throughout the United States and abroad, such as Maryland Deathfest (IX, XIV), Netherlands Deathfest, Frankfurt Deathfest, Las Vegas Deathfest, Puerto Rico Metal Demolition Fest, Chicago Domination Fest, New York Deathfest, New Jersey Deathfest, Philadelphia Infest, Delaware Deathfest, Brutality Reigns Fest, Louisville Death Fest, Bay Area Deathfest, Hammersonic, among other festivals sharing the stage and holding their own among some of the industries top heavyweights.
In 2016, VISCERAL DISGORGE embarked on a successful 3 week European tour supporting Disentomb throughout the EU and UK. In 2017, the band toured across Canada with Psycroptic and Archspire, followed by a slot on the Devastation on the Nation Tour, which featured Cryptopsy, Decrepit Birth, Rivers of Nihil, The Zenith Passage, The Kennedy Veil, and Gloom. This was followed by Bloodletting North America with Origin, Archspire, Defeated Sanity, Dyscarnate, and The Kennedy Veil. Currently, they are embarking on the final tour of Suffocation's Frank Mullen alongside Cattle Decapitation, and Krisiun, and recording their sophomore release. Having partnered with Extreme Management Group, Continental Concerts USA, MAD Tourbooking, and most recently Agonia Records, many great things lay on the horizon as they become an even more dominant force in extreme metal.
Line-up:
Travis Werner - vocals
Charlie Marvel - guitars
Steve Miles - guitars
Eric Little - bass
Billy Denne - drums
VISCERAL DISGORGE on-line:
Website: http://visceraldisgorge.wixsite.com/vdepk
Facebook: https://www.facebook.com/visceraldisgorge
Instagram: https://www.instagram.com/visceraldisgorge_official/
Twitter: https://twitter.com/VisceralDisgorg
YouTube: https://www.youtube.com/visceraldisgorge
Spotify: https://open.spotify.com/artist/7vWBtzzt2W1c41nztJMjVk
Agonia Records:
Website: http://agoniarecords.com
Webshop: http://tinyurl.com/agoniashop
Facebook: https://facebook.com/agoniarecords
Twitter: https://twitter.com/agoniarecords
SoundCloud: https://soundcloud.com/agoniarecords
Bandcamp: https://agoniarecords.bandcamp.com
Instagram: https://instagram.com/agoniarecordsofficial
YouTube: http://youtube.com/AgoniaRec