ETEREA - LEGEND - Reviewed By italiadimetallo ! check it out https://www.italiadimetallo.it/recensioni/36316/eterea/legend
First LP for 'Eterea'a symphonic power/symphonic metal band, who with'Legend'offer us a beautiful work of ten songs released.
While the vocal scores are by the duo composed ofMonica Marozziand inStefano Corradini, each song boasts specific featuring on a particular instrument or collaborations other with artists, among we mentionGiacomo Flights( (the (Rhapsody of Fire), ),Michele Vioni( (the (Mr. Mr. Pig) andGabriele Boschi( (the (Winterage).
The result is certainly remarkable album, with a clean sound, and a vocal performance that is always on point.The years of training of the two singers can be felt with great clarity in each song, and the duo is the author of a song sometimes in English, sometimes in Italian (I found the latter a bit hard, but most of the functional time).Monicaoffers us a light, sweet, confident, non-invasive and above all singing, varied never boring.Stephena gentle voice, perhaps at times shy, but versatile and melodic: it blends excellently withMonica's voice , and does not constitute the usual dirty or lyrical singing, but to be in a size similar to that of her colleague, who does not clash it with desire for the to create contrast, but fits in with the intention to complete.
The instrumental is counterpart excellent, it maintains delicate, melodic atmosphere, even when necessary, but never drools and still manages to that maintain aura of the all mysticism that also surrounds this also work, thanks to the wise and accurate use of the keyboard, with the right with the right to perfectly to interventions express a range of different emotions (now adrenaline, now sensation a of dream and fantasy).
''Legend'is a debut album that goes perfectly hand in hand with the name of the band: it is, in fact, an LP that perfectly mixes the harshes of metal with the ethereal, the lightness, that ance that feeling of walking on cloud perhaps in other bands, is all too often drowned out by the guitar powerful/drums combos.A recommended album, waiting for a possible sequel, I would I be very curious to listen to.
Review by Francesco Longo italiadimetallo

Release Date: 17/03/2023
FFO: EPICA , NIGHTWISH , WITHIN TEMPTATION, KAMELOT
Location: Italy
Monica Marozzi was born on March 22, in Carpi (Modena, Italy) and took private singing lessons for about 15 years. During this period of time Monica learned the best techniques mandatory to learn the correct use of voice. A passionate music lover, her favorite music genres are metal and the subgenre of symphonic metal that distinguishes movie soundtracks, together with orchestral sounds. After various experiences all over Italy, in 2021 Monica took part in the production of a German album by writing a text which features her vocal performance, in fact she oversaw both its composition and vocal part. Other famous American rock singers joined the album production as well.   Stefano Corradini was born on February 20 in Mantova, Italy. His strong passion for singing sparked when he was only a child and as a teenager he performed with different local bands. Stefano has an innate attraction and talent for metal music, which is also his favorite music genre.   After various musical experiences, in 2018 the duo was contacted by Giacomo Voli – a famous metal singer member of the band Rhapsody of Fire – with a proposal for a choir performance. Coming to the present days, as a composer of vocal music, Monica studied her vocal melodies in detail as well as Stefano's ones in order to reach unique choirs featured by the intersection of ethereal musical dimensions and their harmonization. This is how they launched their project named Eterea. One of their pieces was produced in partnership with Giacomo Voli, who oversaw the song writing and musical composition and also joined the choir. Gabriele Boschi was the orchestral arranger. The song Calypso Lullaby is dedicated to the movie Pirates of the Caribbean and was mastered by Alessandro Del Vecchio of Frontiers Master & Mastering. Two more pieces were produced in partnership with Gabriele Boschi, violinist and composer of the band Winterage, joined by bandmate and guitarist Gianmarco Bambini. Monica and Stefano were the voice of the song and wrote the lyrics. The music genre of this piece is power metal and the song is dedicated to the movies Stargate and Ragnorok. Six other pieces were produced in partnership with composer Davide Scuteri, currently working for record label Rockshots Records. These pieces are featured by guitarist Michele Vioni (Dott. Viossy) and were mastered by Roberto Priori, recording studio in Bologna – Italy ,  You came home mix and master by Simone Mularoni - Domination Studio.
Check out this video!
Follow them on Spotify and add them to your playlists!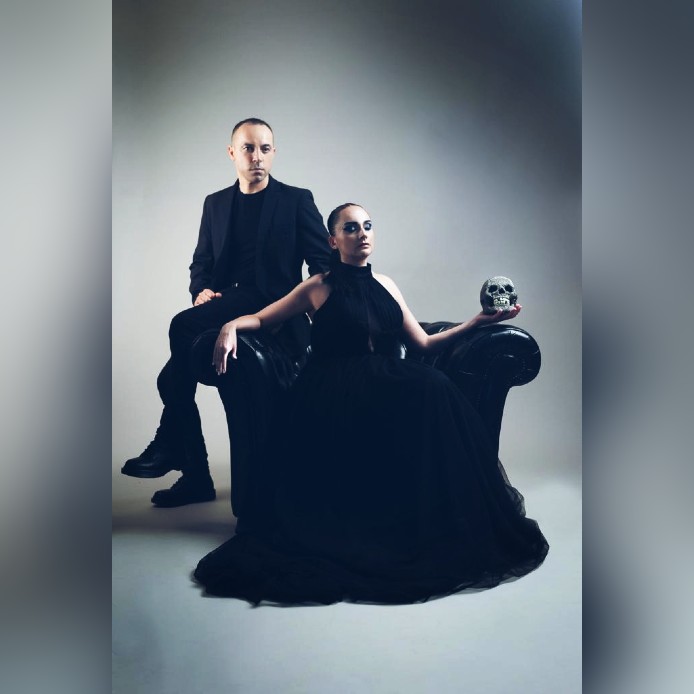 Follow the band at these links:
https://www.facebook.com/ETEREAPROJE
https://store83528182.company.site/
https://www.instagram.com/metaletereaproject/