Luna In Sanguinem - FLU WORLD ORDER - Reviewed By fullmetalmayhem ! Check it out https://fullmetalmayhem.org/2023/09/01/luna-in-sanguinem-mit-flu-world-order/
Band name and album title: Luna in Sanguinem with Flu World Order
Genre: Thrash/Death Metal
Release date and label: They released the album independently on August 5th, 2023.
Other releases from the band: This is their debut album after releasing an EP onto the world.
How I met the band: And Metal Devastation Radio greets you every day. Same here with some Thrash/Death from the USA. Well then, let's have a listen:
How do I find the record: The whole thing doesn't sound bad. The death part clearly predominates here, but the thrash can clearly be heard. They stay mostly mid-tempo here and do a damn good job there. Great riffs, strong drums and also a production that is impressive. The vocals remain very Death Metal, nice dark growls with a hint of hoarseness.
PATH OF THE SKINWALKER sounds really cool. Almost the entire song is a doom part, with short bursts of anger, heavy as lead and as hard as steel. The vocals here are also quite a bit deeper than on the other tracks.
DOOMSDAY NETWORK shows most clearly in which direction the band is thinking. Whether they're just trying to make a few quick bucks from a certain group or really believe in it is anyone's guess, I'm avoiding writing about politics here. The song is really good. Dark, heavy and still angry. Here and there he has melodic parts that fit in well with the rest before moving on to the tank rolling across the battlefield.
Conclusion: A pretty decent album that deathheads should check out. As far as the message is concerned, everyone should make up their own minds. From a musical point of view the album is really good. You can listen here:
Release Date: August 5, 2023
FFO: Unleashed, Fear Factory, Justice era Metallica
Location: Gore-ville, Illinois
 Step by weary step, wading through the sluggish, lukewarm river of thick, coagulating blood. A thousand empty eye sockets stare down from the gnarled and leafless trees that line the muddy banks, skeletal remains impaled on twisted branches and embraced in coils of thorns. The wind sings mournfully through the broken ribcages and gently rattles the dangling, fleshless limbs; the soft music of the dead a panic-inducing accompaniment to your journey through this unending morbid nightmare, beneath a swollen, crimson moon... 
Check them out on YouTube and subscribe!
Follow them on Spotify and add them to your playlists!
Support them on Bandcamp!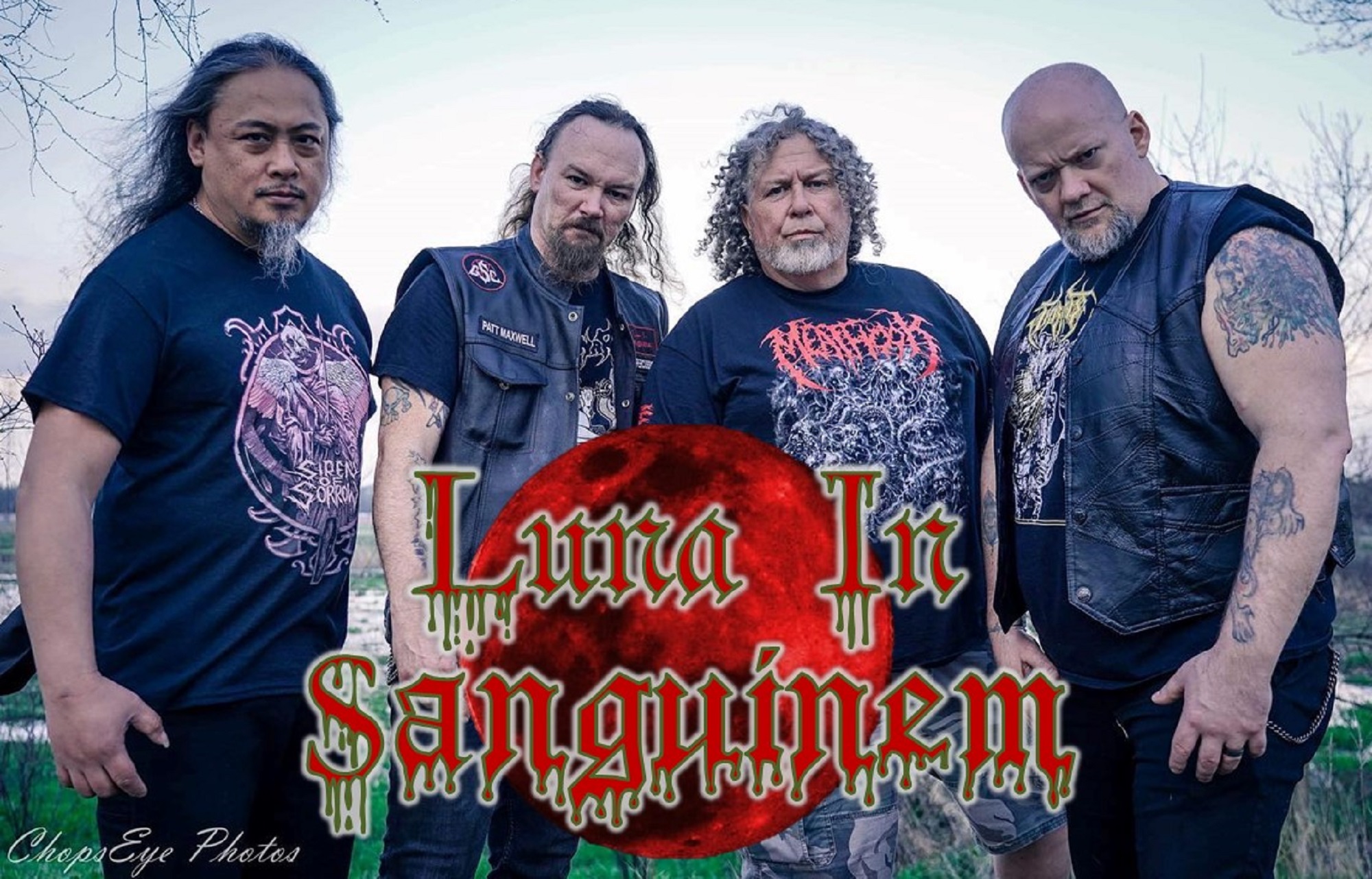 4 Musicians with a resume worthy of calling this a Super Group Death Thrash Line up. Luna In Sanguinem formed in 2018 with founding members Patt Maxwell (MINERS) Behind the drums and Michael Eisenhauer on Guitar ( Evil Incarnate). It wasn't long until Rod Valdez Joined on Bass( Ex-Dementox) Micheal Handling Vocals til better came along. Enter Luna's current Vocalist Skip Mcgullam (Ex-Num Skull}
Follow the band at these links:
https://www.youtube.com/channel/UCPvVhcukKsW6wk16_33UTNw
https://www.facebook.com/LUNAINSANGUINEMoriginal/
https://www.instagram.com/luna_in_sanguinem_official/
https://open.spotify.com/artist/6kEuZLbRQBgMwuWVT6KG5u
https://www.instagram.com/luna_in_sanguinem_official/
www.music.amazon.com/artists/B08CCBV8ZY/luna-in-sanguinem