Eaten by Sharks - Eradication (Reissue + 2 Bonus Tracks) - Reviewed By fullmetalmayhem!
Eaten by Sharks - Eradication (Reissue + 2 Bonus Tracks) - Reviewed By fullmetalmayhem ! Check it out here at this link: https://fullmetalmayhem.org/2023/07/27/eaten-by-sharks-mit-eradication/
Band name and album title: Eaten by Sharks with Eradication
Genre: Technical Death Metal/Deathcore
Release date and label: The album was originally self-released on August 26, 2022, but CDN Records reissued it again for Shark Week, with two bonus songs.
Other releases by the band: It is the band's first album, they previously released an EP.
How did I get to know the band: Metal Devastation Radio sent me the album and theme bands like that can be really exciting, so let's take a listen:
How do I find the disc: Some core can be seen, but really well done. When it comes to instrumentation, Tech Death dominates, but the band focuses on heaviness and brutality, as it should be. Everyone can show what they can do here, so we have great riffing, banging drums and a singer who screams and growls his lungs out. They also don't rely on a formula, but rather constantly vary how they shape the songs. The last two songs are instrumental versions of songs earlier.
KILL AND CONSUME sounds really big. The drums blast here as if the shooting gallery was right in front of you, the song races along like a great white chasing its prey and yet they still manage to give the song something rumbly. In short, really cool.
APEX PREDATOR starts with psychotically screaming guitars and then it continues ultra-heavy. The riffing here is really crisp, despite the excessive heaviness.
Conclusion: If you like something a little more technical and shark-oriented, you will definitely find what you are looking for here. Deathheads should definitely take a look and get the CD. If you need something else to be convinced: fullmetalmayhem  

Release Date: July 14th, 2023 – Shark Week!
FFO: Fit For An Autopsy, Cattle Decapitation, Revocation, Gojira, Despised Icon
"Eradication toes the line of music and concept, metal meets shark. The album delivers seven tracks, lyrically depicting the horrors of mankind using oceanic imagery. It represents our best fin forward, pulling out all the stops to get the listener to Drop anchor and experience the package as a whole. Lots of tasty treats in our instrumental approach, progressively chomping through each song with razor-sharp riffs and bone-crunching rhythms. Lyrically, taking the con to steer the narrative into the nautical hell that is Eaten By Sharks. Additionally, topping it off with Christian Donaldson's sonic production, the rattles your existence like a mega-tsunami." – Eaten By Sharks
The CDN Records reissue includes two bonus instrumental songs that were selected because of their unique approach to progressive tech death. These songs are the ones that have been requested the most by our fan base, and they have some really creative vocals. They highlight the work of the instruments, as well as giving the listener a bed track if they want to attempt to sing along to Matt's vocals.
Check out the videos!
Follow them on Spotify and add them to your playlists!
Support the band on Bandcamp!
In addition to the bonus tracks the reissue is also available in an 'Eradication Bundle'!
This bundle contains the following:
    Eaten By Sharks – Eradication (Reissue) CD
    110cm x 110cm full color textile flag of the album art
    Shark-shaped bottle opener
    Full color sticker of the album art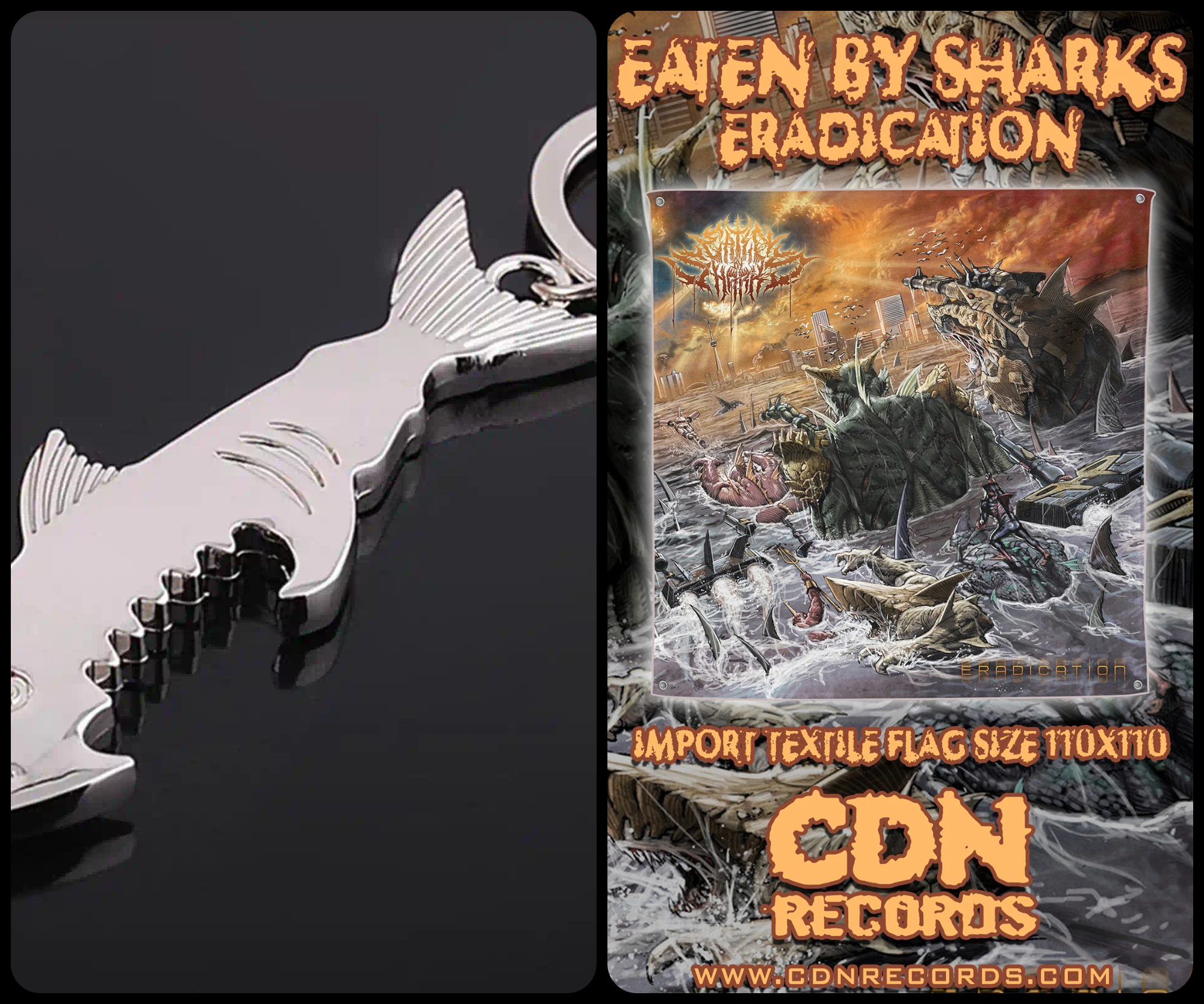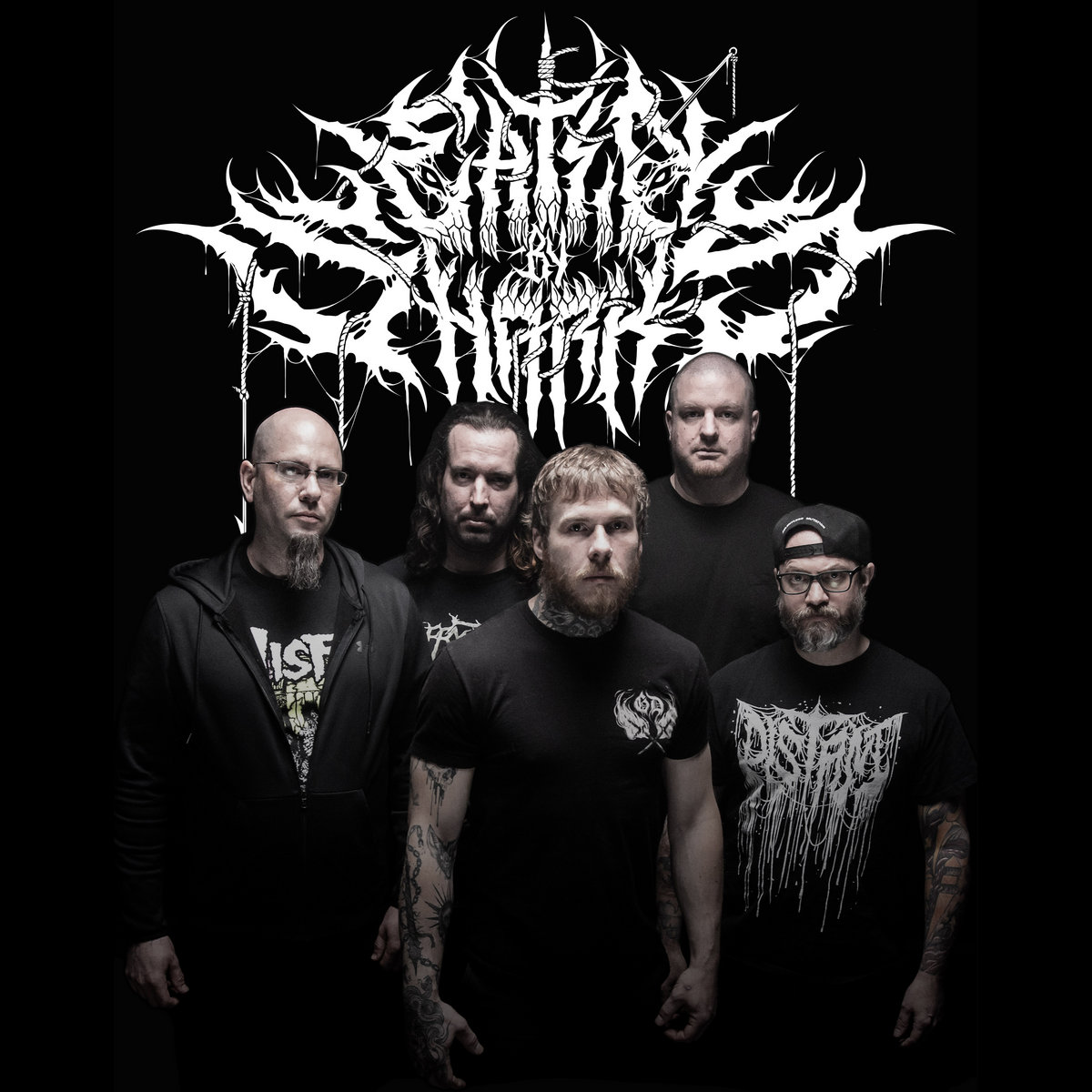 Follow the band and label at these links:
https://cdnrecords.com/shop/eaten-by-sharks-eradication-reissue-bonus-tracks/
https://www.facebook.com/eatenbysharksband
https://linktr.ee/eatenbysharks