Pestilence US Tour Cancelled Supposedly By Post Made On MetalSucks About A Facebook Post!
Patrizio Mameli posted on his Facebook this - "Thanks to metalsucks and their followers, our US minitour has been cancelled by our U.S. promotor. We are saddened by this and how people believe a shady person, to say the least, over us/me. 30+ years of Death Metal, and never one accusation of racism, nazism or sexism. What a joke. Pestilence's line up has always been international. How can that be racist? Good job done metalsucks and the people involved in trying to slander us. Pestilence wil remain with pride and dignity. We love ALL our fans worldwide. No matter race, culture or any difference. Together we stand tall."
Earlier this week MetalSucks made a blog post about a Facebook thread containing what they saw as racist slurs. read The MetalSucks article below and tell us in the comments what you think about this?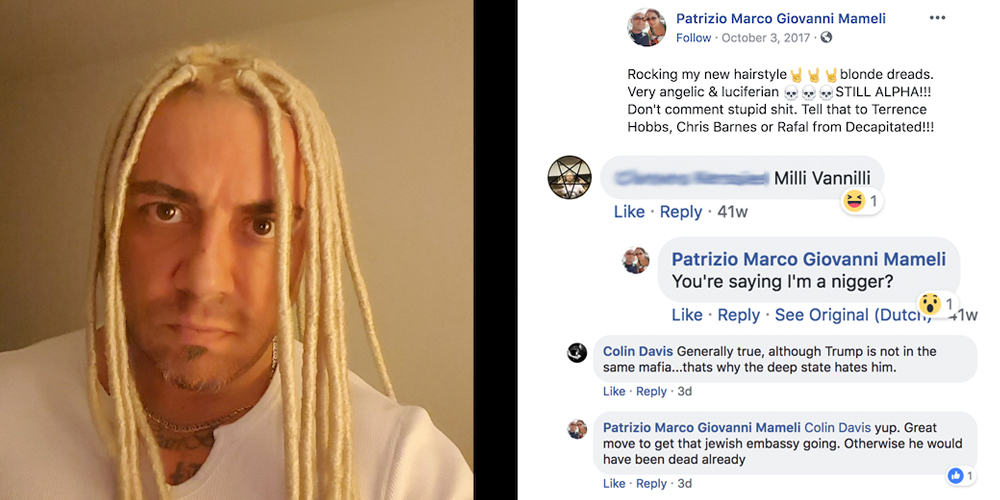 "MetalSucks has learned that Pestilence guitarist and vocalist Patrick Mameli chided a Facebook follower with a highly offensive racial slur in 2017.
This past October, Mameli took to social media to post a photo of himself sporting blonde dreadlocks. When one follower commented that he looked like a member of the '90s pop group Milli Vanilli, Mameli replied, "Je zegt dat ik een neger ben?" — Dutch for "You're saying I'm a n*gger?"."
"Although it's tempting to dismiss Mameli's use of a racial slur as an unfunny and ill-advised joke, Mameli also propagated bigoted ideology during a recent defense of Donald Trump and Fox News."
"Referring to the Trump administration's highly-controversial decision to move the United States embassy in Israel from Tel Aviv to Jerusalem, Mameli reinforced two long-running anti-Semitic stereotype — that Jews, Israelis, and Zionists are all one and the same, and that the Jews are masterminding one massive conspiracy to further their own interests. The guitarist/vocalist first asserted that it was a "Great move [for Trump] to get that jewish [sic] embassy going," and suggested that if Trump had not moved the embassy, "he would have been dead already" (i.e., the Jewish/Israeli puppet masters would have had him killed)." Via MetalSucks

In the comment thread on this MetalSucks blog post this was stated which is pretty interesting...
"I live in Holland. Zwart, duister, neger can all be used to describe the color black. Facebook's translate feature chose to use the racist term. Basically, he was asking..."You calling me a black guy?" - Duhneegrius Sharpton