SCOTT IAN 'Would Absolutely' Resurrect STORMTROOPERS OF DEATH Again 'If The Situation Was Right'
ANTHRAX guitarist Scott Ian says that he would be willing to resurrect his mid-'80s politically incorrect side project STORMTROOPERS OF DEATH for select shows. "I would absolutely do S.O.D. again, if the situation was right and it felt like it was in the spirit of what the band is about," he said during an appearance on a recent episode of the "Let There Be Talk" podcast with rock and roll comedian Dean Delray (hear audio below). "I would definitely do it again. I would love to go play some festivals. I would love to go play [European] festivals. We did it in '99 and 2000, and it was fucking awesome."
While admitting that he hasn't seen STORMTROOPERS OF DEATH frontman Billy Milano "in years," Ian insisted that he's "got no issue with Billy at all. There's not enough time on earth to have problems," he said. "I don't care. If someone has a problem with me, it's not my problem. I don't have a problem with anybody, as far as I know. So, yeah, life's too short, honestly."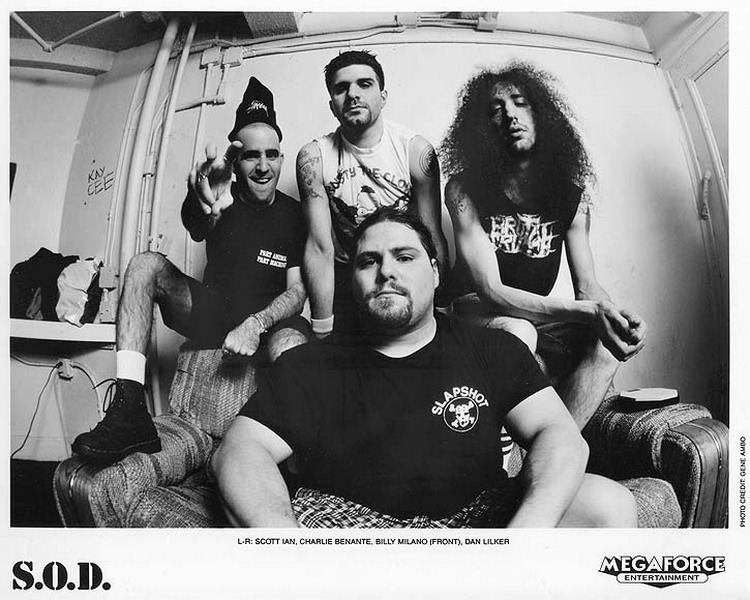 Ian also talked about the massive commercial impact of STORMTROOPERS OF DEATH 's debut album, "Speak English Or Die" , which gained as much notoriety for its silly, sometimes racist and sexist humor as it did for its raw musical power.
"I love the success of that record," he said. "I love that people love the album. I love that most people took it the right way and understood that I'm not a Nazi, which I think is pretty easy to understand. But we did have our share of stupidity where, I guess, some people thought we were that. And we would actually get Christmas cards from white-power organizations, 'wishing you a white Christmas,' with a dude 'Sieg Heil'-ing on a Christmas card.
"We were pretty clear [where we stood] when we would play shows," he continued. "And certainly, in '99 and 2000, when we finally did go out and tour the world on [ S.O.D. 's] 'Bigger Than The Devil' record, you'd have idiots, you'd have white-power dudes 'Sieg Heil'-ing at us, and Billy would give them one warning. He would tell them once: 'Put that hand down or I'm gonna break it.' And there were nights when shit happened — that's all I'm gonna say. But if Billy warns you once to put your hand down, you fucking Nazi scumbag… My father fought in World War II — literally… You should probably put your hand down. And I saw some people on the wrong end of a very big, meaty fist."
Ian went on to defend STORMTROOPERS OF DEATH 's lyrics, saying: "You've gotta understand, this was a character — I was writing for a character. This isn't how I feel, as Scott Ian . I created a guy named Sargent D , who I was writing a comic book about and I wrote songs based on it. And if you don't get it, go fuck yourself. I will never apologize, because that's where it comes from."
According to Scott , the success of STORMTROOPERS OF DEATH 's debut album is something that could never be duplicated, and he has no intention of even trying.
"I don't mean to downplay it in any sense of the word, because I love that record — I fucking love it!" he said. "It is lightning in a bottle; we could never do it again. We didn't even try on 'Bigger Than The Devil' , 'cause you can't repeat it. We're not gonna try and do the same thing and make a record in three days. It's impossible. It's so of its time, it's so of its moment, yet it still holds up — it's one of those crazy things. It's from 1985, and it still holds up. I listen to it now and it sounds like we could have made it yesterday; it's got such an energy about it.
"I say 'not to downplay it,' because we really were trying to be as dumb… we were really being the biggest fucking hammerheads, the dumbest, just caveman parts, but yet brutal," he said. "'Caveman' and 'brutal' — that's what we were going for. We wanted to be the most caveman brutal, drag-you-outside-and-beat-you-with-a-fucking-club. That's what we were going for. We would literally say, 'It's not dumb enough. No, these lyrics… too smart. It's too smart. It's gotta be stupider. It's gotta be dumber than this.' And I pushed myself to be dumber."
STORMTROOPERS OF DEATH are commonly credited as being among the first bands to fuse hardcore punk with thrash metal into a style sometimes called "crossover thrash." The track "March Of The S.O.D." from "Speak English Or Die" was the "Headbangers Ball" intro song for many years.
STORMTROOPERS OF DEATH was formed shortly after Ian finished his guitar tracks on the ANTHRAX album "Spreading The Disease" . He would draw pictures of the face of a character known as " Sargent D ," and the pictures would be accompanied by slogans such as "I'm not racist; I hate everyone" and "Speak English Or Die." Ian would then wrote lyrics about this character. He decided to form a hardcore band based on Sargent D , so he recruited ANTHRAX drummer Charlie Benante , ex- ANTHRAX bassist Dan Lilker , and PSYCHOS bassist Billy Milano on vocals.
The 30th-anniversary edition of "Speak English Or Die" was made available in November 2015 via Megaforce . The set included the original album as well as the demo recordings from the pre- STROMTROOPERS OF DEATH project CRAB SOCIETY NORTH . Via Blabbermouth