CloZure BREAKS THROUGH THE PACK WITH NEW SINGLE!
AVAILABLE ON ALL STREAMING PLATFORMS!
FOR FANS OF 3 DOORS DOWN, SEETHER, SHINEDOWN, SALIVA
Enterprise, AL — The boys from CloZure are coming in hot with a brand new single called "Foolish Man" released on 4/20/23.
Having had enormous success with their previous 2 releases gaining over 1,000,000 YouTube views collectively in only 10 months; CloZure is the buzz of both indie and major labels these days.
And with this single they deliver another solid punch to the rock world!
"Foolish Man" is The World Debut of CloZure's New Frontman Joshua Hodge.

Having consistency is vital to a bands' success. However, all the pieces of the puzzle have to fit. Bringing Joshua on to lead this high powered group was essential to them moving forward. Having a test run at the end of last year with a small tour directly supporting Texas Hippie Coalition, CloZure was ready to embark on the trailblazing journey to greatness. Into the studio and a couple of final mixes later, "Foolish Man" is now available worldwide on all streaming platforms.
But that's not all! In addition to the new music, the band announced their "Heart In My Hand: Act 1" Tour spanning multiple states and sharing the stage on a couple of those dates with Triple Platinum Band Rehab, Scotty Austin, formerly of Saving Abel and Framing The Red. 

CloZure is:
Joshua Hodge [lead vocalist], 
Michael Cordle [guitarist], 
Mathew Russell [guitarist], 
Christopher McChord [Bass] and 
Michael McCann [drums].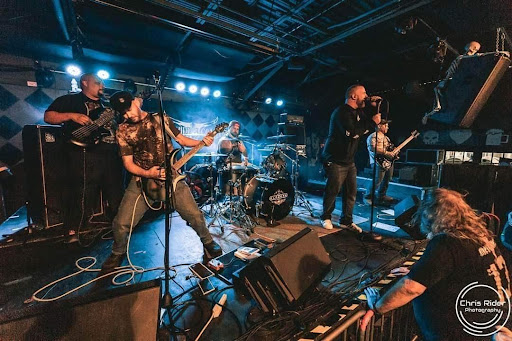 CloZure is proudly partnered with the following companies:
Schecter Guitars, Reverend Guitars, Kemper Amps, Red Cymbals, Scorpion Percussion, WB Gear, Sit Strings, InTune Guitar Picks, Ibanez Guitars and Ernie Ball Music Man Bass
https://distrokid.com/hyperfollow/clozure/foolish-man

https://www.youtube.com/@clozure2020 
Current published tour dates are:
05/27| Tulsa, OK @ Bad Ass Renee's (50% of tickets sold)
06/01| Natchez, MS @ Locust Alley w/NVSN
06/02| Biloxi, MS @ The Cannery w/Modern Mimes, Love The Hate and Rise The Phoenix
06/03| Hot Springs, AR @ Vapors Live
06/07| Louisville, KY @ 21st in Germantown
06/08| Owensboro, KY @ Milligan's
06/09| Beach City, OH @ McAlpine Meadery
06/10| Kent, OH @ The Burnt Pickle
06/14| Springfield, IL @ Stadium Bar and Grill*
06/15| Jeffersonville, IN @ Jeffersonville Theatre*
06/16| Jackson, MI @ 308 Brass Rail Club
06/17| Franklin, OH @ JD Legends*
*Supporting Rehab, Scotty Austin and Framing The Red
With more tour dates to be announced in June 2023. 
You can find CloZure on social media at the following:
Facebook @clozureband, Instagram @clozure2020 and YouTube @clozure2020
www.officialclozure.com

Contact:
Nolan Hodges
President/CEO
MK Music USA
nolan@mkmusic.biz
www.mkmusicusa.com
Genres: Rock, Hard Rock, Metal, Active Rock
#livemusic #independentartist #rocknroll #rockandroll #texashippiecoalition #scottyaustin #rehab  #rehabband #seventhdayslumber #touringartist #art #music #musica #newmusic #newvideo #newmusicvideo #newmusicalert #hardrock #instadaily #instagood #clozureband #closure #clozure #foolishman #artist #sitstrings  #sjcdrums #redcymbals #reverendguitars #ibanez  #marshallamps #modernmimes #lovethehate #lovethehateband #risethephoenix #mkmusicusa #wbgear #scorpionpercussion #pighogcables