The Red Mountain Return To Play Tennessee Metal Devastation Music Fest 2023 !
We are beyond excited to bring back one of last year's fan favorites!!! THE RED MOUNTAIN will be performing at the Tennessee Metal Devastation Music Fest in October! They are a heavy metal/hard rock band hailing from Corinth, MS, and if you attended the fest last year, you already know what an amazing performance they put on! You do not want to miss them!! They bring a southern metal vibe reminiscent of bands like Corrosion Of Conformity, Down, Acid Bath etc. while maintaining their own individuality. They released their debut album, "Alpha", in 2022, and we became instant fans. The link to the new video for their song "SITH" which has now almost reached 20k views on YouTube is linked below, and they have been added to the 2023 festival playlist on Spotify, which is also linked below. Check them out! Give them a "like" and a "follow", and don't forget to get your tickets at the "early bird" price, for a limited time!
Get your tickets here at this link: https://www.eventbrite.com/e/tennessee-metal-devastation-music-fest-2023-tickets-542779246337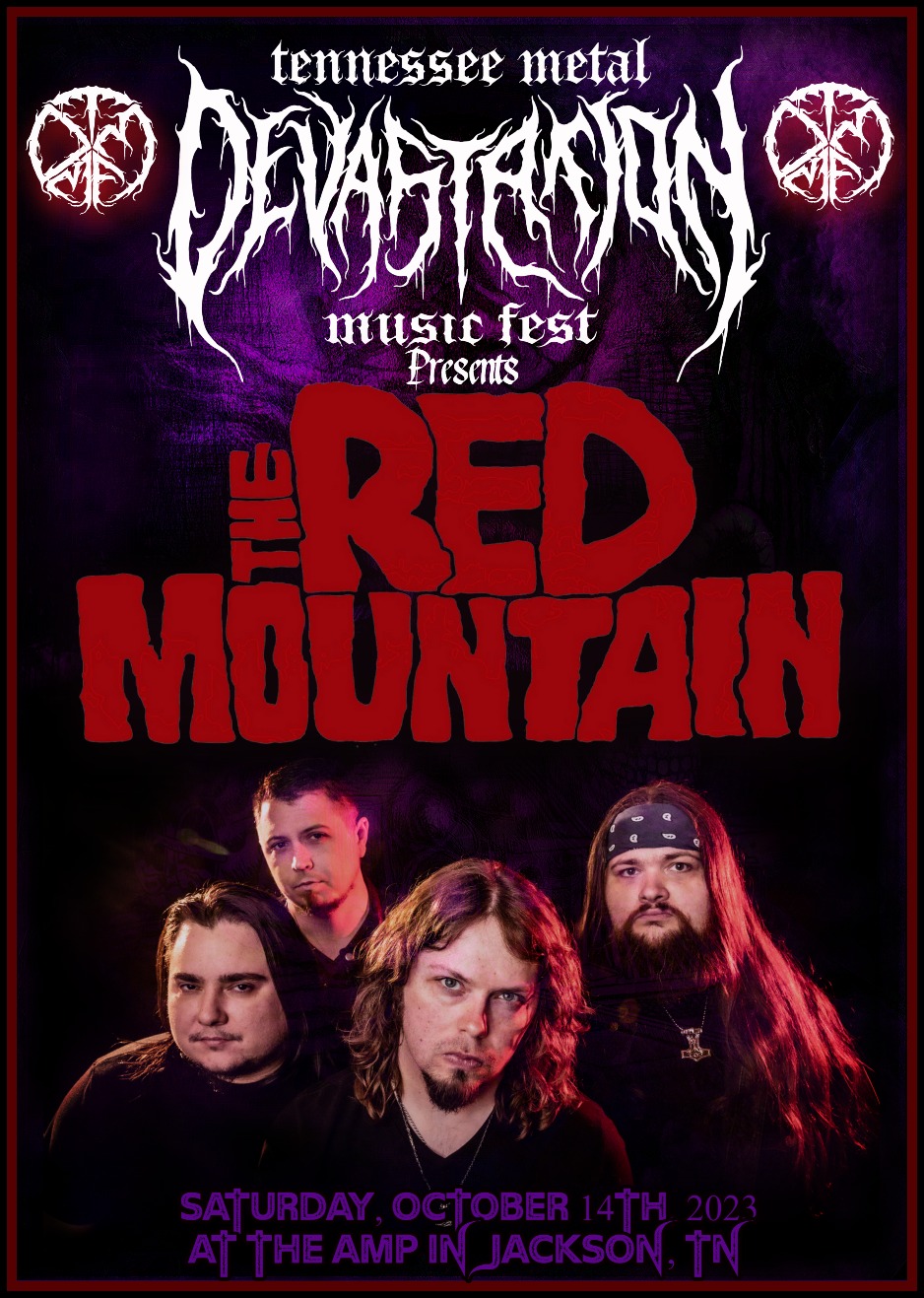 Release Date: 5-28-22
FFO: Pantera, Tool, Acid Bath
Location: Corinth, MS
Short Bio: Formed in a friend's basement in 2015, THE RED MOUNTAIN is a visceral mix of heavy metal, hard rock, and live performance pieces out of northeast Mississippi (Corinth). The band is comprised of Jody "Goph" Holland on guitar, Cody Cromeans on bass, Adam Smith on drums, and Dave Frost on vocals.
Check out this video!
Follow them on Spotify and add to your playlists!
Also available on Apple!

Follow the band at these links:
Social Media Links:
Facebook: https://www.facebook.com/theredmountain
Twitter: https://twitter.com/THEREDMOUNTAIN1
Instagram: https://www.instagram.com/theredmtnxroads/
Reverbnation: https://www.reverbnation.com/theredmountain
Youtube: https://www.youtube.com/channel/UC0TtihbYn-EeoS7TsDiZWgA
Streaming Site Links:
https://open.spotify.com/artist/0Ysu9txzEYJiHcWqcjbmqf
https://music.apple.com/us/album/alpha/1625477814
https://music.amazon.com/artists/B07WDRKL3Y/the-red-mountain
"Alpha" hyperfollow: https://distrokid.com/hyperfollow/theredmountain/alpha