European Tour Starts Next Week!
Photo credit: Michael Baumgärtner (@woodywoodsn)
German raging Thrash Metallers SPACE CHASER have released a brand new video (produced by Lucas Fiederling / Peregrine Films) for "Juggernaut", a song taken off the bands' latest full-length "Give Us Life" which was released in the summer of 2021. Check out "Juggernaut" here: youtu.be/NxKUI40ogac
Comments the band: "Freeze your ass off in a Berlin club for two days and assemble a disrupted desert landscape from another planet? We thought that was a fantastic Space Chaser idea! Together with our buddies from Peregrine Films we brought the Juggernaut - the merciless, warmongering monster - to life and sent him on a destructive journey. In well known "sci-fi meets thrash metal" style, we deliver the matching short film for our song "Juggernaut" and headbang our brains out along the way. Watch out that you don't get buried under the tank chains! BOOM!"
SPACE CHASER will hit European streets again next week for a 9-day-trek. Dates below.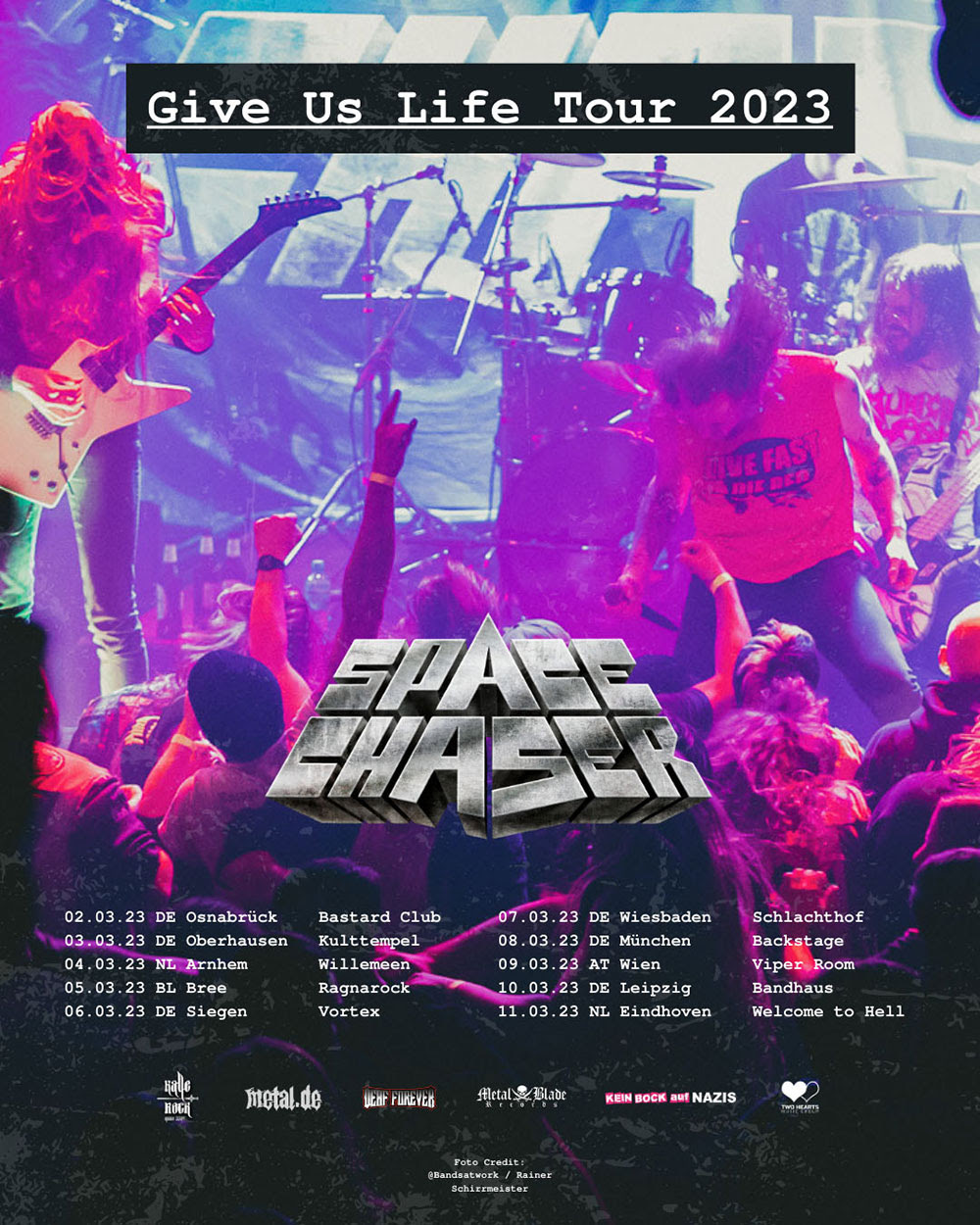 02.03.22 DE Osnabrück Bastard Club
03.03.23 DE Oberhausen Kulttempel (Thrash Speed Burn Festival)
04.03.23 NL Arnhem Willemeen
05.03.23 BE Bree Ragnarock
06.03.23 DE Siegen Vortex
07.03.23 DE Wiesbaden Schlachthof
08.03.23 DE München Backstage
09.03.23 AT Wien Viper Room
10.03.23 DE Leipzig Bandhaus
11.03.23 NL Eindhoven Welcome to Hell Festival
Nothing can beat the thrill of Thrash at its best, and no one is keeping the spirit and sound of the genre alive quite like SPACE CHASER. Marking their ten-year anniversary with their third full-length, "Give Us Life", they returned to force and once again established their importance in the scene. "What we do is contemporary Thrash Metal, if you will, and while still having the 'old-school' elements everyone loves, we try to incorporate some of the influences that we expose ourselves to. Over the last ten years, this kind of music progressed a lot, and of course that has its influence on us. But what we do is still Thrash Metal!"
SPACE CHASER line-up:
Siegfried Rudzynski: vocals
Leo Schacht: guitars
Martin Hochsattel: guitars
Sebastian Kerlikowski: bass
Matthias Scheuerer: drums
SPACE CHASER online:
https://www.facebook.com/SpaceChaserBand
https://www.instagram.com/spacechaser
https://spacechaser.bandcamp.com
https://www.youtube.com/user/SpaceChaserBand