KINGS AND LIARS New Album "Transition Animals" Out Now on Salt of the Earth Records
The new album from Connecticut-based hard rock juggernaut KINGS AND LIARS - featuring members of THE DEE SNIDER BAND, JASTA and
ENTIERRO - is out now on Salt the Earth Records!
Transition Animals
is now available on CD, vinyl and all streaming platforms.
Add 
Transition Animals
 to your playlists now:
KINGS AND LIARS kicks off an 8-date tour in support of
Transition Animals t
oday.
They will be joined by '70's-style Hendrixian Motör Funk band LORD BISHOP. Dates are as follows:
1/28 - Pompano Beach, FL @ Pipers
1/29 - Orlando, FL @ Shovelhead
1/30 - Spartanburg, SC @ Ground Zero
2/01 - Murfreesboro, NC @ Zakk's Coffeehouse
2/02 - Chesapeake, VA @ Riff House
2/03 - Baltimore, MD @ Zen West
2/04 - Clifton, NJ @ Dingbatz
2/05 - Hamden, CT @ The Cellar on Treadwell (CD Release Party)
Compared to previous releases,
Transition Animals 
sees a more streamlined band returning to the spotlight as a three-piece, hell-bent on delivering some heavy as all hell, well-crafted, catchy songs.
The members of KINGS AND LIARS share international notoriety as members of some severely ass-kicking bands... Kingdom Of Sorrow, The Dee Snider Band, Jasta, Entierro, and Toxic Holocaust to name a few. Charlie and Nick Bellmore have also written and recorded material for the upcoming solo album by George "Corpsegrinder" Fisher (Cannibal Corpse).
Dummer Nick Bellmore is an uber-producer who has been at the helm of many many kick-ass releases. When great artists want to up the heavy, they call these guys.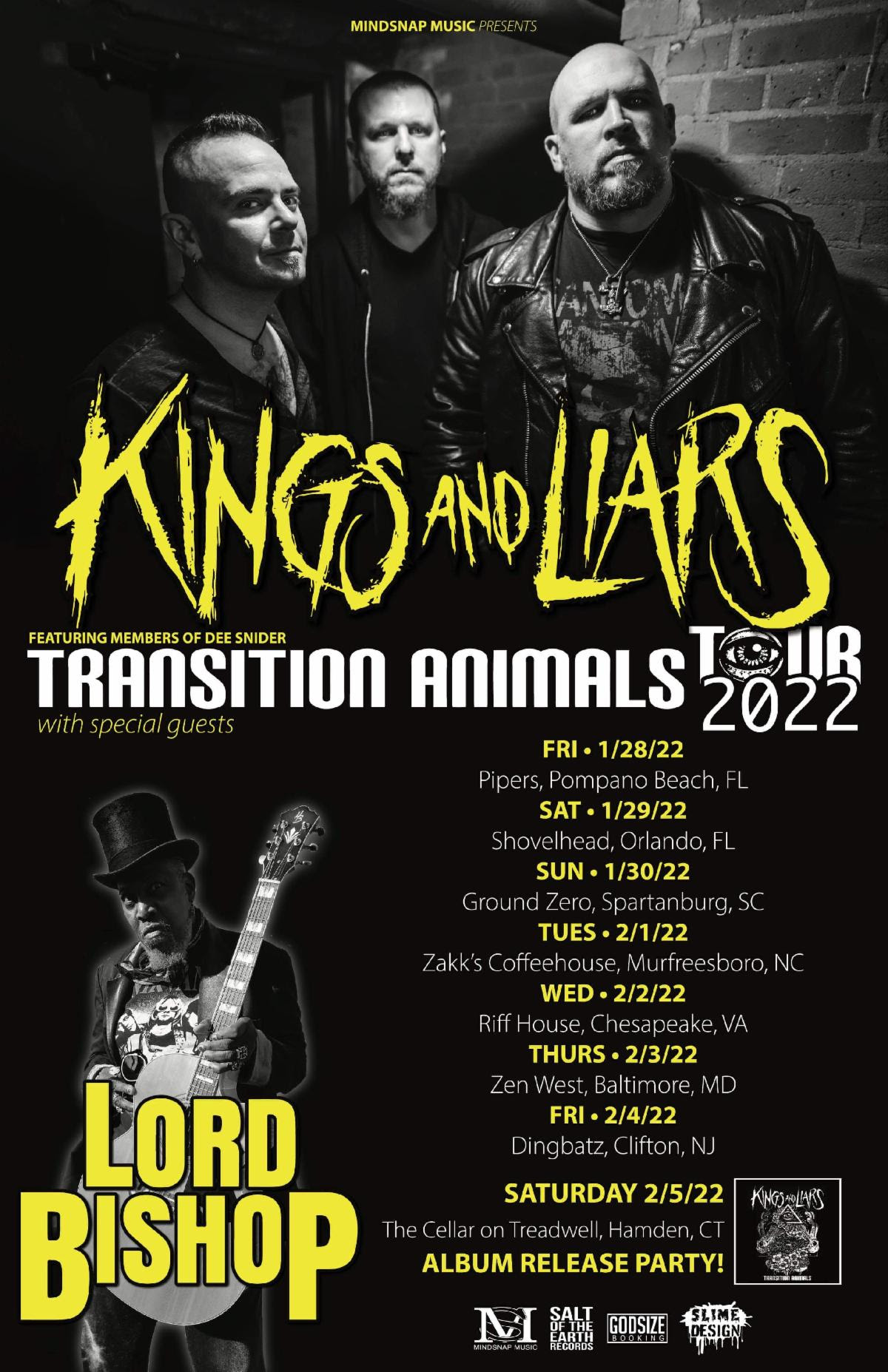 KINGS AND LIARS is:
Charlie Bellmore: vocals/guitars
Nick Bellmeore: drums/vocals
Christopher Taylor Beaudette (vocals/bass)
www.kingsandliars.com
www.facebook.com/KingsAndLiarsCT
www.facebook.com/SaltOfTheEarthRec
www.saltoftheearthrecords.com