Sarah Halter (USA) - The Doom That Binds Us - Reviewed By Metalized Magazine ! Check it out here at this link: https://www.facebook.com/Metalizedmagazine/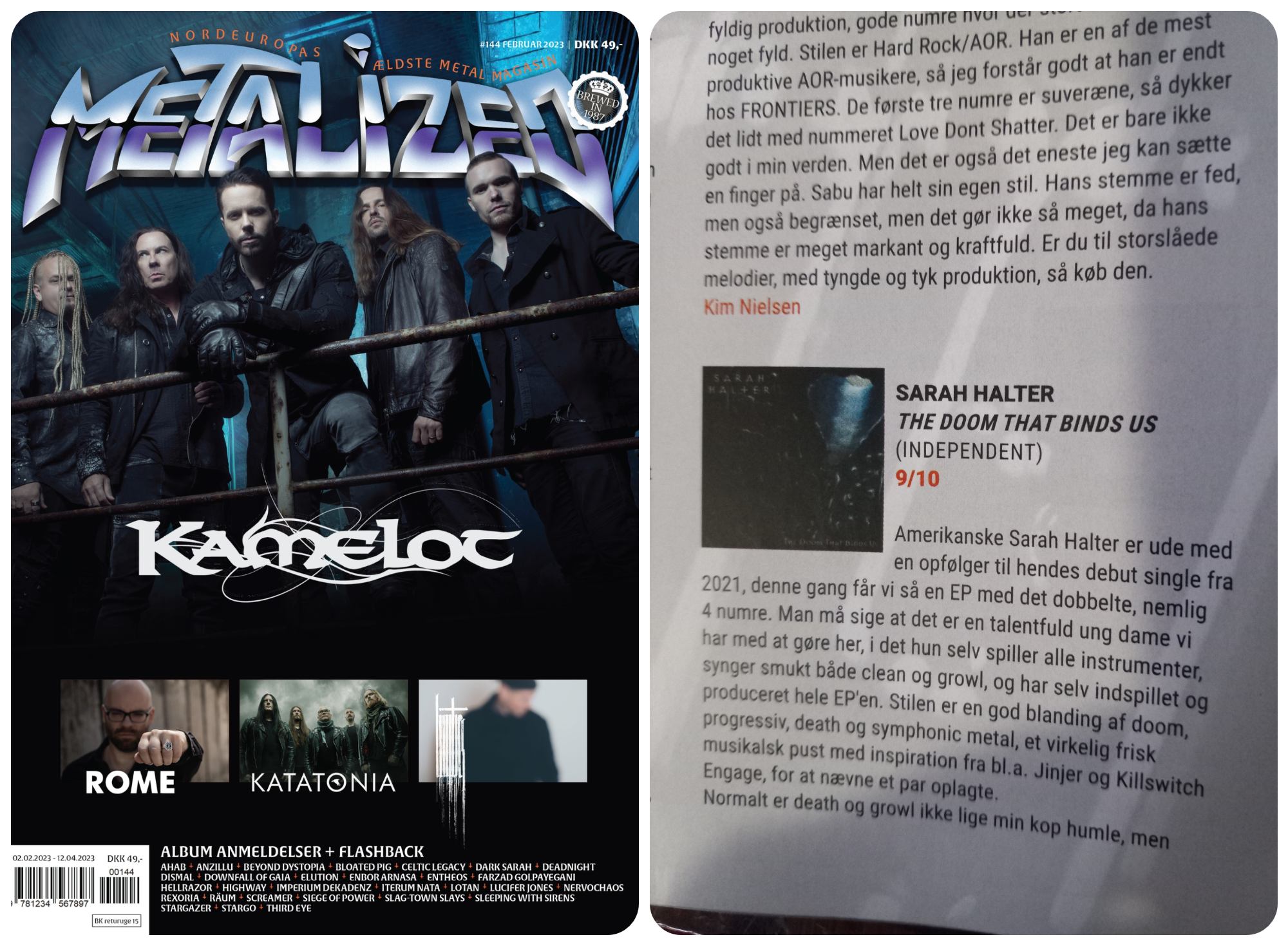 Release Date: January 20, 2023
FFO: Jinjer, Tristania, Killswitch Engage
Location: Pittsburgh, PA, USA
After signing to Sparrow Heart Records in 2022, Sarah Halter follows up A Clockwork Destiny, a two-song single released in 2021, with a completely self-produced, self-performed, and self-recorded four-song EP -The Doom That Binds Us. 
Teaming up again with Matt Very of Very Tight Recordings for mixing and mastering, Sarah utilizes a modern metal sound that draws influence from progressive, alternative, symphonic, and death metal that brings a fresh approach to songwriting and musicianship in the metal world.
Check out this video!
Follow the artist on Spotify and add to your playlists!
Also available on Apple!
Support the artist directly on Bandcamp!
EP Credits:
- ALL MUSIC performed and recorded by Sarah Halter
-Mixed and Mastered by Matt Very of Very Tight Recordings
-Album Art - Hannah Halter-Haring
-Artist Name Logo - Maxwell Aston Art
-Record Label - Sparrow Heart Records
Follow the artist at these links:
https://open.spotify.com/artist/6DJk1S6Lprw36Y6qVuioLu
https://sarahhalter.bandcamp.com/
https://www.youtube.com/channel/UCMCsRU0-20LUvyAh6CgdHsw
https://www.youtube.com/channel/UCvpU-fJ_XdOOp6pgOnQ62Fw
https://music.apple.com/us/artist/sarah-halter/1586381215
https://www.pandora.com/artist/sarah-halter/AR4zfPZJwqfX5Vq
https://music.amazon.com/artists/B01N9HTHIH/sarah-halter
https://www.deezer.com/us/album/347466417